MERSEYSIDE POLICE LAUNCH NEW NON-EMERGENCY NUMBER - 101
MERSEYSIDE Police have launched a new non-emergency telephone number:– 101 on Wednesday, 23 November 2011. The
introduction of this new number is part of a national programme to make it simpler for the public in England and Wales to contact the police where an immediate police response is not required. Merseyside Police have also been joined by neighbouring forces Cheshire and Greater Manchester (GMP) in switching to:- 101. The new number replaces the current non-emergency number of:- 0151 709 6010.

Shelly Dooley, Head of the Force Contact Centre, said:- "We are hoping that this new single number will make it easier for people to contact the police in the most appropriate way. With just two police numbers to remember – 999 if it's an emergency, or the new 101 for reporting a crime that has already happened, or getting advice or raising any issues with local policing teams, calling Merseyside Police has never been so easy. Over 70% of the 999 calls that come to Merseyside Police are not responded to as a Grade 1 call, meaning that an emergency response is not required. The new number is easier to remember and will not only mean that it is easier for the public to contact us, but it will also reduce the pressure on the 999 system, allowing us to deal with the most urgent calls even more effectively."

The call handlers who will operate the new number, as well as the 999 calls welcome its introduction. Noel Keville, Call Handling Team Leader said:- "It is understandable that people may call 999, even if the call is not an emergency, it's easy to remember and wherever you are you can talk to the police. The introduction of 101 should mean that people across the board get the best possible service from the force."

Operators can put the call through to the relevant force if it is something that has happened in a different force area.

Shelly Dooley continued:- "The people of Merseyside will still get the best possible service from Merseyside Police, and be able to contact officers in a number of different ways. Local officers will still be available at neighbourhood meetings and local surgeries, and the public will still be able to contact them directly by phone or email."

However, the public are reminded to always calls 999 in an emergency, where there is a threat to life or if a crime is in progress.
Tommy Donbavand Spotted in Formby!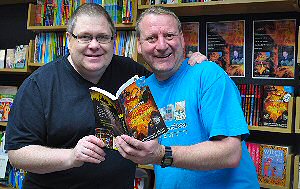 A Spooky author was snapped as he popped into Formby Books on 21 November 2011. Yep, Tommy Donbavand was in to help promote his new Scream Street book, called "Flame Of The Dragon" and chat to us about an event taking place next year! Just before the release of a TV show based on his book. But we cannot say just yet what is going on... so keep your eyes on this site over Christmas and the sort of 2012 for clues!

Dobbies Christmas Celebrations
Photographs by Patrick Trollope.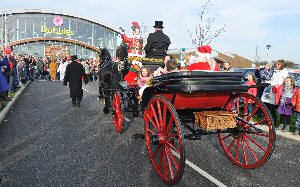 SOUTHPORT'S Dobbies Garden World, on Benthams Way, celebrated its start of its Christmas Festivities on Saturday, 19 November 2011. Local children from the store's gardening club joined Father Christmas, who was on a horse drawn carriage in a parade around the car park, with a brass band leading the way. Inside, customers found Southport's Model engineering society, who were giving steam train rides, Ice skating, owl display, magic displays by Mr Trix and other entertainment, as well as a fantastic Santa's Grotto were on offer. These are a few shots we snapped at the event.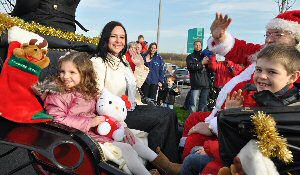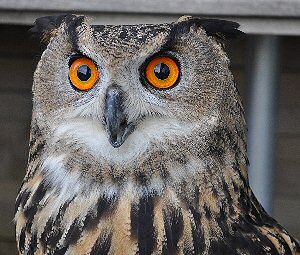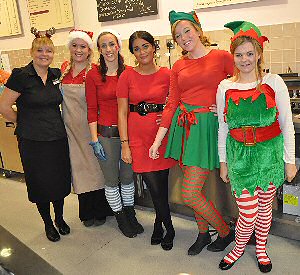 PAGE 1 of 8
If you like the photos, please order them and do not copy them. Keep this site online.... Click on here to find out how you can get you copy of these photos.