Latest figures show JLA is one of the UK's 'greenest' Airports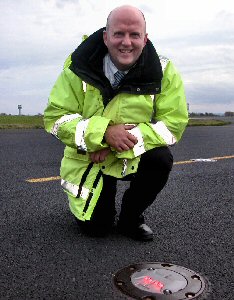 LIVERPOOL John Lennon Airport (JLA) has received a double dose of good news this week with national recognition for its environmental carbon reduction commitments and statistics showing a record breaking Summer season for numbers of passengers.

Figures recently published by The Environment Agency show that Peel Airports is in the top 14% of UK organisations participating in the Carbon Reduction Commitment (CRC) Scheme and one of the environmentally 'greenest' airports in the UK.

At the same time, latest figures for JLA show that passenger numbers have continued to break previous records in recent months, bringing the Airport its busiest Summer ever with over 3.6 million passengers choosing to fly via the Airport between April and October 2011.

The publication of The Environment Agency's first ever League Table of organisations participating in the Carbon Reduction Commitment Scheme for 2010/11, shows that the Airport is delivering on commitments to minimise its impact on the environment. Peel Airports are ranked 275th in a league table of some 2015 participating organisations from across the UK, including most other airports, ranking Peel Airports in the top 14% of all participating organisations.

By participating in the scheme, staff at JLA have been measuring and reducing energy consumption across the site and implementing a variety of initiatives all aimed at cutting the amount of energy used at the airport. These include new lighting control systems across the terminal building that automatically turn off lights in areas where they are not needed or reduce levels of electric lighting when ambient lighting levels increase. New low energy lights have also been installed on parts of the taxiways used by aircraft prior to departure or upon arrival at JLA, in addition to a programme of increased staff awareness so that all employees contribute to cutting energy use where possible.

Whilst continuing to minimise its impact on the environment, the airport has also seen growth in passengers. Each of the past four months have been the busiest in the Airport's history with July, August, September and October monthly passenger numbers, higher than previous totals for the time of year. The highest month August, saw over 580,000 travellers pass through the terminal - the busiest month in the Airport's 78 year history.

The start of the school Summer holidays in July brought increased numbers of holidaymakers departing from JLA. Despite the difficult economic climate, holidaymakers across the North West clearly continued to value their Summer holiday abroad, taking advantage of the many value for money flights available, with the added convenience of flying from their local airport. This year low cost operators easyJet and Ryanair operated flights to more summer sun destinations than ever before with a number of new holiday resorts featured for the first time.

Growing numbers of passengers also capitalised on the convenience of being able to travel to destinations across the world, by starting their journey from Liverpool with KLM. The airline's flights to Amsterdam Schiphol with its hundreds of onward connections continued to prove popular.

Andrew Dutton, Peel Airports Head of Environment commented:- "These results show that we take our environmental commitments seriously and whilst there is always room for improvement everyone here at the Airport is doing their bit. We are continually looking at ways to reduce the environmental impact of running an airport such as Liverpool, working in partnership with the many other organisations based here who share a common goal by putting the environment high on the agenda when it comes to how we each run our business."

Craig Richmond, CEO of Peel Airports added:- "This news clearly demonstrates our commitment to growing the business but not at the expense of environmental impacts. We have always believed that it is possible to combine running our business in a sustainable way at the same time as growing passenger numbers, benefiting the region's travellers and helping the local economy. This has been a very good Summer for the Airport with these latest figures exceeding our expectations.. I'm sure the poor British summer once again helped, but the great range of value for money flights from Liverpool have continued to prove extremely popular. Two weeks of sunshine clearly remains very important for families throughout the North West despite the gloomy economic climate."

Liverpool Coastguard Station To Close!
PUBLIC and Union officials have expressed anger at scrapping of Liverpool's Coastguard Station after a long campaign to save it. The decision that was announced on Tuesday, 22 November 2011, was to close Liverpool Coastguard Station as part of cost savings. 8 other sites will now be closed as well as Liverpool. The shipping minister, Mike Penning, said the station at Crosby would remain as an operational hub to train volunteers, but the Public and Commercial Services union said the plans were vague. Mr Penning said that:- "The rescue facilities in the Liverpool area will be enhanced, we will utilise the buildings we have, so we will not rent new buildings for the sake of it. We will have more trainers, more enhanced staff and the volunteers will have a much better service for the public to rely on." In reaction Paul Kirby, PCS representative at Liverpool Coastguard, told the press that:- "We are very angry. We are going to fight as there are still 2 years to go." Sefton Central Labour MP, Bill Esterson, demanded in the Commons to know why the government had rejected those ideas by campaigners. Many suggested that it would be better to convert Liverpool station into new National Search and Rescue Centre than building a new purpose-built station. Now many of the members of the public who use the coastline and a lot of businesses attached to it are saying that the consultation following the original announcement of the closure plans had been a "complete and utter waste of time" and "a slap in the face for all who took part." Other campaigners have commented that:- "We know savings need to be made, but this service was underfunded from day one; now these changes! In our view it will directly put lives at risk here on the coast of Sefton and along the coastline of Merseyside. That is not forgetting the other areas the centre covers, like the Cumbrian coastline and the Isle of Man. This closure is a cut too far."

An email press release sent out to the media on 22 November 2011, from the MCGA read:- "I am writing to let you know that following the independent review of the Reponses of the second period of consultation on our proposals to modernise Her Majesty's Coastguard, the Secretary of State for Transport has today announced the Government's decision. This can be found online. This means that we have now begun the process of moving to a national networked Coastguard operation with a Maritime Operations Centre (MOC) at its heart. We're also able to announce today that the MOC will be located near Fareham in Hampshire at a purpose built emergency services control centre that was originally designated as a fire control centre. In addition to this centre there will also be Coastguard centres. At Dover, Aberdeen, Shetland, Stornoway, Belfast, Holyhead, Milford Haven, Falmouth and Humber all operating 24/7. The London coordination centre will continue to be co-located with the Port of London Authority. We are also improving the leadership of the volunteer Coastguard Rescue Service by strengthening the numbers of existing regular Coastguard officers based in these coastal communities and I'm also pleased to be able to announce that the Coastguard Rescue Service will be strengthened by an increase of 50% to the number of full time officers available to the volunteers for operational attendance, leadership and advice. This will allow much more flexibility in the management and training of our volunteers and help to remove the current uneven distribution of Coastguard Rescue Teams between their management. It will also give a greater presence of Coastguard officers in coastal communities and provide increased opportunity for interaction with other emergency services and coastal leisure and commercial bodies. These officers will operate in teams with a focal point or operational hub. It is intended that these will be based in:-
Existing Centres

Additional locations

Lerwick

Aberdeen

Bridlington

Walton-on-the-Naze

Dover

Falmouth

Swansea

Liverpool

Belfast
Stornoway

Moray Firth

Northeast England

Southampton/Portsmouth

Dorset

North Devon

Cardigan Bay

Strathclyde

Oban/Fort William
I know that you like me will be acutely aware that whilst this announcement is the beginning of a new era for HM Coastguard it will a time of massive change for colleagues currently based in Yarmouth, Thames, Solent, Portland, Brixham, Swansea, Liverpool, Forth and Clyde whose stations will be closing before 31 March 2015.

This structural change is about the way the regular Coastguard service coordinates search and rescue operations. It is not about the UK's rescue capability. Although we are reducing staff numbers, our new structure will give the UK a nationally networked Coastguard service that is resilient, effective and efficient. We will continue to provide a quality safety service to the mariner and coastal user and I'd like to thank you for your continued support as we move forward."
Please email us your views and thoughts on this closure to our newsroom via emailing:- news24@southportreporter.com.