'CALENDAR GIRLS' COVER UP FOR CHARITY CHALLENGE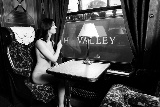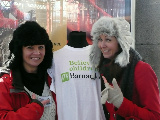 TWO railway workers are wrapping up warm in preparation for next April's Husky Trail, where they will brave freezing temperatures taking part in a trek from Norway to Sweden, to raise money for children's charity Barnado's. This is a far cry from when the two safety employees at Northern Rail stripped off to make last year's 'Cheeky Chuffers' calendar, featuring them and their colleagues baring all around the Northern network!

Emma Hind from York and Maggie Whitaker from Manchester have worked together within the safety department at Northern for nine years and have both taken part in various charity challenges together in the past. The road to Norway has not been all smooth sailing though as they were due to take part in this year's trail, but were forced to withdraw when Emma suffered a broken ankle just four weeks before the Challenge was due to take place.

Emma says:- "We were devastated not to be able to take part in the challenge last April, but nothing will stop us in 2012. We are committed to raising as much money as possible for Barnado's and taking part in what will be an amazing experience. Through sales of the cheeky chuffers calendar and other fundraising activities, we have raised more than £5,000 so far. We need another £1,700 to reach our target and ask anyone with a few spare pounds to help us get there!"

The challenge will be for the pair to drive a sled through rolling highlands and deep forest into the heart of Lapland, erect their tents, tend to their dogs, sometimes following 14 hours of sledding in one day; anyone who has seen '71 Degrees North' will know how tough this challenge will be!

Maggie comments:- "This is a difficult challenge for both of us. It's a once in a lifetime adventure that will certainly test us mentally and physically and to do this challenge and raise money for a charity like Barnado's at the same time is perfect. We believe Barnado's is a fantastic charity who gives so many opportunities to young people, no matter who they are or what they have been through and we are looking forward to raising as much money as we can for them. They will be running a Christmas raffle with various prizes, including a days sea fishing for 2 in Whitby, a night's stay at the Royal York Hotel and a 2 night stay at the Park Inn York."

To sponsor Emma and Maggie, by going online to find out more about the Christmas raffle.

MERSEYSIDE POLICES GOES ON THE RUN FOR THE FAIRBRIDGE CHALLENGE!
DETECTIVES from Merseyside Police and 3 local businessmen are hoping to raise £5,000 by going "on the run" for 48 hours for this year's Fairbridge. Programme Challenge, but how far they will they get when they are being closely followed by a team of Merseyside Police's finest?

The fugitives will try to evade capture from the specialist team of detectives, when they break out from Wavertree Road Custody suite on Friday, 25 November 2011. They will be given £50 and a 'getaway car' to help them on their way and will be given specific tasks to complete before the event finishes on Sunday, 27 November 2011.

The fugitives; Mal Mearns of Bowmer and Kirkland, Geoff Murphy of Merseyside Plastering and Caldan Solution and Mark Scudder of Everite windows, will be expected to polish their powers of persuasion, buff up their blag and improvise as they try to evade capture. They being are sponsored for the number of hours they remain at large.

Detective Inspector Alison Foulkes said:- "We are proud to get involved in this year's Fairbridge Challenge and I know that both 'the fugitives' and the officers; are raring to go. We wanted to think of a fun, imaginative way of raising money for the charity and this jail break... not only put our officers skills to good use, but also captured the imagination of local businesses, who were more than happy to get involved and have already been working hard to raise money for the challenge. I'd like to thank all of the officers involved, who are helping with the hunt in their free time and I'd also the Toxteth branch of Arnold Clarke who have donated a 'getaway car' car for the fugitives."

Fairbridge programme manager, Jayne Wilson, said:- "All the money raised from the police challenge will be used to fund the Fairbridge programme in Merseyside. This will help to support at least 200 disadvantaged young people giving them the motivation and self-confidence to turn their lives around. Fundraising efforts, such as Zero to Hero, are crucial to the continuation of this programme and we are extremely grateful for the support. All our teams do wonderful things for us as part of the challenge but this is the most exciting yet."
In April 2011, Fairbridge became part of The Prince's Trust. The new united organisation will help 50,000 young people this year.

Fairbridge works with young people aged 13 to 25 that other organisations find difficult to engage; giving them the motivation, self-confidence and skills they need to change their lives.