Nails by Dorothy Mae raise cash for BBC Children In Need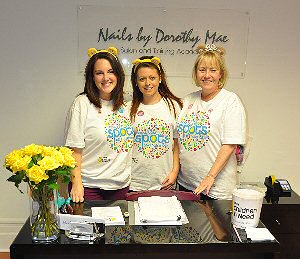 ON Friday 18 November the girls at the Southport based Nails by Dorothy Mae Salon and Training Academy on Anchor Street, conducted a File and Polish Marathon and also sold cakes to raise cash for the charity appeal. Just before finish we snapped them as they got ready for a well earned rest. If you did any events let us know by emailing us.
Daniela Brooker is heading to Liverpool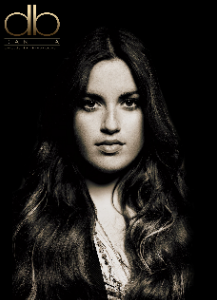 ITS been a sensational year for the up and coming pop singer-songwriter Daniela Brooker who can now announce she will be supporting The Saturdays on their UK Arena tour in December 2011. Itís an amazing and well deserved coup for the school girl who was fresh out of sixth form college in West London only this summer.

Already attracting rave reviews across the music and teen press, Daniela Brooker has been winning over fans across the UK and now over in the USA too as she also embarks on a three week tour of the US next week playing cities across the country including Philadelphia, LA, New York, Miami, Palm Springs and San Francisco.

You can catch Daniela live on tour with The Saturdays on the following dates:-

| | | | |
| --- | --- | --- | --- |
| Day | Date | City | Venue |
| Friday | 2 Dec | Bournemouth | Bournemouth International Centre (BIC) |
| Saturday | 3 Dec | Liverpool | Liverpool Arena |
| Monday | 5 Dec | Cardiff | Cardiff Motorpoint Arena |
| Tuesday | 6 Dec | Brighton | Brighton Centre |
| Thursday | 8 Dec | Birmingham | LG Arena |
| Friday | 9 Dec | Manchester | Manchester Evening News Arena (MEN Arena) |
| Saturday | 10 Dec | Newcastle Upon Tyne | Metro Radio Arena |
| Monday | 12 Dec | Nottingham | The Capital FM Arena |
| Tuesday | 13 Dec | Glasgow | The SECC Clyde Auditorium |
| Thursday | 15 Dec | Sheffield | Motorpoint Arena |
| Friday | 16 Dec | London | Wembley Arena |
| Sunday | 18 Dec | Belfast | Odyssey Arena |
| Monday | 19 Dec | Dublin | o2 Dublin |
Just to recap, Daniela Brooker will be supporting the Saturdays on Saturday, 3 December 2011, at the Liverpool Arena, Kings Dock, Liverpool Waterfront, L3 4FP. Booking office contact is:- 0844 8000 400. The doors open at 7.30pm and tickets are from £19.50 to £32.50. All tickets are now available online. You can also find out more about the artist by logging on to the following:-DanielaBrooker.com | Facebook | Twitter | YouTube.

LIVERPOOL AMBASSADORS RED & BLUE JOIN TOGETHER AT TOWN HALL IN A BID TO KEEP WORLD CHALLENGE TITLE IN CITY
RED and Blue Ambassadors of the city have joined together to Back the Dash in support of this years world Santa Challenge Santa Dash organised by Run Liverpool.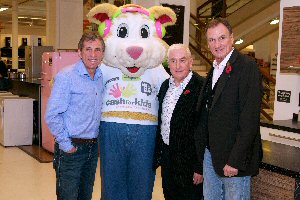 Everton Legend Ian Snodin was joined by mascots and Blue Santas along with Cllr Rothery and Pauline Daniels at the balcony of Liverpool Town Hall, where they will stand to cheer the runners cross the finish line all in the name of charity and a bid to keep the title in the city.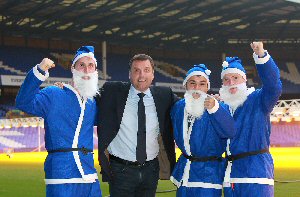 Ian Snodin said:- "This is a fantastic event for the city and Everton FC are proud to be a part of the event raising funds for Everton in the community. We are aiming for 1878 fans to run this yearís event in a bid to raise 50,000 pound joining the red suits in the race. Itís a great bit of banter for football fans and we want to help keep the title in Liverpool."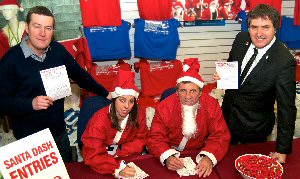 Alan Rothwell also a Blue fan said:- "Itís great that Everton are on backing the dash, we welcome all to get involved and make this the best year weíve ran the race. Itís very much about a team effort so to see both sides of the city together can only be a great thing."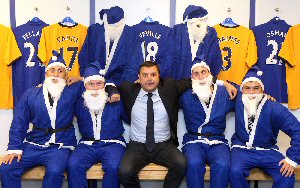 Liverpool Actress and comedienne is a long time Liverpool FC supporter and commented:- "So if you blues need 1878 runners we need to beat that donít we?" Pauline this year is supporting the Vision For Veterans campaign. The charity is set up to raise funds to support a house facility set up to support packages, treatment and training to current and ex-service men and women and families, who may have been exposed to traumatic events or who are suffering from conditions such as PTSD, Depression, anxiety and poor mental health. She said:- "This is a fantastic cause as much work is to be done to support our ex-service men and women. They do a fantastic service and itís only fitting we can provide them will somewhere safe where they can rebuild their lives."

Cllr Anna Rothery joined the team who has rallied the female councillors and co-workers to participate in the dash supporting Liverpool Unites and Cash for Kids this yearís race charity partners She reminds everyone that:- "You still have time to enter the Run Liverpool Santa Dash please visit:- runliverpool.org.uk or dash to Rapid, in Liverpool's Town Center to collect your suit."
LINK TO RELATED REPORT IN THIS ISSUE