Government youth jobs scheme is a step in the right direction
THE Government is launching a £1 billion scheme that will help tackle the UKís youth unemployment crisis. Deputy Prime Minister Nick Clegg is unveiling his youth contract programme that will see wage subsidies worth £2,275 offered to employers to take on 160,000 young people over 3 years. It is hoped the initiative will create 400,000 work and training placements. Liz Field, CEO of the Financial Skills Partnership, said:- "As well as the new permanent positions that will be created, the commitment to apprenticeships is very welcome. Many of the employers we have spoken to have had aspirations to take on apprentices but a lack of confidence about the current state of the economy as well as red tape caused them to be hesitant about new apprentices. The Financial Skills Partnership welcomes the recent announcement that bureaucracy will be minimised and these further announcements should help incentivise employers take on young people. However, this initiative will need to go further if it is to completely overhaul the jobs shortage in the UK. Other vulnerable groups such as women and older workers still remain a concern and as such there is still a mountain to climb. The Financial Skills Partnership is leading the way working with key employer groups. We have been inundated with requests and enquiries from young people about work experience placements and so we have put in place a matchmaking infrastructure for work experience that will now hopefully be supported by the government in a new way. We are also establishing the Graduate Foundation College, an innovative programme that supports new jobs and growth for SMEs in financial services across the UK."
ICAN has moved!!!
THE South West Lancashire Independent Community Advice Network Ltd (ICAN), are pleased to announce we have moved! We are now situated inside Digmoor Community Centre on Birleywood. Margaret Highton, Chair of Digmoor Community Centre Management Committee said:- "We are delighted to welcome ICAN to the centre. We are looking forward to working together and are excited about the new opportunities that will be created for the community, both immediate and across West Lancashire." ICAN who are supported by The Big Lottery Fund, offers free advice on a number of issues including Employment Law and Welfare Rights. Also provided by ICAN is the free use of a large computer suite available for drop-in from Monday to Friday, starting at 9am and running to 5pm, with expert I.T Facilitators on hand to assist users with all their needs, from beginners to more advanced. Everyone is welcome all ages and abilities. For more information or advice please do not hesitate to call us on:- 01695 726269.
OMAR ALAWI - WANTED ON BEHALF OF GMP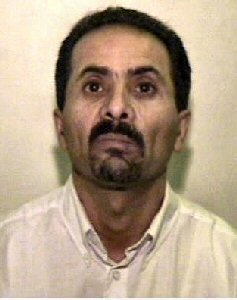 GREATER Manchester Police are continuing to try and trace a man who failed to appear at court in connection with a firearms charge. Omar Alawi (born 07/04/59) failed to appear at Manchester Minshull Street Crown Court on 18 August 2005 after being charged with possession of a section 1 firearm. On Monday, 4 July 2005, police at Manchester Airport recovered four live rounds of ammunition, after border officials searched a man who was to board a flight leaving the United Kingdom. Alawi is believed to have connections with Liverpool, Sheffield and Birmingham. Police Constable Mike Roberts said:- "We have been carrying out a number of inquiries to trace Alawi and he still remains at large. He needs to face the courts in relation to very serious charges and I would urge anyone with information on his whereabouts to call us." Anyone with any information on his whereabouts is asked to call the Police on:- 0161 856 7594 or call the independent charity Crimestoppers anonymously on:- 0800 555 111.

MP and staff pledge face for charity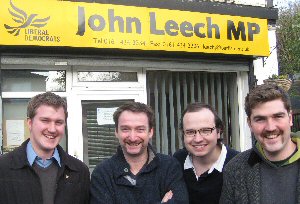 JOHN Leech MP and members of his office have taken on a hairy challenge this month in support of the world-wide Movember campaign to raise awareness and funds for menís health issues during the month formally known as Movember.

John Leech and members of his office are donating their top lip and have been growing a moustache over the course of the month to raise vital funds and awareness for menís health.

Moustache Season is well underway and MPs across the 3 main political parties have pledged their support for the Movember campaign, which has seen thousands of men - ĎMo Brosí - across the UK in using their moustache to become a walking, talking billboard for 30 days to put menís health issues firmly on the agenda.

John Leech MP said:- "I know there will be countless families across my constituency who have been affected by prostate or testicular cancer. I have raised the issue in Parliament, proposing Early Day Motion 2343 and Iím also working with my Parliamentary colleagues to highlight the work of Movember and why we are doing it. I have worked closely with many cancer charities over the years and in Manchester Withington we have one of the best, The Christie Hospital, and it is campaigns like this that can help support The Christie and the thousands of patients fight this terrible disease. The funds raised in the UK support the number one and two male specific cancers; prostate and testicular cancer. The funds raised are directed to programmes run directly by Movember and their menís health partners, The Prostate Cancer Charity and the Institute of Cancer Research."

Levenshulme Liberal Democrat Cllr James Hennigan said:- "Iím taking part in Movember for the second to help raise vital funds and awareness for menís health. My friendís father fought prostate cancer and a number of my family members have suffered from cancer so itís a cause that means a lot to me." The click on here to donate.

Owen Sharp, Chief Executive of The Prostate Cancer Charity, said:- "Even though on the face-of-it Movember appears to be a light-hearted campaign, it has been hugely successful in not only raising millions of pounds for research into prostate cancer, but also managing to get younger men to start thinking about their health. It's great that John Leech MP is joining me and thousands of men across the UK in ditching the razor in support of The Prostate Cancer Charity. We know that menís health often lags behind as an issue, both in terms of investment in research and in awareness. Prostate cancer has certainly been subject to this legacy of neglect and Movember is helping us to redress this balance and put menís health firmly in the spotlight."

Since its humble beginnings in Melbourne Australia in 2003, Movember has grown to become a truly global movement inspiring more than 1.1 million Mo Bros and Mo Sistas to participate so far.
Last year over 111,000 Mo Bros and Mo Sistas across the UK raised an amazing £11.7 million.

These funds have helped support The Prostate Cancer Charity's vital work fighting prostate cancer on every front; through research, support, information and campaigning.