Liverpool's Cultural Quarter comes alive this Weekend with Arts, Crafts, Music & Dinosaurs!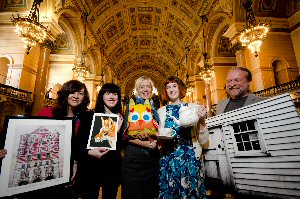 THE Winter Arts Market, Liverpool's largest arts and craft market lands in Liverpool's beautiful cultural quarter on Saturday 3 and Sunday, 4 December 2011, from 10am until 5pm. Visitors to St Georges Hall will find the widest selection of original artworks, crafts and gifts from 120 stalls each day, whilst enjoying the stunning surroundings of St George's Hall, a Grade I listed heritage site. A special preview of some of the exhibitors feature on the event's website.

Not only is this a unique shopping experience offering shoppers an alternative to the high street, there will be a range of special events across the weekend for visitors to the cultural quarter to enjoy. Choose from:-

Crown Court Concerts - A special programme of free musical performances will also take place inside St George's Hall Crown Courtroom throughout the weekend. Saturday sees the Liverpool Ukelele Orchestra, Showstoppers concert band, choirs and more. The magnificent Mellowtone host all day Sunday with a platter of live acoustic and roots music including performances by (former La) Mike Badger, live favourite Nick Ellis, Cumbrian songstress Laura James, and Mark Delaney (formerly Mojave Collective).

Living History - Visitors to St Georges Hall are invited to discover some fascinating facts about the Grade I Listed venue from roaming Dickensian characters brought to life by the Friends of St George's Hall. Plus Lormac Productions offer the rare chance to meet Queen Victoria and her royal entourage in the Heritage Centre.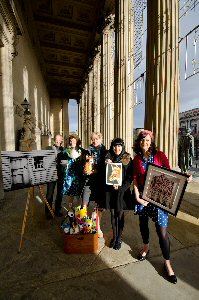 Can Cook Pop Up Cafés - Shoppers can also relax and enjoy some food and drink from another new addition to the Winter Arts Market, two new Can Cook Cafes pop up especially for the event offering their tasty winter warmers menu including some scrumptiously seasonal mulled wine!

Free Health Checks - 2020 Decade of Health & Wellbeing will be at the Winter Arts Market to help you make a lifestyle change and feel better, with free health checks (blood pressure, BMI, cholesterol) and advice on health issues including smoking, healthy eating, psychical activity, alcohol and other areas.

Complete the weekend with a visit to the free museum or art gallery on William Brown Street (both open daily 10am to 5pm). Families can enjoy the free Dinomania weekend at World Museum which sees a 14ft Tyrannosaurus Rex on the loose, plus talks, special displays and craft activities. Art lovers can head to the world class Walker Art Gallery for The Art Books of Henri Matisse exhibition and enjoy a live jazz performance from 1pm to 3pm on Sunday, 4 December 2011, perfect for post shopping relaxation.
Event info:-

The Winter Arts Market
St George's Hall, Liverpool
Saturday, 3 December to Sunday, 4 December 2011
10am to 5pm
Children FREE
16's and over £1.50

The Village Nativity 2011 Will Be Bigger Than Ever!!!
THE Formby Churches Together are holding a Nativity with live animals and lots of other surprises, at an open air event on Saturday, 10 December 2011, in Formby Village on a section of Chapel Lane. There is expected to be seating for around 200 people and the event will start at 10:45am. The play will start at 11:00am, again featuring a local baby, Martha Last, in the role of Jesus, a large cast assembled from local Churches and Schools, and assisted by a real donkey, sheep and goats... then.... All we can now say is that this year's event will be bigger and better than ever. Not to be missed! After the event many local traders will be happy to help you, as they need your support more than ever, in the current economic climate. So the day not only provides entertainment for the family, but also presents a fantastic opportunity to get in your Christmas shopping!
Are you going to Formby's Dickensian Day?
ON 3 December 2011, Formby will be holding its annual Dickensian Day festival and it will deliver some traditional, festival fun. Starting the event will be a Santa Dash at 10am, from the Formby Pool, then running down Brows Lane, in aid of the local Jospice. The fun then transfers to the village proper; with a fair, side stalls, a real steam train, plus all the events outside which are helping to raise money for Charities. Many of the staff will be dressed up in Edwardian outfits, in Formby's fantastic range of local shops and businesses which provide an excellent opportunity to do your Christmas shopping early. Children will be able to meet Father Christmas in his grotto, and look out for Buddy the Elf. We have been alerted that Elf will be causing mischief on the day, so be warned!!! The Live music starts with the Merseycats band, on Elbow Lane at 10am. The Formby School of Dance and Performing Arts will be performing Dick Whittington at 2pm. Also a Father Christmas Parade will take place at around 2.30pm. Marshside Brass Band, Mr Fungus, Circus Frank, Bootle and District Concertina Band, Southport Swords, Batala Samba Band, St Ambrose Steel Band, Eclipse Jazz Band, and Argarmeols Clog Dancers are just some of the other acts taking part throughout the village. But the extra this year is that you have the chance to get all shaken up in a giant, inflatable, snow globe!!! Cool or what???
Market proves to be a big hit with local business
THE Mere Brow Christmas special food, crafts and gifts market at the Legh Arms pub on Saturday, 10 December 2011, is proving to be a huge success with local business. After a successful launch of the first market in November with over 1200 visitors attending, more Lancashire businesses want to be involved. Kelvin Pye, organiser of the Southport Country Fairs and Mere Brow farmers market organiser stated:- "For the November market we had 22 farm and crafts businesses, now its looking like we will have 27 stalls and its going to be a squeeze to fit them in, but its great for the public with much more variety of food and crafts. As well as the returning producers of cheese, lamb, beef, smoked fish, olives, cakes, vegetables, chillis and home made pies, there will be new food exhibitors of curries, venison, jams, shellfish, fudge and Christmas wreaths. I am particularly pleased we have a local shellfish business with cockles, crabs, Southport shrimps and a smelly soap and bath products stall for Christmas gifts and the Pampered Chef, for all cooking equipment." The market is open from 10am to 2.30 pm with two food hampers being given away in a free prize draw. Santa will be in attendance for the children along with face painting and donkey rides. There will be hot BBQ food and mulled wine, as well as a 3 course farmers market lunch for £6.95 in the Legh Arms pub. For enquiries telephone the Legh Arms on:- 01772 812359.
Euro-MP welcomes wins for North West in Chancellors Autumn Statement
THE North West area Lib Dem Euro-MP Chris Davies has welcomed a number of important wins for his constituents. The infrastructure investments announced by the Chancellor included the electrification of the Transpennine rail route between Manchester and Leeds and new road links for Manchester Airport and Crewe. The Mersey Gateway project for a new bridge over the River Mersey will also go ahead. In addition the Regional Growth fund will be increased by £1 billion and there will be an extension of free childcare up until the age of 2 for the poorest 20% of families in Britain. Davies said that:- "Investment in better transport links and jobs in our area shows that the coalition government is serious about helping the economy to grow outside London. I strongly welcome the moves today that will particularly help our region to grow its economy. The announcement that the country will pay £20 billion less in interest on the UK debts thanks to the restoration of sanity to our public finances should help put an end to Labour's constant claims that the answer to our debt crisis is to borrow more." Email us your views on this to:- news24@southportreporter.com and let us know what you think about this announcement.