Christmas is now on!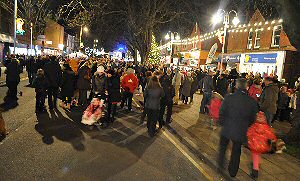 FORMBY'S 20011 Christmas lights are now on, and what a fantastic sight, but sadly Formby is losing its campaigners who have kept the lights on for many years now at Christmas. Both Peter Dunne and Sue Dare from the Champion are now stepping down with many of the team of helpers they amassed over the years. All of them have helped Formby to keep the festive lights on for many years now. Without Peter and his team, as well as the backing of the Champion, Formby would not have any celebratory lights now and Christmas would not be as bright! The result of years of hard work has culminated in the fantastic display that now illuminates the village each Christmas. It was great to see the old team ending, what now has become a tradition, on a high and passing the reins over to a new team. This new team of fund raisers will be headed by Pat Wordley. Peter told us:- "I have done this for 11 years now and what an amazing time it has been. I am sad to step down, but I am pleased that I can pass it on to a new team, run by Pat Wordley of Woodwards. She will take over in 2012 from me, so I now know it is in safe hands. I would like to thank the team behind this year's event and the many others, who have helped me run the events and helped raised funds over the years. This year I have to say a big thank you to David Lonsdale who has done an amazing job of turning the lights on for us." David Lonsdale added:- "This has been a very special event for me as I am local. The team behind this have done so well. It was great to see so many children and families. The crowd was really kind to me and the lights are absolutely fabulous. Well done to all involved and to all who have backed it in Formby!" Pat said:- "We just hope we can do as good as Peter has done over the years. The work they have done has keep Formby alight every Christmas and it is hard to think that without their efforts, we would not have lights. Please continue to support the lights and help us honour Peter and his team, for years to come, by helping us to keep the lights on!" But it was not only the illuminations which enticed hundreds to turn out in the village, but also that the village was full of entertainment; with Father Christmas at the Formby Rotary Club's Carol Wagon, Crepes' on sale from the local crêpery, cheeseburgers and jumbo hot dogs at the Broughs Christmas Lights barbecue, and a fun fair... Also supporting the event were St Jerome's RC Primary School pupils who sang Christmas carols, next to a large Monster Truck provided by a local limousine firm which acted as a stage for Dune FM. Also Dune FM's Dolphin kept the crowds entertained by running around the stage area.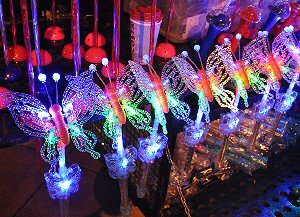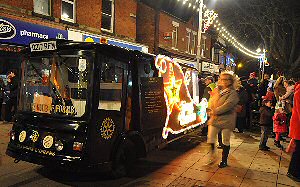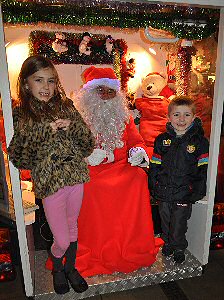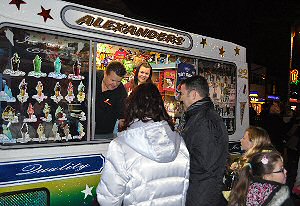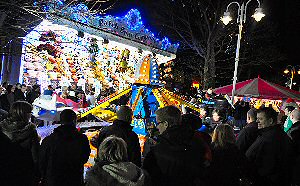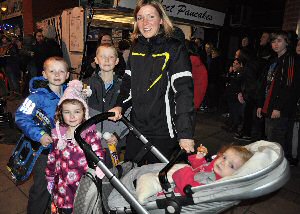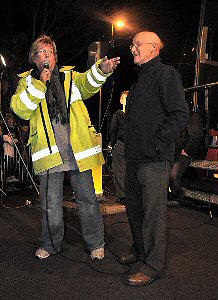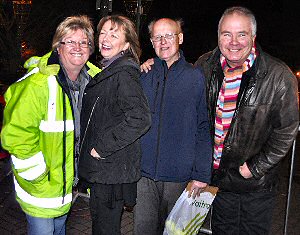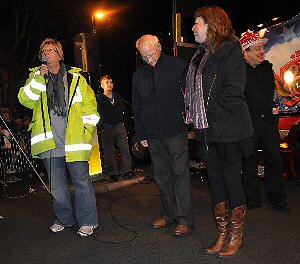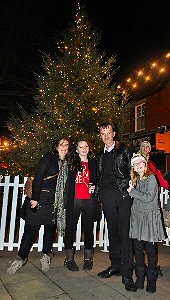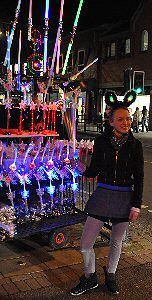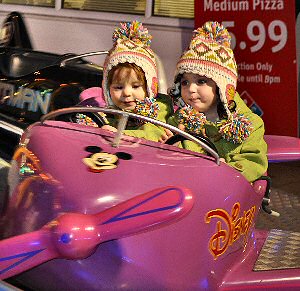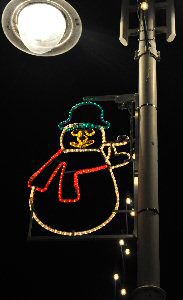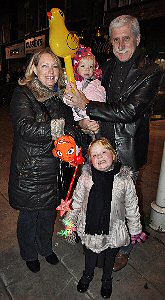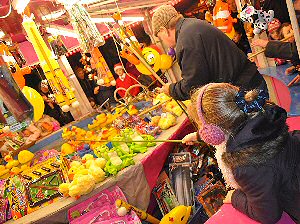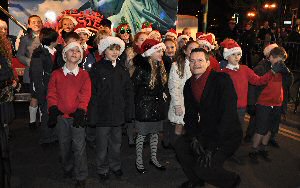 PAGE 1 of 4

If you like the photos, please order them and do not copy them. Keep this site online.... Click on here to find out how you can get you copy of these photos.