Welcoming In 2012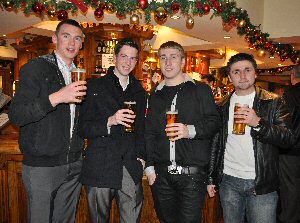 IT is more of a tradition now than ever, so our editor braved the elements to go out and document the party goers in Pubs and Clubs in Formby and in Southport. So did you get photographed by our editor, Patrick Trollope?
This year he visited the following locations in Formby:- The Railway, The Grapes, The Cross House, The Royal, The Pinewoods and The Freshfield Hotel, then in Southport we covered, Bar Non, Capilla, Rockin' Asia, The Fox and Goose, Fuegos, The Latin Lounge, Alter Ego Cafe Bar, SFC Neville Street, The Ship & Anchor, Foghorn, Maloney's, Bar Humbug, O'Leary's and also Elementary. We hope you all had a fantastic time and from what we could see, you all looked as if you did. But it was not just Southport and Formby we have photos of this year as a few others were snapped for us at the Rufford Arms Hotel, L40.
Please let us know if you have any photographs taken of yourselves in other areas, on New Year's Eve. If you would like to see the rest of the photographs, please continue to do so by clicking on here now!
Sadly, we have been asked by Merseyside Police to draw your attention to another report we are running in this week's edition, which can be read it, please click on here.
Please let us know what bar on Merseyside you think was the best throughout 2011 and let us know why, by emailing us to:- news24@southportreporter.com with your comments and suggestions!
Audio Copy - (Experimental)

Click here to hear this weeks edition in audio format. Please let us know what you think about it. via emailing us. Also if you have a child who can draw a face, send one in and we will look at using it for our news reader for an edition. Adults can try as well! You will get a copy of the animation sent to you and credit on the animation as well!.
...HAPPY BIRTHDAY...
I

f you have someone you want to say happy birthday to, for free,

then

use the email address below to send us the names

you want us say

happy birthday to, and/or a photograph.

Email us today!

KEEP up-2-date

with our free daily news emails. Are you subscribed? Si

g

n

u

p

today

to

our daily email news service via... Formb

y

-

Re

p

orter

.com

.

If you subscribed you can keep in up-to-date with what's going on in and around Merseyside. It is free and we do not send out massive amounts of emails. Also your email is kept under the UK's Data Protection Act, so you can be sure that you will not have problems.