Euro MP meets with African campaigners and pledges support for strong transparency laws
THE push for stronger transparency laws for oil, gas and mining companies is gathering pace. The European Parliament and Council are currently examining potentially groundbreaking legislation that would require all European listed as well as large private oil, gas, mining and logging companies to disclose the payments they make to governments around the world on a project by project basis. Arlene McCarthy, the European Parliament's Rapporteur for the EU Transparency Directive met with Publish What You Pay campaigners from Chad, Ghana and Niger yesterday. Arlene said:- "Talking to civil society representatives from Africa has confirmed the enormous benefits country-by-country reporting for EU companies will have on developing countries. Especially project-level disclosure will allow local communities in resource-rich countries to expose any corruption and hold their governments accountable for using revenues towards development. With more information for European investors too, and a more stable operating environment for companies, this is a win-win situation and I intend to push for the strongest possible measures on transparency."

In 2008, exports of oil and minerals from Africa were worth roughly €297 billion, nearly 9 times the value of international aid to the continent (€33 billion). Commenting on the meeting Steve Manteaw from Ghana and Chair of the PWYP Africa Steering Committee said:- "We welcomed the opportunity to meet with Ms McCarthy to bring our concerns to her. This legislation will make a real difference in our ability to ensure the revenues generated from our natural resources benefit everyone rather than a select few. What we need are strong laws that are fit for purpose. This means no exemptions being granted to companies under any circumstance and strong project-level reporting which will enable communities and local governments to track the payments owed to them."

The meeting came on the heels of a speech Bill Gates made this week in the European Parliament where he reiterated his call for the G20 countries to endorse legally binding transparency requirements in the extractive industries and voiced his support for the EU rules currently under consideration.
Manchester says 20 is plenty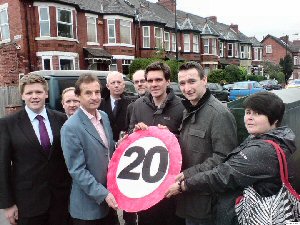 LIVERPOOL and Southport have now added many 20mph speed limits on some roads, and now Road safety campaigner have joined in celebration with Manchester Liberal Democrats after a motion to reduce the default speed limit on Manchester roads became Council policy on 1 February 2012. The motion has received high level backing with Lib Dem Transport Minister Norman Baker MP giving it his full approval saying:- "I will be very happy to meet Councillors next time I am in Manchester, and look forward to the Council taking forward the increase in the use of 20mph limits which I have made possible." In the end it was passed unanimously. but do readers think the move to slow down is a good one or a bad one for us all? Do you think the Motorway should be increased to 80mph as default the national speed limit and the national speed on residential roads dropped from 30mph to 20mph? Email your views to news24@southportreporter.com and let us know what you think.

New plan for Children's Centres
LIVERPOOL City Council is to launch a consultation over a new model of operating its 26 Children's Centres. It follows a decision to approve an alternative plan for Church and Mossley Hill, Childwall and Woolton, Hunts Cross and West Derby Children's Centres, which had previously been proposed for closure. The council will achieve the £2 million saving by streamlining staffing and administration and reconfiguring other Children's Centres in the city. Under the new plans, 10 centres will become 'hubs' with the 16 remaining becoming 'satellites' affiliated to them. Universal services such as stay and play sessions and rhyme time will still be provided at all 26 centres, but some more intensive services will be based at the hubs, with staff working on an outreach basis either travelling to satellite centres or to the homes of families. Councillor Jane Corbett, Cabinet member for education, said:- "This is a brand new way of thinking about how we provide services which will mean we are able to keep all of the centres open. It enables us to find the necessary savings by getting centres to work more closely together and sharing management. One of the things that came out of the consultation over the proposal to close the four centres was that they are a vital lifeline for families and they didn't want to see buildings close. This plan addresses that issue and we are hopeful that it will mean that we won't have to propose any closures in the next few years. We have done our best to group the centres together logically and take into account geography and levels of deprivation. We are keen to hear the views of parents and carers and we will take into account their opinions, however there is no additional money and we have to achieve the saving to keep all 26 centres open."

Geographical location, deprivation and the number of children in the local area has been taken into account when deciding which centres are hubs and which are satellites.

The hubs and satellites that are being proposed are:-

► Clubmoor Ellergreen; Croxteth
► County Walton; Fazakerley
► Dingle Church and Mossley Hill
► Kensington Picton
► Granby Wavertree
► Speke Garston; Hunts Cross
► Belle Vale Childwall and Woolton
► Tuebrook Anfield; Stoneycroft
► Yew Tree Knotty Ash; West Derby
► Everton Fountains; Vauxhall

A bid for £500,000 of funding is also to be made to provide an additional 26 support workers who will provide targeted family support. A formal consultation over the proposals will start in February and it is hoped that the changes will be implemented in September.
Southport man handcuffed himself to a goalpost at Goodison Park
MERSEYSIDE Police have confirm that a man arrested and charged after running onto the pitch at and handcuffed himself to a goalpost during an Everton match between Everton and Manchester City, at Goodison Park, on Thursday, 31 January 2012. The 46 year old, John Joseph Foley of Lord Street, Southport, was later charged with going onto the playing area during a football match, an offence under the Football Offences Act 1991.
He has now been bailed to appear at Liverpool City Magistrates Court on 17 February 2012. It has been reported that he has issued an apology to Blues fans, for the 5 minutes, 1 man demonstration, that is said to have been aimed at Ryanair boss Michael O'Leary, seated in the grandstand. The protest did not affect Everton's play, as they went on to beat the league leaders 1 to 0 thanks to a Darren Gibson goal.
Do you have any views on this? If you do, please let us know by emailing us to:- news24@southportreporter.com.