Have your say on services
LIVERPOOL City Council has launched an online citizens' panel for residents. The 'Liverpool Listens' panel will be asked for their views on a wide range of services, from libraries to licensing. Members will be asked to take part in a few surveys a year and will receive updates on the results of each consultation. It is open to anyone living in the city, aged 18 or over with an email address and it take just a few minutes to join. Members will complete online surveys and will get the chance to take part in focus groups and phone surveys.

Deputy Council Leader Paul Brant said:- "This is a simple and easy way for us to build a database of people that we can communicate with and ask their views on a range of issues. The council touches the lives of every single person in the city and would encourage everyone to get involved so we can grow the panel and get lots of different opinions to help shape services."

How much people do is up to them and they can opt out of surveys that are not of interest or unsubscribe from the panel at any time. The first task for the panel is an online survey about how the council communicates directly with residents and how it can be improved. Details will be stored in accordance with the Data Protection Act and will be kept confidential. No information will be passed to third parties without permission and the information provided will be used for research purposes only. To get involved in Liverpool Listens, either register at the council's website - or by email.
Hightown church invites couples to say 'I do' again this Valentine's weekend
St. Stephen's Church in Hightown is offering couples the chance to say 'I do' again at a special vow renewal service at 7.00pm on Saturday, 11 February 2012.

All married couples are welcome, regardless of where or when they were married. Dress is informal and the service is relaxed, with everyone making their vows simultaneously. Family and friends of the couples are also welcome.

The service will feature favourite wedding hymns and readings and will be followed by wine and wedding cake, allowing couples to re-live their special day. A contribution of £5 per adult is welcomed. Please book your place in advance.

The nearby Hightown Hotel is also supporting the event by offering a candlelight supper with wine for £10 per couple after the service (from 8.30pm).

Revd Sue Smith said:- "We want to welcome as many people as possible to celebrate Valentine's Day with us. Previous renewal services have attracted couples who have been married for just a year, to those celebrating 60 years or more. We hope that the service will support and encourage married life, which can be difficult in our modern world. The service provides an opportunity for couples to really rejoice in their marriage and give thanks for each other. We also want to encourage couples to look with hope to their future together. This year we are also delighted to have the support of the Hightown Hotel, so that the celebration can continue after the service."

To book a place in church please call Rev. Sue Smith:- 01704 833856 and to book a special candlelight supper please call Geoff:- 0151 929 2650.
Misleading food labels are conning consumers
THE North West Euro MP and former Chair of the European Parliament's Consumer Affairs Committee, Arlene McCarthy has issued a statment saying:- "Consumers are being misled into thinking the food they buy is healthier than it is. Busy parents want the best for their children and foods with labels that make them look "healthy" are ruthlessly targeting them. If you see a product on a supermarket shelf, and it says 'less sugar' or 'less fat' you'd think it was healthy. But all this could mean is that they have reduced the levels of fat, sugar or salt by as little as 15% and it could still be very unhealthy."

Labour Euro MPs have been taking the lead in the European Parliament in challenging these misleading labels and proposing new EU-wide laws which will allow shoppers to trust these claims.

Arlene added in a press release that:- "If a chocolate spread, for example, said it had '20% less saturated fat' you might think it was the healthier choice. In fact, it could still be the chocolate spread with the most saturated fat on the market. Consumers are naturally influenced by health and nutrition claims when comparing similar products on the supermarket shelf, and we can't allow those claims to be misleading. People live busy lives; they want to make good food choices but often don't have the time to stand in supermarkets comparing food labels. We want to encourage the food industry to take bolder steps to increase the healthiness of their food and make it easier for us all to follow a healthy diet. It's good if the food industry is reformulating their products to reduce the levels of fat, salt and sugar, but it should result in a healthier diet, not an excuse to increase sales of fundamentally unhealthy food. Manufacturers need limits on what they can claim, and as food is manufactured and marketed right across the EU in the Single Market, these changes need to be made at a European level."

Sign Is Now Standing Tall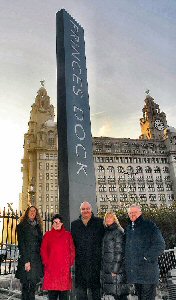 A new Totem sign at Peel's Princes Dock development in Liverpool City Centre is now in place.

Peel has been guided by the Liverpool Waterfront Business Partnership's signage strategy which is supported by Liverpool Vision with one aim in mind; to assist pedestrians and drivers to access Liverpool's Waterfront and all it has to offer.

The new Princes Dock sign follows the design of those already located at the entrances to Albert Dock and Kings Dock, bringing continuity across the popular waterfront attractions.

The new sign is 9 metres tall by 1.25 metres wide with 'Princes Dock' etched in white with internal lights.

It is located on the edge of the Princes Dock site, by the Crown Plaza meaning it is clearly visible from The Strand and those heading towards the waterfront from Chapel Street.

Liza Marco, Property Manager at Princes Dock said:- "We were keen to keep continuity with the signage at Princes Dock in line the other waterfront destinations in the city and Liverpool Waterfront Business Partnership assisted the design process to achieve this. Peel has a member on the board of the partnership as we believe it important to work together to create a better waterfront environment for the city. Princes Dock is an established business and leisure destination that forms an integral part of the city's iconic waterfront and therefore it is fitting that there is a signage link between all of the major waterfront destinations."

Liverpool Waterfront Business Partnership is a group of landowners, developers, destination owners and managers who alongside public bodies came together in 2008 with a shared aim to promote the city centre waterfront as an international visitor destination.

Members include representatives from both the public and private sector including Peel, ACC Liverpool, Tate Liverpool, Liverpool Vision, Merseytravel, British Waterways and National Museums Liverpool. Land and building owners also play a key role with representatives from the Three Graces, Albert Dock and Neptune all feeding into discussions and shaping strategy.

Speaking on behalf of the partnership Sue Grindrod, who represents Albert Dock Liverpool said:- "Clear, highly visible signs are a vital element of our branding and we are delighted that the successful scheme, developed at Albert and Kings Dock, has been adopted by Peel. The principle of the design scheme is that the boundary signs are visible from a distance and clearly identify the four areas within the Waterfront, along the Strand and as you move from one area to another – Kings Dock; Albert Dock; Pier Head and Princes Dock. A planning application has also been submitted to roll out similar signs for Pier Head which will signpost world class attractions such as the Three Graces and the newly opened Museum of Liverpool. We need to ensure that tourists from all over the world are able to make the most of our fantastic waterfront and this impressive new boundary sign will add to the information available. Through the partnership, we have been able to develop a coherent and consistent approach and by developing a way finding scheme and marking the boundaries, we are creating a distinctive and attractive sense of place within the City Centre."

Princes Dock is a hub of business activity set in 14.5 hectares, and part of the proposed £6 billion redevelopment scheme of Liverpool Waterfront; Liverpool Waters.

It is located adjacent to the iconic Liver Building alongside the new cruise liner facility. The new Leeds to Liverpool canal link extension also passes through the development.

There are over 2,500 people employed within Princes Dock with occupiers including Coutts Bank, PricewaterhouseCoopers and KPMG. All occupiers benefit from on-site car parking, 24 hour security services, dedicated on-site maintenance team, on site member health and leisure club, a cafe, bars, restaurants and a new day nursery.

In addition to three Grade A office buildings Princes Dock is home to two high quality hotels; the Crowne Plaza and Malmaison, three luxury apartment towers and a 760 space multi storey car park.

If you have an office/retail or leisure enquiry at Princes Dock, please contact the joint letting agents, CB Richard Ellis:- 0151 224 7666, DTZ:- 0161 236 9595 or Keppie Massie:- 0151 255 0755.