Protests at Liverpool Crown Court against alleged paedophile gang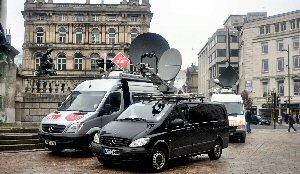 THE Protests at Liverpool Crown Court started on Monday, 6 February 2012, with groups from English Defence League (EDL) and British National Party (BMP) and also anti-racism groups, who expressed their opposition to the protest by the EDL and BMP's protests. With a massive media presence and police presence, many are asking if the protests are deflecting attention from the case inside.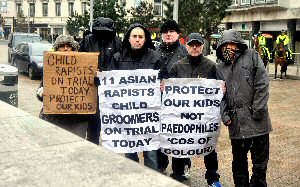 Before the event the Anthony Walker Foundation, a leading Liverpool anti-racism organisation, stated:- "The proposed action of the EDL/BNP which is blatantly intended to exploit this trial, with no regard for the victims or our country's justice process, to create and ignite racial tensions in our city and beyond. However, they underestimate the people of Liverpool if they think they can achieve this."
Paul Jenkins, North West Unite Against Fascism organiser also added that:- "The fascist BNP and EDL's protest is a racist one. The BNP and EDL are trying to inflame a sensitive situation in order to exploit it for their own fascist agenda. The National Front used to hold racist protests under the guise of 'anti-mugging' marches - the BNP/EDL protest is in the same vein. The fact that they are both protesting exposes the strong connections between these fascist groups. The response of the Merseyside community shows that anti-racists are the majority and the BNP and EDL are not welcome in Liverpool. We urge everyone to join the dignified counter-protest against the BNP and EDL on Monday 6 Feb, 8.30am onwards, Liverpool Crown Court."
The statement, initiated by Merseyside Unite Against Fascism also read that:- "BNP and EDL Not Welcome in Liverpool. They are exploiting a case of 11 Asian men from Rochdale who have been charged with child exploitation and sex offences, to bring their racist message to the streets of Liverpool. We believe that this case is a matter for the police and courts. Furthermore, the BNP and EDL's cynical exploitation of the case for its own ends, does nothing to help the suffering of victims of such abuse. If the men involved were not Asian then it is clear that this protest would not be taking place. We believe that the BNP and EDL are using this case to attempt to whip up racism and foster division."
In what appears to be a connected incident, but has not been confirmed one way or another, a man was arrested outside Liverpool Crown Court the following day, on Tuesday, 7 February 2012. Merseyside Police have issued a press release confirming only that a man has been arrested and has been charged with 1 count of racially aggravated common assault. Merseyside Police have also named him as Michael Quinn, aged 40, of Haweswater Drive, Middleton, Greater Manchester.

Dock workers were taken to hospital

ON 6 February 2012 the Port of Liverpool was involved in a chemical incident. The incident was a result of a spillage of an agricultural chemical that lead to some dock workers felling ill and emergency services being called. The substance was later reported to have been a solvent called Pyridine, which is highly hazardous and has a fish-like odour. Pyridine is used as a precursor to agrochemicals and pharmaceuticals and is also an important solvent and reagent and is harmful if inhaled, swallowed or absorbed through the skin. The effects of acute pyridine intoxication include dizziness, headache, and lack of coordination, nausea, salivation and loss of appetite. In rare cases intoxicate casualties may progress into abdominal pain, pulmonary congestion and unconsciousness. This volatile solvent is thought to have leaked out from a tank as it was being unloaded from a cargo ship, at about 2:40pm at the Royal Seaforth Container Base near Crosby. 3 ambulances attended and Merseyside Fire Service said it had sent 2 hazardous materials units to the location. The casualties who had been on the dock and exposed to the highly flammable chemical and toxic chemical where treated at the docks and decontaminated at the scene. Other workers on the location were also decontaminated and then sent home. Then the affected workers are said to have been taken to Fazakerley Hospital to be looked at as a precaution measure, before being sent home to recover. Merseyside Fire Service then work with the port authority to contain and absorb the spill by using dry sand. The Health and Safety Executive is reported to be satisfied that safety procedures were followed. A spokesman for the Port of Liverpool said an investigation by its own Health and Safety team, in conjunction with the emergency services and port police was now underway.
Dangerous Heating Amnesty
AN amnesty on dangerous heating has being launched by Merseyside Fire and Rescue Service for the elderly in a bid to reduce house fires and deaths. The project will offer vulnerable pensioners the opportunity to swap their unsafe heaters for free oil-filled radiators at 7 fire stations within the Merseyside area, as part of the Dangerous Heating Exchange Scheme. The scheme is being delivered by the Fire Support Network, the charitable arm of MF&RS, in conjunction with the fire service.

According to Merseyside Fire & Rescue Service, there are 140 free radiators available, which will only be given out to people who are aged 65 and over, who have an old out-dated heater. Each of the 7 fire stations involved will have just 20 heaters to give away, so they will be available on a first come first serve basis only. They also warn people that the radiators are heavy and they will need to provide their own transportation.

Sadly Southport, Crosby, Toxteth and Belle Vale Fire Station have already given their allocations away, but people can swap their old or unsafe heaters for new safer radiators at the following stations on the dates shown:- Huyton Fire Station on Friday, 10 February; Birkenhead Fire Station on Monday, 13 February and St Helens Fire Station on Tuesday, 14 February 2012.

Merseyside Fire and Rescue Service said that:- "The radiators have been provided through partnerships with external companies such as Dimplex. It coincides with the MF&RS Emergency Heating Campaign, which is currently providing free radiators to homes of vulnerable people in Liverpool, Wirral and Sefton."

Phil Garrigan, Deputy Chief Fire Officer for Merseyside Fire & Rescue Service, added that:- "We are delighted to offer people the opportunity for vulnerable, elderly people to swap their unsafe heating methods for safer oil-filled radiators. Through the amnesty we aim to reduce fire deaths caused by dangerous heating and excess winter deaths resulting from cold conditions."

For more information about the scheme people can call:- 0151 296 4367 or via:- email.