Liverpool Futures to create hundreds of apprentices
LIVERPOOL Futures is the new Liverpool Apprenticeship Service and it was officially launched on Tuesday, 7 February 2012. Liverpool Futures is a partnership between Liverpool City Council, Liverpool Chamber Training, Liverpool Community College and the Eldonian Group that will help to create more than 1,300 new apprentices in the next three years across the City Region. The new service will focus on the creation of new Apprenticeship opportunities within local businesses to help Liverpool people find long term jobs. The distinctive feature of the Liverpool Futures is that it acts as the employer until 'host' organisations are ready to offer permanent jobs either during or at the end of their Apprenticeships. By removing the barriers of recruitment and employment which can be a lengthy and expensive process for small businesses, it is hoped that more employers will take the plunge and recruit an apprentice.

Cllr Nick Small, Liverpool's cabinet member for employment, enterprise and skills, said:- "Liverpool Futures will deliver high quality training and skills which are essential in helping people secure employment. It will also play a significant role in creating new employment opportunities, which will be essential to reducing the worklessness and rising youth unemployment in the city."

Employers to be targeted include sectors that do not have a high take-up rate of Apprenticeships, and those in areas which are a priority for the region, including the four transformational sectors; low carbon, visitor and knowledge economies and SuperPort.

Jack Stopforth, chief executive of Liverpool Chamber of Commerce, said:- "Our aim is to make the process of employing an apprentice much easier for local businesses as well as ensuring that they receive a highly skilled apprentice to suit their business needs. We welcome the opportunity to work with the Eldonian Group to reach the unemployed people across the city to provide them with the relevant training and opportunities they need to succeed into long term employment."

Liverpool City Council is investing £800,000 into Liverpool Futures, which is part of the Council's commitment to increase the number of Apprenticeships, with the Community College putting in a further £300,000.

Elaine Bowker, principal of Liverpool Community College, said:- "We are delighted to be part of the new Liverpool Apprenticeship Service. The partnership will significantly improve prospects for local young people and contribute to the city's economy. The Apprenticeship model is a great example of meeting the demand from employers."

It is projected that Liverpool Futures will create more than 300 apprentices in the first year to reach the target of 1,300 apprentices in next 3 years. Liverpool Futures Apprenticeships are open to residents of the City of Liverpool. For more information or to register visit:- liverpoolfutures.co.uk or call now on:- 0151 224 1887.
UNISON highlights bad Ofsted report at Birkdale High School Academy
WE will be contacting Birkdale High School Academy this week for a chance to respond to a press release that was issued by UNISON. The Union has stated Ofsted has report to parents of their findings into the Academy this week. The Union said that that the school has been deemed to be "Inadequate with Special Measures." in just 4 months into their Academy status being given to them by Ofsted.

UNISON Branch Officer, Jonathan Allan said:- "This is an extremely worrying report for everybody concerned with Birkdale High, parents, pupils and staff. Even more worrying because it is without precedent, this is the first of Michael Goves Academy convertor schools to fail in the North West. Because there is no natural hierarchy, as in a Local Authority, it is Michael Gove who will decide what action needs to be taken. In the past he has said that if an Academy should fail, the school 'will get a new sponsor.' ie: a private company, Birkdale High currently doesn't have a sponsor. This leaves it vulnerable to having one imposed upon it. This could have consequences for the other schools in Sefton who have converted. Many of these education businesses are backed by venture capitalists that are acquisitive by nature and would want to operate a chain and are undemocratic and not transparent and have not direct relation to the communities they serve. In fact they are encouraged to do so by Gove. We would then have the unedifying state of affairs of our young people's education being determined by the market. This is a truly appalling state of affairs."

UNISON Regional Organiser, Paula Williams said:- "The people who allowed this failing school to become an Academy and thus opting out of the control and accountability of the Local Authority need to be held to account for that decision. This proves that allowing school to adopt Academy Status does not mean a better education for our children". She went on to say "this is a very difficult time for both parents and staff who do not know what will happen next."

If you are a parent or staff at the school, please let us know what you think about the comments given to us by UNISON. Do you agree? Please email us to:- news24@southportreporter.com.

Barbie ™ is set to make a splash at Vue in Southport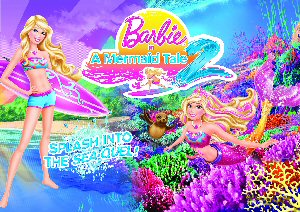 BARBIE fans are in for a splashing treat this half term when a special screening of Barbie™ in A Mermaid Tale 2 hits Vue Southport on Thursday, 16 February 2012, at 10.30am. Tickets are just £4.50, making it the perfect half term treat.

In her latest adventure, Barbie™ returns as Merliah™, the fun and fashionable surfing champion who's also a magical mermaid princess! In this exciting sea-quel™, Merliah™ heads to Australia for the ultimate surfing competition. However, when the evil mermaid Eris escapes from her whirlpool with plans to take over the throne of Oceana, Merliah™ and her sea friends dive in to stop her. In this fresh new adventure, Merliah™ learns that anything is possible and she really can have the best of both worlds!

To ensure Barbie™ and friends are shown in all their beauty, the fabulous fairytale will be presented on Vue's High Definition screens, with Dolby Digital 5.1 Surround Sound; plunging cinema goers into the aquatic Barbie™ world. Vue's comfortable stadium style seating, means audiences will be able to enjoy the captivating world of Barbie™ in luxury, ahead of the film's DVD release on Monday, 27 February 2012.

Mark de Quervain, Vue Cinemas, said:- "We are thrilled to be showing Barbie™ in A Mermaid Tale 2 to children up and down the country. The big screen will allow fans to experience Barbie™ in a new and exciting way. It's set to be a truly wonderful day and one we hope children and their families will remember."

Tickets to Barbie start from £4.50 and can be booked at:- myvue.com.
MEP's fishy ideas
A Euro-MP is aiming to make sure that there are plenty more fish in the sea. Liberal Democrat Chris Davies has tabled more than 100 amendments in the European Parliament aimed at putting Europe's Common Fisheries Policy on a sustainable basis. The MEP holds a key role in the law-making process that has given him the opportunity to take the lead in putting forward his ideas. Fish stocks across the world are declining rapidly, and Europe's modern fishing fleet is said now to be landing fewer fish than the wooden sailing vessels of 100 years ago.

Davies insists that fishing must in future be based on scientific advice aimed at restoring the long term health of fish stocks.
He said:- "Year after year the governments of Europe have ignored the scientists and set quotas on the basis of short term thinking. It has been a dreadful mistake but it's not too late to change. Our seas are capable of supporting many more fish than exist now but only if we give stocks a chance to recover."

Reforms to the policy have been proposed by the European Commission and have the support of the UK Government. Crucial votes by ministers and MEPs are expected in June 2012.
The plans call for the long term management of fisheries, and for a ban on the discard, dead, of unwanted fish that are thrown back into the sea. In his amendments Davies is calling for extra measures to improve the science, force ministers to stick to recovery plans, and ensure that all information is made public.

Davies added that:- "Fishermen don't like change and will object to many of the plans, but we cannot go on as we are. It's immoral to make no use of fish we catch. More selective fishing gear can be used but many fishermen will only make the investment when the discard of fish is banned. In future everything must be landed, and then for the first time we will know exactly how many fish are being caught."

The MEP strongly rejects claims that the decline in fish numbers is solely the fault of European policy. He says that British fish stocks were in steep decline long before the Common Fisheries Policy was created in 1983.
He commented that:- "Outside the 12 mile limit Europe's seas are a common asset, but the controls have been too weak. We need a policy that works for everyone and gives a good future to fish and to fishermen."