GREEN SPACE PARTNERSHIP LAUNCHED WITH CASH GRANTS TO HELP PROMOTE HEALTH AND WELL BEING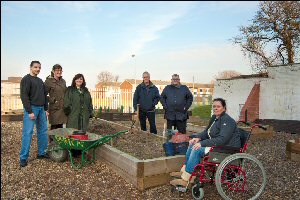 COMMUNITY groups across Liverpool have been given cash grants to help them use local green space to improve people's health and well being as a new partnership is launched for the Decade of Health and Wellbeing.

Projects to help people to grow their own food, initiatives to create new community gardens and orchards, and plans for new sports facilities and wildlife areas have all received help from Liverpool Primary Care Trust's Natural Choices for Health and Wellbeing programme.

The programme has awarded small grants to 38 groups across the city as part of ongoing efforts to use the city's natural environment to boost people's health and wellbeing.

Residents in Jubilee Park, Kensington, have been given £6,710 to transform an area of derelict land into two football pitches. And in Edge Hill, residents around Overbury Street will use £6,205 to create their own 'green corridor' of fruit trees. Dozens of projects to create new community allotment space to grow fresh fruit and vegetables have also secured funding.

The Natural Choices programme invited communities to bid for small cash grants to run their own projects aimed at improving health and wellbeing using local green space. The package will help pay for all aspects of project delivery including training, recruitment of participants and volunteers, evaluation and employment of specialist experts (eg. horticulturalists). Cash awards from the Natural Choices programme include:-

► Rice Lane City Farm in Walton which received £7,000 to fund a project to get local people involved in rejuvenating hedges along the farm's fields and paths.

► £7,500 to the Daisy Roots 'n' Shoots project which aims to help disabled children to grow, harvest and cook fresh produce by adapting an allotment site at Old Swan.

► A grant of £2,000 to help Bradbury Fields Tandem Group and Bradbury Walkers to fund a volunteer programme to help visually impaired people to enjoy walking and cycling in a popular area of green space.

► Breckfield and North Everton Neighbourhood Council which secured a £7,500 grant which residents will use to create a new wildflower garden.

The Natural Choices programme is part of the Decade of Health and Wellbeing and grew out of last year's Green Infrastructure Strategy – a groundbreaking PCT and Liverpool City Council initiative which audited all the green assets in the city. Merseyside environmental regeneration initiative The Mersey Forest Team produced the strategy which mapped the city's entire green infrastructure – everything from gardens and street trees to parks and allotments and are now on board to help foster the Natural Choices projects in this new partnership.

Gideon Ben-Tovim OBE, Chair of Liverpool PCT said:- "These community projects will make a big contribution to our campaign to make Liverpool a healthier, greener and more equal city over the next decade. They're a major part of our campaign to encourage people to take up the 5 Ways to Wellbeing which are central to the decade's success. These projects will create hundreds of opportunities for people to get out and enjoy the fresh air, take some exercise, meet their neighbours and enjoy the pleasures of growing and eating your own food. All of these things have been proven to have a significant and positive impact on health outcomes."

Kirkdale's community learning project the Rotunda Learning Centre has secured £7,500 from the Natural Choices programme to create an accessible edible community garden for local residents. Rotunda will work in partnership with Merseyside Probation Trust and Merseyside Disability Foundation.

Donna Williamson, Rotunda's volunteer co-ordinator, said:- "This funding is a wonderful boost for the Rotunda project and will bring enormous benefits to one of the poorest neighbourhoods in Europe. It will help us to create a green oasis in an urban area which currently lacks good quality shared open space. We live in something of fresh food desert in Kirkdale, you have to travel some distance to get access to fresh fruit and vegetables in the shops. With this money we'll continue to clear a previously derelict area of land which is on the site of a demolished school. With help from the probation team we've already made a start and put 2 raised beds in. Now with the Natural Choices money we'll be able to add more raised beds and improve access for disabled people. Local residents of all ages will be able to get involved, sharing knowledge and experience and learn together about the benefits of home grown produce. Connecting people with the earth, getting out in the fresh air, and the physical exercise involved in gardening will bring significant health and wellbeing benefits to the residents of Kirkdale."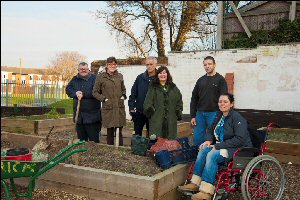 Gideon Ben-Tovim added:- "As Liverpool's health services continue to look for innovative ways to improve the city's health outcomes and make the best use of limited resources, this programme putting support and resources into our communities represents a sound investment and really can make a big difference. Natural Choices focuses on communities where there is significant potential to improve wellbeing as a step to improving overall health, and crucially it's the communities themselves who will be delivering these projects and making them a success. We'll be continuing to support the groups as they deliver their projects over the coming year. There's strong evidence of a powerful link between access to high quality green space and improved health outcomes4. And as part of this partnership we will be evaluating the programme to show the health and wellbeing benefits which are being delivered. Through the Natural Choices initiative, the Decade of Health and Wellbeing and the Green Infrastructure Strategy, Liverpool is leading the way when it comes to using green assets to promote a better quality of life in our cities."

Funds from the Natural Choices for Health and Wellbeing programme were awarded this month with project delivery being carried out between now and November.

A 'real food film festival' is also planned for venues across the city in October. The festival will be run by Squash Nutrition which has also been awarded cash from the Natural Choices programme to create a flagship green community hub around the Windsor Street area of Toxteth. The film festival will show documentaries around food issues as well as films about the projects funded by the Natural Choices programme.

A full list of projects which have been awarded cash under the Natural Choices programme is available on request.

Female quotas for Britain's boardrooms?
PRIME Minister David Cameron was lambasted for failing to rule out the introduction of female quotas into top FTSE boardrooms when speaking at the Stockholm summit yesterday.

Almost exactly a year ago, Lord Davies launched his independent review into Women on Boards. His report recommended that UK listed companies in the FTSE 100 should aim to have a minimum of 25% women board members by 2015.

One year on from the Davies report, the figures show a steady, but fairly modest increase. Board Watch recently reported that the percentage of female board directors of FTSE 100 companies has risen from 12.5% in 2010 to currently 15%. For FTSE 250 companies, the figure is 9.4%, up from 7.8%. This is set against a background of roughly half the working population being female.

Board Mentoring report that only 56% of FTSE 100 companies state they have a policy on boardroom diversity, and only 33 companies have set themselves targets for the percentage of women on their boards, a mere 10 of which are greater than a 10% increase.

All agree it would benefit British businesses to have more women in their boardrooms, but nothing sparks as much controversy as the question of whether we should follow Scandinavia and introduce quotas to remedy the situation.

Lord Davies did not recommend introducing any last year, but said that the government would reserve the right to introduce more prescriptive alternatives if the recommended business-led approach did not achieve significant change. Is it too soon to do so now? Would quotas be helpful? The debate has opened up once again.
Legion Appeals for Help
FORMBY Royal British Legion are looking for a responsible person or persons to take charge of the Poppy Appeal in Formby. They would be responsible for running the Poppy Committee which meets throughout the year and organizes various fund raising events. The main aspect would be to organize the preparation, distribution, collection and counting of poppy boxes and tins in November and the manning of stalls in the supermarkets.
Help, advice and support will be available. It would suit recently retired persons but there is no remuneration for this position. The Legion are also looking for someone to train as a Deputy Standard Bearer. Anyone interested in helping should contact the Legion in Whitehouse Lane directly or ring:- 01704 877477 between 9:30am and 11:30am.

BINGO
Formby Royal British Legion are hosting a Bingo Night on Friday, 17 February at Formby Legion in Whitehouse Lane in aid of the Poppy Appeal. There will be cash prizes,doors open 7:30pm, eyes down 8pm. All money raised goes to help service and ex-service personnel.
Letter to the Editor:- "Salomond must trump objection."
"I was astounded to see that Donald Trump is objecting to the possible erection of a 'monstrous' windfarm near to his new Aberdeenshire golf course. His claim that our First Minister is 'hell-bent on destroying Scotland's coastline and therefore Scotland itself' reminds me of the remarks made by the many nimby locals who unreasonably objected to his golf course in the first place. Mr Salmond's government was quite right to reject this kind of argument then and should do so in this case where the possible economic benefits far outweigh a few small changes to rather indifferent scenery. Mr Trump's golfing customers are, in any case, likely to keep their eyes on the ball and will be unlikely even to register the distant sight of essential green generating infrastructure designed to benefit all the people of Scotland." John Eoin Douglas.
Editors note:- "Thank you for the letter, but we are a bit puzzled as to what the connection to Merseyside? We added it anyway as it might be of interested to any Aberdonian living on Merseyside> We have also sent you a few contacts media contacts that might help, like the Caledonian Mercury.
Government E-Petition Launched
CLLR Jake Morrison, Councillor for Wavertree, has set up a Government E-Petition calling on the Government to take action on Sudden Adult Death Syndrome.

Jake Morrison has set up a petition saying the following:- "We call on the Government to take action on Sudden Adult Death Syndrome (SADS). SADS can go on undetected, and is something which can affect people aged between 12 & 35 years old. It can be detected by simply having an ECG test. The Oliver King Foundation was set up following the death of Oliver King, a 12 year old boy who died in Wavertree of SADS. We call on the Government to introduce defibrillators to all public buildings by 2017, and provide staff with the appropriate training. We also call on the Government to offer all people aged between 12 & 35 a simple ECG test, which could reduce the current death rate of 12 young people a week."

Cllr Jake Morrison, a Patron of The Oliver King Foundation said:- "I've been working with the family over the past few months, and they are doing invaluable work to raise awareness of this silent killer. What the foundation is calling for is something simple, we want all 12 to 35 year olds to have an ECG at some stage, with the aim to reduce the death rate of 12 young people a week. If the work of the Foundation can save the life of one young person, it will be a huge success. From what I hear of Oliver, from his parents Mark & Joanne, he was a young boy much loved by everyone who surrounded him. I'm delighted and proud that Mark & Joanne have asked me to play a part in this cause. The Government need to take action on this silent killer as soon as possible, it is not an unreasonable request."

Mark King, Oliver Kings Dad, said:- "We want to bring awareness out about SADS. We need to get these defibrillators in Schools and Screening introduced to save young peoples lives. If this e-petition can raise awareness nationally, that can only be good."

Luciana Berger MP for Liverpool Wavertree, a Patron of The Oliver King Foundation, said:- "I would urge as many people as possible to sign up to this e-petition. The more support this campaign gets the more likely it is the government will take notice and act. Together we can ensure that no young people die needlessly."
Online plans will penalise farmers
FARMERS and landowners in the North must have access to a reliable broadband connection before plans to push all farm payment applications online are carried out, the CLA has warned. The Association says that plans unveiled this week by the Rural Payments Agency (RPA) to abolish paper-based Single Payment applications by 2015 will penalise hundreds of CLA members still struggling with slow broadband or dial-up connections.

CLA North Regional Director Dorothy Fairburn said:- "This move by the RPA is an example of the Government and its agencies saving their own costs without appreciating that a significant number of rural businesses do not have the broadband connectivity required. Until the Government can guarantee a quality broadband service for everyone, they simply cannot force farmers and landowners in the 'internet slow lane' to waste hours of their already pressed time trying to fill in forms online."

The CLA is lobbying to ensure that every household can access a broadband connection of at least 5Mbps. The Association estimates that up to a third of the country; predominantly in rural areas; still cannot access a fast and reliable broadband service.