U-Boat Story celebrates double landmark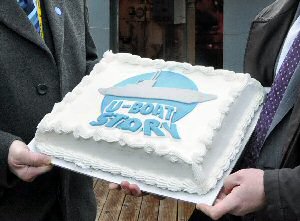 MERSEYTRAVEL'S popular U-Boat Story attraction has celebrated its 2nd birthday by passing the 100,000th visitor barrier - well ahead of schedule.

The record was broken by pupils from Greengate Junior School in Cumbria, who visited the U-Boat Story as part of an educational trip; they also visited Spaceport at Seacombe and took a Ferry 'cross the Mersey.

Since opening in February 2009, the Woodside based U-Boat Story has become a resounding success with visitors, capturing the imagination of people of all ages, from across the world as well as from around the region.

Councillor Mark Dowd, Chair of Merseytravel, whose father was a merchant seaman, said:- "I think the interest associated with U-534 stems from people recognising its importance in the history of maritime warfare, especially the gallant role our seamen played during The Battle of the Atlantic. I am particularly pleased to see the growing number of schools who are visiting our unique attraction."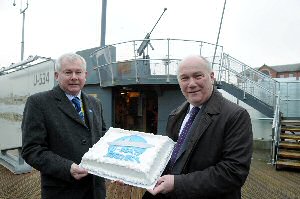 U-boat story offers access to an inspiring story of living history, broadening knowledge and understanding of a range of topics including World War II history and The Battle of the Atlantic. With fascinating facts about a typical day on board a U-boat, a visit to U-534 can develop many areas of the curriculum from Design and Technology to Maths and Science, improve authentic problem-solving skills by learning to send messages in Enigma code, make a submarine dive or identify potential hazards to navigation using sonar.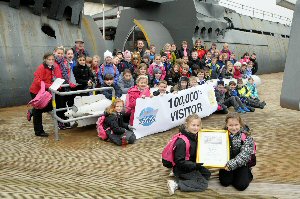 Greengate Junior School teacher, Mrs D Ditchfield said:- "The children have been learning about World War II over the past months, so bringing them to see the U-Boat in so much detail has been a really good way of bringing history to life for them and to find out that we're record breakers was the icing on the cake!"
U-Boat Story has achieved several prominent awards including Visit England's prestigious Visitor Attraction Quality Marque, The Mersey Partnership Annual Tourism Awards 2011 Small Visitor Attraction of the Year, was highly commended in the Royal Institute of Chartered Surveyors North West Awards and shortlisted in the inaugural North West Awards for Coastal Excellence.

Merseytravel Director, Frank Rogers added;- "U-534 is one of only four u-boats left in the world, it is unique in the UK, and I am delighted to see it growing in popularity."

The U-Boat Story is open every day 10.30am to 5.30pm, last admission at 5pm. Pre bookable guided tours are available. For further details visit:- u-boatstory.co.uk or telephone 0151 330 1000.

New start for Stonebridge Cross
THE long awaited multi-million pound transformation of a run down Liverpool estate is about to become a reality. Demolition work is underway at the Stonebridge Cross site, off the East Lancs Road. It paves the way for a £200 million regeneration scheme which will revitalise the area. The Stonebridge Cross scheme will deliver 500 new homes, new retail and commercial development and a new park.

Plans for the site, which was once occupied by the Gillmoss estate, also include the relocation of St John Bosco School and a new health centre. The start of the demolition work; which is managed on behalf of the council by 2020 Liverpool; is a major milestone for local residents, who have seen a number of proposals for the area fall by the wayside in recent years.

The Stonebridge Cross Stakeholder Group was set up to drive forward the community-led redevelopment of the site. Following extensive consultation, the preferred option for a comprehensive, mixed-use development was endorsed by the group in March 2010.

Stonebridge Cross, at 98-acres, is one of the largest council-owned development sites in the city. The ambitious plans will be delivered by the council's groundbreaking 'asset-backed vehicle', called Inliverpool, which sees the council provide the land and private sector partners paying for and delivering the project.

Council Leader Joe Anderson said:- "This investment in Stonebridge Cross is long overdue, and I'm very pleased that we are now making it a reality. It is one of the key regeneration schemes taking place in Liverpool over the next three years and will benefit thousands of people for generations to come. We're absolutely determined to drive forward the regeneration of our communities, and this fantastic development is proof that by working imaginatively with the private sector and local people we can deliver real, significant improvements, despite the difficult economic times."

Councillor Ann O'Byrne, Liverpool City Council's Cabinet Member for Housing and Community Safety, and chair of InLiverpool, said:- "I'm delighted work is starting at Stonebridge Cross – it's fantastic news for local people. Improving our housing stock is a major priority for us, but the current economic challenges mean we need to do things differently. This development is a great example of how by taking an innovative approach, through our asset backed vehicle, we can transform communities and deliver the type of good quality, affordable homes people have told us they want."

The Stonebridge Cross development forms part of the council's Housing Delivery Plan for 2012 to 2015, which was launched at the end of last year. It includes plans to build 2,000 new homes across the city over the next 3 years; a major drive to bring empty properties back into use; and the introduction of a mortgage support scheme to help first-time buyers.

The city council hopes to generate a total investment of around half a billion pounds, which will be achieved by releasing council-owned brownfield sites at no cost, making available a £20 million housing fund and working with private builders and Registered Providers to deliver new homes.

Nick Kavanagh, the council's director for regeneration and employment, said:- "The InLiverpool partnership is presenting really exciting opportunities for us to build a better future for our city, and the Stonebridge Cross development is a prime example of the great things we can achieve using this approach. We are working effectively with private sector partners to generate huge investment which will transform the area and drive up the quality of people's lives. Just as importantly, we are working effectively with residents, listening to their views at every step of the way and ensuring this is a true community-led development."

A planning application for the site is expected to be submitted during the summer of this year.
Davies backs MEP cost cuts
NORTH West MEP Chris Davies is calling for Euro-MPs to face an expenses freeze until 2014. The Liberal Democrat wants the European Parliament to reject an inflation-linked increase in its administration costs, and says that MEPs should accept cuts in the value of their expenses budget. He said:- "To anyone who has served on a local council, or who has run their own business, it is stark staringly obvious that the European Parliament could achieve big savings in its budget without affecting its work." Davies claims that a huge saving of up to £200 million a year could be achieved by ending the rotation of the Parliament between separate buildings in Brussels and Strasbourg. He added that:- "I have no doubt that a majority of MEPs want to put an end to the 'travelling circus' arrangements, but the decision rests not with the European Parliament but with national parliaments. Change may be blocked by France, but until the issue is put on the agenda the arguments will never be properly heard."