Liverpool John Lennon Airport is England's family friendliest airport!
WITH the first half term holidays of the year underway and many families choosing to jet off for a short break, a recent survey has highlighted Liverpool John Lennon Airport (JLA) as 1 of the UK's family friendliest airports. In a recent survey of 1,000 families conducted by Skyscanner, the travel search internet site, Liverpool John Lennon Airport (JLA) came third in a list of the UK's top 10 busiest airports in terms of its 'family friendliness', behind 2 Scottish airports, but top in England.

Skyscanner helps thousands of people find the cheapest flights every day providing instant comparison on flight prices for over 600 airlines and millions of routes, as well as price comparisons for car hire, hotels and holidays. They asked more than 1,000 families to score the UK's top 10 busiest airports on several family friendly factors including children's play areas and facilities, food options for children and the security process.

Scotland's biggest airports took the top 2 spots with Edinburgh receiving the highest marks followed by Glasgow. Liverpool John Lennon Airport came a close 3rd, topping the list of English airports. JLA has invested heavily in recent years with improvements to the terminal building. These have included the new, larger passenger security search area with all new equipment and a number of new and improved retail and catering areas all designed to enhance the overall passenger experience.

Families in particular are literally well catered for, with a number of food and beverage operators aiming their menus at families with young children and with activity packs to help pass the time. Robin Tudor, Head of PR at Liverpool John Lennon Airport commented:- "Independent feedback such as this is really important to the Airport. For families themselves to be saying we are the top 'family-friendly' airport in England is great news for JLA and demonstrates that the recent £12m improvements in the terminal have been really well received by passengers. The reduction in queuing times at security and the great choice of retail and catering facilities have made a big difference. We pride ourselves on being a convenient, hassle free, friendly airport for all passengers, but for families and particularly those with young children, these attributes are particularly important."
Cycle to Paris this summer to help charity fight muscle disease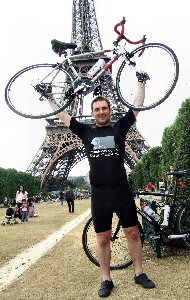 A national charity are now calling on local readers to join the fight against devastating genetic muscle-wasting conditions by taking on a cycle ride to the ultimate romantic European city this summer to raise funds.

The Muscular Dystrophy Campaign is offering the classic capital to capital cycle ride from London to Paris aimed at raising money for research into treatments and cures for the conditions, which affect 70,000 people of all ages across the UK.

This long-weekend challenge covers around 300km in just three days from 22 June to 25 June 2012 and offers the opportunity to see beautiful open countryside, bustling city life and form friendships with fellow cyclists which could last a lifetime. This is your chance to enjoy sleepy Normandy villages with some challenging hills to conquer along the way, before reaching the iconic Eiffel Tower in the beautiful city of Paris with free time to explore all the sights before the return journey home courtesy of Eurostar.

Charles Horton, the Muscular Dystrophy Campaign's North West Volunteer Fundraising Manager said:- "Join our cycle ride from London to Paris in June and you will be helping us to fund vital research into cures for muscle disease. You only need to be of average fitness to enjoy this challenge and you could help to change the lives of thousands of people across the North West by taking part. We have kept the registration fee and minimum sponsorship levels really low on this cycling challenge so that its easy for you to take part. This is always a very popular event so get in touch now for more details."

Muscular dystrophy and other neuromuscular conditions cause muscles to weaken and waste over time, leading to disability and in the case of some types of the disease, significantly shortening life-expectancy. The Muscular Dystrophy Campaign has been funding research into treatments and cures for the conditions for over 50 years, and has helped pioneer specialist care for patients.
To find out more about the London to Paris cycle ride or an alternative ride to Amsterdam in July, please contact the North West Regional office of the charity on:- 01244 536551 or via email.

Bobby Rahal's Chevron B16 wooed the crowds at the Retromobile 2012 show in Paris
Report written by Rob Wilkins.


Brian Redman above picture courtesy of Legends of Motorsports.
THE Chevron B16, assembled by Kelvin Jones and his Liverpool-based company, which specialises in racing and re-storing historic cars, has been owned by Rahal, 1986 Indianapolis 500 winner and CART Champion in 1986, 1987 and 1992, since 2009. It was manufactured to the exact specification as the original cars, using the same jigs, moulds and drawings as its predecessors from the late 1960s and took pride of place on the Courage stand.

Kelvin said that:- "It is probably one of the most exact B16's racing today. The chassis was built at Arch Motors, who have been building them since the 1960s. The response to it at Retromobile was fantastic. The French racers and car fans were completely blown away with the finish and the quality of the car we have built. I am now looking forward to working with Courage and promoting the Chevron product in France."

Since July 2009, Rahal has enjoyed much success with his KJM-assembled Chevron B16, taking a class win with it first time out at the World Sports Car Masters race at the Silverstone Classic event and also enjoying success with it at Circuit Mont Tremblant in 2010.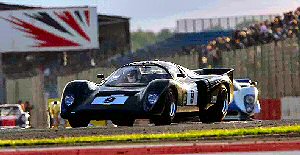 Bobby Rahal picture in action at Silverstone, courtesy of Charlie Wooding.
It last took class 'gold' at the end of 2011, with Brian Redman, the ex-Chevron works driver, steering it to victory at Sebring International Raceway in the Legends of Motorsports season finale.

Kelvin added that:- "It was a great honour for me to build the car for Bobby. It was a pleasure to work with him and since we have become good friends. He keeps an eye on the career of Declan and the whole relationship has been built up through this car. I was sad when it went to America, some 18 months ago. But like any love affair you get over it, in the end! I am glad it is back in Europe now and promoting what we can do on this side of the Atlantic. It certainly did that in Paris and it is also currently doing that at the Courage factory, where it is on display. It is a good advertisement for what we can do. It has done its bit for Bobby and now it is time for someone else to enjoy it. Bobby loved it. He couldn't race it enough and the first time he sat in it, he won the hour and a half race at Silverstone. I'd only finished the car on the Wednesday and by Saturday night we had already notched up victory number one. That sort of pressure is unbelievable. But we did it and he was impressed. It was later shipped to the USA and that is where it has been until recently. It has won all over America, but now Bobby has decided to sell it and he has charged me with doing so on his behalf. It is a fantastic car and is probably one of the best cars I have ever built. It really is a top bit of kit."
Missing from home:- "Patricia Maguire"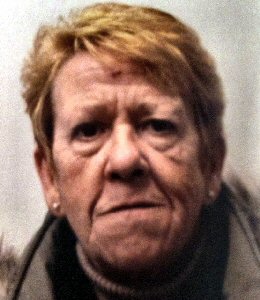 MERSEYSIDE Police are becoming increasingly concerned about the whereabouts of a 63 year old woman who has been missing from her home in Walton since Saturday, 7 January 2012. Patricia Maguire left her home in York Close with an overnight bag on Saturday, 7 January 2012 and was in contact with her partner by phone until Saturday, 14 January 2012. She has not been heard from since. Patricia is described as white, about 5ft 4in tall with a slim build, short straight blonde hair. She has hazel eyes and wears glasses. Officers would urge Patricia, or anyone who has seen her to contact the officers on:- 0151 777 4582 or the Missing Persons Helpline on:- 0500 700 700.