2012 Looks Bright as Merseyside Dance Initiative (MDI), flourishes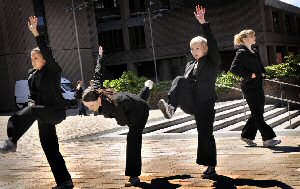 IN just one month, 2012 is already looking like a successful year for Merseyside Dance Initiative, thanks to a series of successful funding bids, programme announcements and an MBE for Artistic Director Karen Gallagher. At the turn of the year, Karen Gallagher was awarded an MBE in the New Year's honours list for her services to Dance. Karen has received congratulations from Arts Council England, The Department for Culture, Media and Sport, Councillor Moira McLaughlin, Mayor of Wirral and Ged Fitzgerald, CEO of Liverpool City Council and has promised to continue the great work that she and MDI do for dance and the community on Merseyside.

On receipt of her MBE, Karen said:- "I am so proud to be in receipt of this honour and I am very grateful for all the wonderful support and well wishing that I have had. I am quite overwhelmed; it was such a wonderful surprise and a great way to start my new year."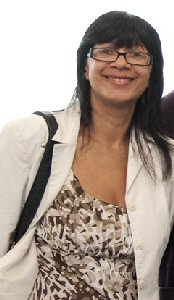 Appointed as the North West Hub Lead for the Big Dance 2012; the ultimate dance experience in 2012, January has subsequently been an exceptional month for MDI. The organisation was awarded a Grant For the Arts from Arts Council England towards its Big Dance NW Link up 2012. As well as providing the infrastructure for Big Dance in the North West, the grant will fund the North West's Big Dance Commission, which will be choreographed by Jeanefer Jean Charles, who has since been confirmed as Mass Movement Coordinator for the Olympic Games. The dance piece choreographed by Jeanefer and assisted by locally based Lisi Perry, will be performed by over 1,200 dancers at a yet to be announced North West location during Big Dance Week.

The Big Dance 2012 will take place from 7 July to 15 July 2012 that includes a 7 week countdown period starting on 18 May 2012 as part of London 2012 Festival; the finale of the Cultural Olympiad. The festival will feature 9 days of dance in unusual spaces throughout the UK; shopping centres, parks, galleries, and lidos, plus showcasing the diversity of dance styles across the country.

Mira Balchandran Gokul, Big Dance 2012 Coordinator for the North West, based at Merseyside Dance Initiative said:- "Big Dance 2012 in the North West is about showing the country and the world the great dance activity that goes in the region. Dance is the fastest growing art form and we want to bring it more in to the public realm through large scale quality participatory events and performances. Big Dance in the North West aims to link every borough in the region to the London Festival 2012 programme, the finale of the Cultural Olympiad. It is the biggest celebration of dance and we want everyone in the North West to join."

Following the 'Big Give Christmas Challenge' fundraising campaign, the organisation revealed that they had successfully raised over £2500 in donations. The money raised will be used to facilitate projects at Alder Hey Children's Hospital and in Dementia Care. These projects will form part of MDI's Health and Wellbeing programme, which will be launched in April and span until 2015. The Organisation's Dance and Health Strategy for Merseyside will also be launched later this spring. The Strategy will see MDI increasing dance activity in the region over a three year period. Working with individuals, groups and communities the strategy utilises dance as a method of addressing health inequalities, and will also produce new dance work for performance with diverse community groups and professional artists.

MDI's 'Topsy Turvy' mini festival will return on Saturday, 24 March and Sunday, 25 March 2012, following its hugely popular debut in 2011. For an entire weekend, dance will take over the Capstone Theatre, with plenty of opportunities for audiences to enjoy and interact with dance in a number of different spaces. Topsy Turvy will feature performances from Taciturn, Lizzie Ryder, Kate Jackson and Lauren Tucker, Jo Ashbridge, Maxine Brown, Genevieve Say and Edge 4wd, as well as five new pieces choreographed by Homotopia favourite, Gary Clarke.

This is preceded by MDI's annual and FREE Family Dance Day at the New Brighton Floral Pavilion on Saturday, 17 March 2012. This fun filled day of dance will include workshops, games and performances for the whole family to take part in. There will also be dance demonstrations in genres such as Contemporary, Street Dance, Hip Hop, Caribbean Carnival and African Dancing for visitors to take part in and learn more about taking up dance classes in each specific style.

MDI will be facilitating an informal gathering and discussion entitled Dance Conversations; The Health Issue at the Bluecoat on Friday, 23 March 2012, from 12pm to 2pm. Dance Conversations presents a free opportunity for Merseyside Dance artists and companies working in the field of dance and health and professionals from the health and social care to network and share ideas and practice and information on existing or future projects and research. Spaces should be reserved in advance through the Bluecoat Box office.

Success has also come in the form of travel for the organisation. MDI Project Co-ordinator Maxine Brown is currently away on a 6 week exchange project with Brouhaha in Martinique aimed at sharing artistic skills between the two countries with an emphasis on carnival.

MDI Project Development Manager Rachel Rogers will travel to America later this year, after being awarded a 2012 Winston Churchill Travelling Fellowship, in the category of Arts and Older People (supported by the Baring Foundation). She will be travelling to the US to research dance projects for older people and making the shift from community practice to great performance work.

For more information on MDI, click on to:- mdi.org.uk, Like Merseyside Dance Initiative on Facebook or follow @MDIstudio24 on Twitter.

1 of the world's biggest beat-boxers comes to Liverpool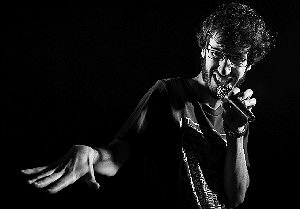 SHLOMO, who is a World Record holding beat-boxer and Southbank Centre Artist in Residence, is set to perform at the Black-E, Liverpool on Saturday, 17 March 2012.

Shlomo has worked for years to push the boundaries of beat-boxing as an art form and used his incredible vocal skills to make music within all kinds of musical genres. Now, he comes to Liverpool for a one off performance as part of the Voices Festival of a cappella singing, produced by Sense of Sound, which takes place from Friday, 15 March to Sunday, 17 March 2012.

Shlomo's fascinating live performance technique utilizes a loop pedal to sample his voice on the fly, enabling him to create and rework a huge range of original songs and well loved classics

Demonstrating the breadth of his abilities, Shlomo's amazing talent has lead him to make music with the likes of the Mighty Boosh, Björk, Martha Wainwright, Damon Albarn, Jarvis Cocker, Bill Bailey as well as appearing on Later with Jools Holland.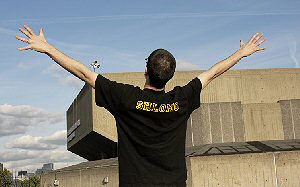 Classically trained as a drummer and percussionist since the age of eight, Shlomo took up jazz drums in his teens. In 2002 he moved to Leeds to study Astrophysics, but his beat-boxing quickly got him noticed and he joined the award-winning hip hop group Foreign Beggars soon after, heading on tour across the UK, Europe and Canada. In August 2004, Shlomo was invited by Icelandic singer Björk to beatbox on her all-vocal album Medulla. The track, 'Oceania', was commissioned to be performed at the Olympics Opening Ceremony in Athens and the performance was subsequently nominated for a Grammy Award. An estimated audience of 4.5 billion viewers saw this performance, making Shlomo the most heard beat-boxer in history. In 2011 Shlomo represented the UK at the World Loopstation Championships in LA where he defeated finalists from 12 other countries... Shlomo commented:- "I'm delighted and excited to be performing at the Voices Festival. Sense Of Sound is a fantastic movement and I think it's going to a brilliant event. I will be sure to bring my baddest beats and basslines!"

Saphena Aziz, Director at Sense of Sound said:- "We are delighted to welcome Shlomo to Liverpool as part of the Voices Festival. It's tremendously exciting to have this innovative and highly-respected artist performing; we look forward to his appearance greatly."

Other events taking place over the duration of the festival include a National Conference for Singing and Health, an a cappella concert featuring The Sense of Sound Singers and Connie Lush celebrating the music of Joni Mitchell at the Black-E both on Friday, 16 March 2012 and a day of a cappella performances from 15 of the region's choirs on Saturday, 17 March 2012. Bringing the festival to a close on Sunday, 18 March 2012 will be a free day of family fun with interactive activities for all ages throughout the day and will end with a massive 'Big Sing', which will take place in the Bluecoat Hub on the afternoon of Sunday, 18 March 2012.

Sense of Sound is one of the most unique and inspirational companies in the UK today. Led by four female directors; Jennifer John, Saphena Aziz, Juliet Russell and Perri Alleyne-Hughes, the organisation aims to create and produce amazing ways to celebrate singing and the Voices Festival is no exception. From hip hop to barbershop and contemporary jazz to choral, the Voices Festival will showcase the full (vocal) range of a cappella singing styles, giving plenty of opportunity for everyone to interact, get involved and get singing!
Catch Shlomo's performance on ITV1's Daybreak by clicking on to:- YouTube! More information can also be found about Shlomo at:- shlo.co.uk. The Voices Festival is produced by Sense of Sound and the Black-E, more information can be found at:- senseofsound.net.
Adopt a Puppy – the Easter gift with a difference from Canine Partners
IF you are looking for Easter gift with a difference, why not consider Adopting a Puppy to support national charity Canine Partners; which provides specially trained assistance dogs to people with disabilities. For just £1 a week your gift recipient will follow the path of a puppy's initial training to become a canine partner right through into their partnership with 1 of the Canine Partners disabled applicants and beyond. The Adopt a Puppy scheme, supported by Purina PetCare, allows supporters of Canine Partners a greater insight into the difference their donations can make to the life of a person with disabilities. The gift recipient will receive a puppy pack containing a photo of the chosen puppy, a personal certificate, a cuddly jacketed toy dog and regular updates on its adventures. Isabel Campbell, the Charity's director of fundraising and marketing, commented:- "Adopting a Puppy this Easter is an ideal way to give a wonderful lasting present to those you love, as well as supporting a worthy cause. We receive no government funding and rely on fundraising to put each puppy through its training at a cost of £10,000. Knowing you are involved in any way with helping our applicants gain the independence they deserve is hugely rewarding." Tracey Kesterton has multiple sclerosis and graduated with canine partner Lewis in 2010. She says that:- "Lewis is now so much a part of my life. When I wake, stiff in the mornings, Lewis tugs me to a sitting position so I can get up. He rounds me up for our walk in the morning, brings my shoes, keys, mobile phone and whistle. When we return from walks he tugs the door open for me so I can reverse my mobility scooter back in. Lewis empties the washing machine for me and is very good at picking up dropped pegs when I'm hanging things out. I manage to get by doing as much as I can for as long as I'm able. However, I am reassured that whatever MS throws at me, Lewis can be trained to keep pace with it – he is my reason to get up each morning." For further information on Adopting a Puppy or helping Canine Partners in any way, please call the charity on:- 08456 580480 or visit them online.