Don't break our hearts by breaking our Connexions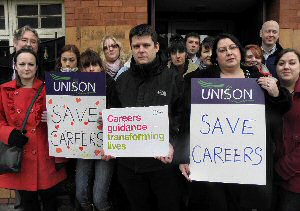 ON Tuesday, 15 February UNISON members across Greater Merseyside leafleted the general public as part of an ongoing campaign against cuts to the Connexions Careers Service. At a time of record Youth Unemployment across Merseyside the service dedicated to helping young unemployed people is itself being cut.

Connexions are the information, advice and guidance, 'Careers Service' for young people age 13 to 19. Young people are seen in school and then on leaving they can call into a Connexions office for help and guidance on applying for courses, apprenticeships, jobs, help compiling a CV and interview skills. However most Connexions offices across Merseyside; Liverpool, Wirral, Sefton, Halton, Knowsley, and St Helens; are now either closing or facing closure.

On the Wirral the Wallasey Connexions office has already closed and the Bebington Office is closing this week. Offices in Kirkby, Huyton, St Helens, Widnes and Liverpool all face closure at the end of March. With offices closing Young People will no longer have access to a dedicated office to get help and support.

Connexions workers are themselves under threat of losing their jobs. In 2011, 80 advisers across Greater Merseyside were made compulsorily redundant and the fear is a similar number could be made unemployed again.

Young people in schools wanting Careers Guidance will also be affected. All Careers work in schools covered by Connexions will end 31st March, and unless a school "buys in" services then pupils will have no way of seeing an expert, impartial, Careers Adviser for a face to face interview.

Schools have not been given any money by the government to fund this new duty and the fear is Careers Guidance in schools is in danger of being cut, or worse, disappearing altogether. It must be made clear to parents that their children may no longer have access to Careers Guidance in or outside of school, or be able to visit a Connexions Centre near them for help as the service is being radically cut.

Warning over danger 'vodka'
A public health warning has been issued about industrial alcohol being sold in Liverpool as vodka. The city council's Alcohol and Tobacco Unit (ATU) were alerted to the problem by a resident in Broadgreen who bought a bottle of vodka from a person they met while shopping in a city market. They were concerned about its taste and brought it to the Unit's attention.

Analysis of the "vodka" showed it contained denatured or industrial alcohol and was unfit for human consumption. It had an incorrect alcohol by volume (ABV) on its label

The vodka was in a one litre bottle and was labelled Revolution. The reverse of its label implied that it was an Aldi product. Neither the Revolution chain of bars nor Aldi supermarkets have any connection with this product.

"This is not only an illegal trade, but potentially a very dangerous one. It could seriously damage the health of any one drinking it. There are reports from other parts of the country of people's eyesight being damaged after they have drunk similar types of alcohol. While we do not believe that it is circulating widely in the city as yet, we are issuing this warning as we do not want anyone at all to risk their health by buying this product. Residents should not buy alcohol from unlicensed sources." said Councillor Tim Moore, cabinet member for the environment and climate change.

ATU are working with off licences to ensure that anyone distributing the product in Liverpool is identified.
Residents or traders who have been offered quantities of this or similar spirits please call Gary Baskott, Liverpool Alcohol Tobacco Unit on:- 0151 225 2501 or ring Crimestoppers on:- 0800 555 111. Also members of the public in other areas on Merseyside and Lancashire should keep an eye out for these "spirits" as they might be offloaded in other areas outside Liverpool now that the warning has been issued!
New waterfront development plan unveiled
A plan to develop Liverpool's waterfront has been unveiled that is by developer Neptune Developments. The plans will be submitted to the council later this month and includes apartments, a 170 bed hotel and retail and leisure space on the site at Wapping, known as the Baltic Triangle. The plans also include the completion of an underground car park and pavement cafe. If the plans are approved, Neptune hopes to be on the site as early as this summer.