Cult TV

P1 of 3. Article by Eric Lion-Taylor &

Photographs By Patrick Trollope.
Friday saw the opening of a weekend long convention celebrating Cult TV shows like Battlestar Galactica, A-team, Buffy and Star Trek.
Several celebrities were present including: Dirk Benedict of Battlestar Galactica and A-Team fame, Herb Jefferson Jnr. Also of Battlestar Galactica fame, David Jackson of Blake's 7 and Space:- 1999 fame, Carol Cleveland from Monty Python and Francis Matthews of Captain Scarlet and Paul Temple fame. And these were just the ones we saw on the Friday morning, there were others going to be turning up throughout the weekend, such as Claudia Christian, Teryl Rothery, Virginia Hey and Don Estelle.

Those first six were giving interviews and chatting with all the press that were present, answering questions that they have probably been asked thousands of times before. Although as Dirk Benedict said to someone, "hey you paid me what I asked for, and I like the UK, it couldn't get much better". Dirk also said "I love it here in Southport". In an interview Dirk was asked why he thought Battlestar Galactica had attained cult status and he replied "I think the reason that Battlestar Galactica has attained some longevity with fans is that it appeals to a lot of ages and was fun". He was also commenting on the fact that he constantly gets asked to sign things from Battlestar Galactica or the A-Team, people seem to forget the other things he has done. He also commented that he tends to get emotional about these events as it shows just how many people used to watch the shows.

Herb Jefferson Jnr when asked why he thought Battlestar Galactica had attained cult status replied:- "Battlestar Galactica and Sci-Fi in general reflect humanity and the stories are familiar ones retold with a science base, they give a positive outlook to the world showing humanity pulling together for a better future". He also said that most people call him by his character name, Boomer, rather than his real name, which most people forget. "You guys fly me over to England, you put me up in a real nice hotel suite and pay some money, you bring your kids and grandparents to see someone famous, course I enjoy coming to these events, sure beats sitting at home". Herb said in answer to some one saying whether he enjoyed these events.

We also found out that the new Battlestar Galactica will not feature any of the old stars from the first two films and series, but will instead be a whole new series carrying on in the older tradition.

To my eyes, Dirk didn't look much different from his days in the A-Team, he has aged well, although I thought Herb was looking a little older, although both men were in high spirits and good humour for the round of interviews and photo ops.

The event takes some 12 months to organise and has moved from the Adelphi hotel where it was held last year to the Floral Hall this year, we don't know as yet where it will be next year but we will keep you informed. The organisers are expecting some 600 people through the doors over the weekend.
Four-day tickets are priced at £70, children 11-15 at £45 and under 11s free. Special day rates will be available on the door from 8.30am on Sunday (October 27th).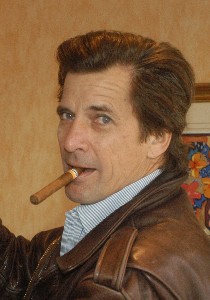 Dirk Benedict (A-Team and Battlestar Galatica) Give thumbs up to the Southport.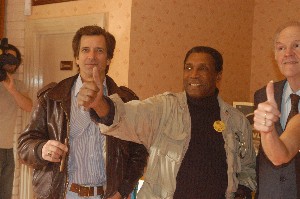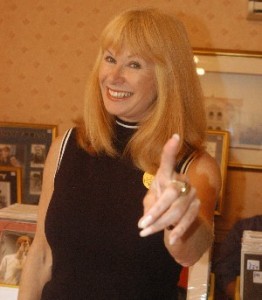 Carol Cleveland from Monty Python.