Storming on.

Photographs By Patrick Trollope.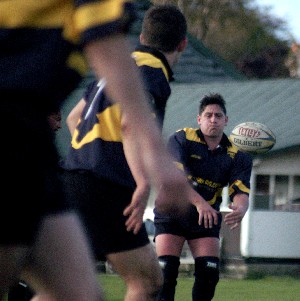 Now the Sandstormers are storming, seeing them also gain from the previous weeks 18 points due to cancellation of a game by Morecombe. Southport Rugby League then went on to last weekend's game on Saturday seeing them playing one of the best games of the season so far against second to top Langworthy Reds from Salford. The game started late due to the Reds getting lost on the way in, but the game soon became neck and neck as the underdogs, The Sandstormers, ploughed through the Reds defences and Neil Newton put in the first try of the game. Bryan Clifford then converted the try. The race was on and led to a 30-30 draw and a well-deserved pint in the clubhouse. It was only bad ball control in the final minutes that cost the Sandstormers their victory. "Overall the game has improved and soon they will be climbing to the top." Said one of the spectators. The coach said, "We have done well and it proves that we can play with the best of our league."
Southport Match Stats.

Chris Dresher 1 Try
Chris Brown 2 Tries
Craig Atkinson 1 Try
Neil Newton 1 Try

D Sinclair 4 Conversions
B Clifford 1 Conversion.