North West sees increase in Council Tax
THE average North West Band D Council Tax bill for 2012/13 will see a small increase, according to the country's most authoritative survey of Council Tax, released by the Chartered Institute of Public Finance and Accountancy (CIPFA). The average North West Band D bill for 2012/13 will be £1,472.66, an increase of £3.95 (0.3%), from the 2011/12 figure of £1,468.71. Across England, the average band D Council Tax bill has increased by 0.3% (£4.39). This is a relatively small increase compared with last year's average which was a decrease of 35 pence. The Department for Communities and Local Government has urged councils to freeze Council Tax this year and offered them funding to do so. Despite the number of households who are seeing an increase in their Council Tax bill, the survey shows that overall the response to this offer from councils has generally been positive. Of those authorities increasing tax, none are increasing by more than 4.0%. Following the introduction of the Localism Bill, local authority constituents now have the right to a referendum on Council Tax if it increases by over a percentage pre-determined by central government. This percentage is currently 4.0% for police and fire authorities and 3.5% for other authorities and, at present, no councils are set to exceed this limit. Ian Carruthers, CIPFA Policy Director, commented:- "This small increase in the North West demonstrates local politicians have generally heeded Government calls to freeze Council Tax. Councillors must take Council Tax decisions based on local priorities, For the most part, councils have responded positively to the Government's offer of Council Tax freeze funding. Where rises are planned none appear likely to trigger a local referendum. Service and job cuts are likely to continue as councils must balance their budgets. Our recent survey of finance directors' confidence is indicating that there is significant anxiety about the financial years 2013/14."
British Gas sees profits fall, but many homeowners still suffer
BRITISH Gas has announced that its profits for 2011 have fallen 30% compared to 2010, following what it has called a year of turbulence and challenge. Its parent company Centrica, however, has posted a slight increase in profits.

The flat overall results for Centrica will do little to quell the anger of homeowners across the country who are paying over the odds for their energy bills. And with energy prices expected to rise further in the coming months and years, fears are growing that vulnerable and financially excluded people will be faced with a choice between heating and eating.

Ofgem have announced intentions to make the energy market simpler and easier to navigate but in the short-term many will be left struggling to pay their bills for the rest of the winter and beyond. The value now lies in looking beyond the Big Six and households need to be proactive in seeking the best deals, which are increasingly being offered by smaller energy companies.

Danny Jatania, CEO of consumer champions Pockit believes that now is the time for UK households to take control of their spending. He said:- "Fortunately the weather was mild last year but still it didn't stop energy customers feeling the pinch when it came to paying their bills, even though their consumption was lower overall. The reason many are suffering is because of the overly complex energy market. The news of SSE scrapping its confusing range of tariffs is encouraging but this approach must be adopted much more widely throughout the industry if customers are to be able to make savings on their bills. At Pockit we are encouraging people to monitor their spending more effectively and the best way to take control of your energy usage is to find deals that offer the free installation of smart meters, which ensure that customers only pay for the energy they use."

The backlash against the Big Six has been sparked by estimates that 5.5million UK households are in fuel poverty and 3,000 winter deaths are caused by fuel poverty every year. The financially excluded are faced with a bewildering range of tariffs and the prospect of estimated bills charging them for energy that they have not used. With many people turning their backs on payment options that generate debt, such as credit cards, inaccurate estimated bills can have a devastating effect on the households of those who cannot afford to wait for compensation payments.

Danny continued:- "Millions of consumers are paying more than is necessary for their energy. The aim is for the energy market to become more competitive, which will see prices being driven down and the emphasis being placed upon the customer. While Ofgem is trying to encourage a more competitive energy market, households can take the initiative by shopping around and rewarding energy companies that are innovating and providing fairer deals."

BSL Messy Church returns to Liverpool Cathedral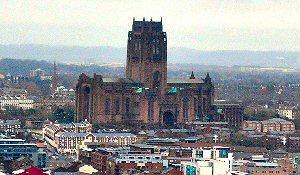 THE next BSL (British Sign Language) Messy Church will take place on Saturday, 3 March 2012, in Liverpool Cathedral's Lady Chapel between 4.00pm to 5.30pm.

Messy Church is a common expression of church in the Church of England. It encourages whole families to come together for craft activities, food, story-telling and celebration around a Biblical theme. The idea is to make Church accessible and fun for the whole family, offering something different to usual Sunday morning services.

The Cathedral Messy Church will be conducted in British Sign Language (BSL) as well as spoken English and it will be aimed at families who use BSL because either parents, grandparents or children are deaf. The idea isn't about providing access to a hearing project for deaf people, but establishing an entirely new group where all can participate together regardless of whether they are deaf or hearing.

Rev Dr Hannah Lewis, Team Leader in the Liverpool Diocese for Work Among Deaf People and who runs the sessions said:- "We were very encouraged by the pilot sessions last year. We attracted about 35 people in total; helpers and families; deaf and hearing adults, and deaf and hearing children with three generations of some families coming along. There has been a lovely atmosphere of adults and children working, celebrating and eating together. Deaf mums have enjoyed the rare opportunity to meet up and chat, children of deaf parents enjoy not being the only ones, family members enjoy not having to worry about if their deaf family are able to access what is happening. People have gone away seeing old, familiar stories (we've done Noah and the Good Samaritan so far) in a new light, and hopefully have been touched by God. We are truly meeting our aim of building up a new Christian community for all involved."

See:- liverpoolcathedral.org.uk for more information or contact Rev Hannah Lewis via email or by using a mobile text message to:- 07919 411817.
A New LookWebsite for Steam Packet Holidays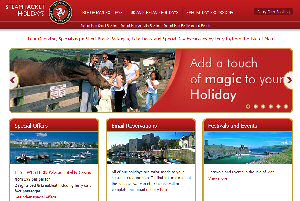 STEAM Packet Holidays has revamped its website to bring it in line with the main IOM Steam Packet Company site, which was
redesigned in April last year.

As part of the Steam Packet Company's ongoing commitment to market the Island as a destination. The website features a number of great value ferry and accommodation package deals. It also showcases many of the festivals and events held in the Island, with several cut price deals to help attract visitors.

Steam Packet Company Chief Executive Mark Woodward said:- "While this is essentially a cosmetic revamp of the existing site, it does represent a further investment that we believe will help sell the Island as a destination and therefore, we put money in to the hotels, restaurants and other attractions around the Island."

For anyone wishing to travel off the Island, the site also features package deals throughout the UK and Ireland and includes details of the popular day excursions, such as the Grand National in April, and Chester Zoo and Alton Towers during the school holidays.