Increase in young people taking the train as high motoring costs bite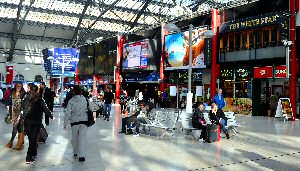 A generation of young people is turning to rail travel as rocketing motoring costs, rising youth unemployment and tuition fees are making owning a car an 'unaffordable luxury' for many under 25s. New figures published by the Association of Train Operating Companies (ATOC) show that record numbers of young people now have a 16-25 Railcard and make 50 million journeys by rail every year, 60% up on 5 years ago. There were over 1.2million 16 to 25 Railcard holders last year, almost a 3rd higher than the 950,000 who had a Railcard in 2005. On average, young people with a Railcard make an annual saving of £159 a year off the cost of their rail travel and make around 40 journeys each by rail a year. Figures also show that there were almost 250,000 fewer 17 to 25 year olds taking their driving test last year than in 2005, an 18% drop. Would-be 'boy racers' are being particularly badly hit by hefty car insurance premiums. With the average premium quoted for young women recently topping £1,800, young men are facing even steeper quotes averaging over £3,100, meaning owning their own car is often no longer an option. Fuel prices have also climbed by 23% over the past 2 years to 133.7p per litre by the end of 2011, adding even more pressure to the cost of motoring faced by young people. Train companies attribute the rise in rail travel amongst 16 to 25 year olds to many needing to manage carefully their personal budgets. This has led them to take advantage of discounts available to Railcard holders and resulted in them making a record number of journeys by rail over the last 12 month period for which figures are available. Edward Welsh, a spokesperson for ATOC said:- "Getting a car on your 17th birthday is no longer a familiar rite of passage for a growing number of young people. We know a lot of under 25 year olds are struggling to afford the costs of buying, running and insuring a car – and that's on top of paying for driving lessons. A generation of 16 to 25 year olds has been quick to see train travel as an affordable, reliable alternative to a car that has the added bonus of never having to worry about asking mates to chip in with petrol money. Whether travelling to see friends, getting to University or just going out, a 16 to 25 Railcard means saving on every journey made using the card."
Kicking out domestic violence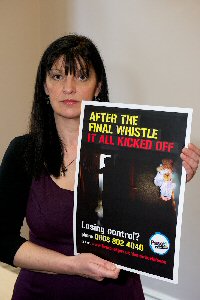 MEN who feel they are losing control and could become violent towards their partner are being asked to ring a special helpline where they will be offered help and support. The helpline:- 0808 802 4040; is part of a campaign running throughout Spring aimed at reducing the levels of domestic violence in the city. The campaign is being organised by Citysafe, Liverpool's community safety partnership, and follows successful campaigns in the last 2 year, starting with the one to coincide 2010 World Cup.
This year's campaign again uses a football theme with the slogan:- "After the Final Whistle, It All Kicked Off. We want to raise awareness among men about the effects violence can have on the lives of their families and in particular on children. Football is being used as the theme for the campaign, not because we are saying that football fans are more likely to be violent in their homes, but it is a way we can reach a large audience of men aged between 20 to 40 who research show to be major perpetrators of domestic violence. It is estimated about 28,000 women in Liverpool are victims of domestic violence each year so it is very important to persuade people who have been violent or feel they may be losing control to seek help."

The After the Final Whistle It All Kicked Off message will be featured on billboard on main arterial roads throughout the city and hospitals will also display posters. And for the first time, taxis which serve the football stadiums have been branded with the campaign slogan. Further information about the campaign is available online.

Euro MP helps local business out of a jam!
A local Labour Euro MP, Arlene McCarthy has taken up the case of a local jam making business, Clippy's based in Sale, to put an end to their labelling rules dilemma with Trading Standards. Arlene said:- "This local business through no fault of their own has found themselves in a real jam. In my view they are a victim of an overzealous interpretation of the EU jam law. I have contacted the European Commission on their behalf to find a solution. The law which dates back to 2003 is designed to ensure a high quality standard for consumers and not to penalise quality jam producers for a product that has a high fruit and low sugar content. That is why the original EU law provides for an escape clause which enables member states in national law to authorise the reserve name of jam for products that have a sugar content of less than 60% in certain cases. In talking to the Commission they said they had a flexible approach and other EU countries including Germany and France have made use of this escape clause. In Denmark a product with less than 60% sugar is still labelled as jam. I have written to the European Commission to ask for support for a change in national law in line with the escape clause and I am also writing to Caroline Spellman, Secretary of State for DEFRA to make use of the escape clause as other countries have done to help small quality local producers. In an economic downturn we should be helping small businesses not hindering them with Trading Standards red tape."
MEP says:- "Britain disgraced"
A massive fraud by greedy British fishermen has hugely damaged the country's reputation in Europe for fair dealing, a North West MEP has claimed. Liberal Democrat Chris Davies, who is leading efforts in the European Parliament to reform the Common Fisheries Policy, says that the guilty verdicts against 17 Scottish fishermen has destroyed the country's claims to moral leadership on the issue. In the largest fraud case of its kind, the fishermen were convicted last week of breaking quotas and illegally catching mackerel and herring worth more than £60 million. The judge said they were not poor but greedy. In passing sentence the judge described the motives of the skippers as purely financial, and as a way of generating income through deliberate lies and falsehoods. Davies has told MEPs that:- "Their actions destroyed fish stocks, showed contempt for every decent fisherman who keeps to the rules, and dragged Britain's reputation through the gutter. In Britain we often accuse French and Spanish fishermen of being greedy cheats, but this stab-in-the-back by our fishermen has destroyed any claim we might have to the moral high ground."
Retired 'park bobbies' honoured by Lord Mayor
LIVERPOOL officially recognised the hard work of the 'park bobbies' this on 29 February 2012 at an event hosted in Liverpool's Town Hall. Certificates where handed out to surviving members of the Liverpool Parks Police, in recognition of all their hard work in keeping Liverpool's many parks and gardens safe since the mid 1800's until the unit was disbanded in 1972. Liverpool's Lord Mayor, Councillor Frank Prendergast said:- "It is an honour to be presenting these men with a small token of appreciation from the city of Liverpool for their many years of service. Liverpool Parks Police were committed to looking after our parks and keeping a watchful eye over those who used them. This evening is a celebration of their hard work and commitment. I would like to thank them on behalf of the city and to take this opportunity to remember those constables no longer with us." Former park constable, John Hutchinson said:- "It is a great privilege to be receiving this acknowledgement and for the work of the 'park bobbies' to finally be recognised." The event had 20 former constables attending like recipients Frank Diggle and Fred Tate, both of whom are in their 80s, Alan Leitch who is 75 as well as some younger members including 63 year old John Hutchinson.
Flea Market is on again!
ON Saturday, 3 May 2012, The Waterloo Flea Market takes place from 9:00 to 1:00pm at Old Christ Church, L22 1RE. Entrance is just 30p. For more details of this and other events at Old Christ Church you can visit their website.