Dogs Trust hopes Paddy will find a country home this St Paw-trick's Day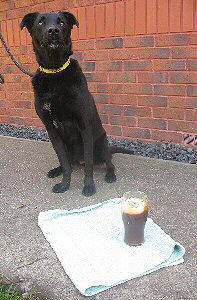 STAFF at Dogs Trust laid on a special St Paw-trick's Day pint (of gravy and mash!) for Labrador Paddy this week ahead of Saturday's celebrations. Paddy, who has been at the Merseyside rehoming centre since last summer looking for a home, hopes that Irish, and other dog-loving, eyes will be smiling on him this weekend. Georgina Lowery, Dogs Trust Merseyside Rehoming Centre Manager, said:- "Paddy is such a sweet boy when he gets to know you but he can be wary of strangers and this means that he is being overlooked by visitors to the centre. He really needs a quiet rural home and Dogs Trust would consider homes anywhere in the country if the right owner can be found. We hope that he gets some attention this coming weekend, we'll be decorating his kennel with shamrocks to make sure he stands out from the crowd!"

Dogs Trust is looking for an experienced adult only home for Paddy as he is so wary of people. New owners will have to be willing to make multiple visits to the centre to build a bond with him before taking Paddy home. He would prefer to be the only pet in the household and would need a quiet rural home. If you would like to offer a home to any of the wonderful dogs cared for at Dogs Trust Merseyside, please call the Rehoming Centre directly on:- 0151 480 0660 or visit:- dogstrust.org.uk . Dogs Trust is the UK's largest dog welfare charity, caring for over 16,000 stray or abandoned dogs every year through its network of 17 Rehoming Centres across the UK.
Leaseholders are being penalised for energy company mistakes
LEASEHOLDERS are being hit with astronomical bills because of mistakes made by their energy suppliers, The Association of Residential Managing Agents (ARMA) has warned on 14 March 2012. The warning follows concerns raised by several leaseholder-run Residents Management Companies (RMCs) that have been served with backdated bills for tens of thousands of pounds because energy companies have misread meters for the communal areas of their flats. One particular RMC for a block of just 28 apartments was hit with a bill of over £50,000 because their supplier consistently misread the electricity meter despite the managing agent raising concerns. Such blunders can have a crippling effect on the leaseholders who must then foot the heavy bill through their service charge contributions. The problem is exacerbated by the energy regulator Ofgem's classification of RMCs as commercial enterprises, despite them being run by volunteer leaseholders purely to manage the communal areas of their building and not for profit. This means energy suppliers can charge residential leaseholders commercial tariffs and treat them like business customers, back billing them for up to 6 years and demanding instant payment, even though the mistake is theirs. ARMA, which has members acting as managing agents for thousands of RMCs in England and Wales, is urging Ofgem to address the problem in its current review of the non-domestic energy market. ARMA wants energy companies to treat RMCs like domestic customers by limiting back-billing to a maximum of one year when a meter misreading is their fault. It is calling for a code of practice to protect micro-businesses, like RMCs, and encourage energy companies to implement sensible payment plans. "Leaseholders should not be punished for the mistakes of energy suppliers. In these tough economic times it is simply not acceptable that residents can receive unexpected bills for thousands because their supplier has misread a meter. This is why we are calling for a code of practice to protect leaseholders from the crippling effects of such mistakes and avoid unnecessary debt." commented ARMA's chairman, Peter Dening of Pennycuick Collins in Birmingham. Highlighting how serious back dated billing can be for leaseholders, Patrick Ward, operations director at ARMA members Premier Estates Limited in Macclesfield, commented that:- "An energy supplier to a block of flats we manage had been providing invoices based on the first 5 digits of the electricity meter, despite their own readings and ours regularly providing 6 digits. Even though we continually queried invoices, the supplier insisted that the last digit reading on the meter was not used and that the invoices were correct. After much pressure, the company finally agreed to investigate the issue and realised their mistake. Then they issued a one off invoice for nearly £55,000 to correct their previous miscalculations! We repeatedly argued that this was unreasonable and down to their incompetence. Eventually the energy company agreed to reduce the invoice by 50%; a much better outcome for our leasehold customers who should not have been put in this position in the first instance."

9th Anniversary Of The Murder Of Andrew Jones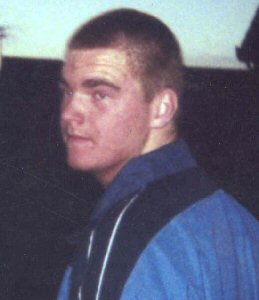 MERSEYSIDE Police Detectives have re-issued an appeal for people to come forward with information on the 9th anniversary of the death of 18 year old Andrew Jones.

On Saturday, 8 March, family and friends of the teenager held a vigil in memory of Andrew at the junction of Seel Street and Hanover Street, near to the area where Andrew was assaulted. And Merseyside Police Detectives where also on hand to speak to anyone wished to come forward with information.

Andrew was enjoying a night out with friends in Liverpool city centre when he was attacked in the early hours of Sunday, 9 March 2003, and he died the following day as a result of his injuries. Police officers found Andrew lying in Hanover Street, at its junction with Gradwell Street, just before 3.30am. He had suffered serious head injuries and was taken to the Royal Liverpool Hospital.

A £10,000 reward is being offered for information leading to the arrest and prosecution of the person, or persons, responsible for Andrew's death and detectives have also be appealed to football fans at Goodison and Prenton Park in the hope that someone in the crowd may have information which could help them with their inquiries.

Just before the Anniversey Detective Chief Inspector Dave Brunskill, of Merseyside Police said:- "The sense of loss to Andrew's family has not gone away. His family has been through a harrowing experience, both in terms of losing their son and then left feeling that justice hasn't been done. Someone knows what happened that night and knows who is responsible. Now is the time to search your conscience, to realise the pain that Andrew's family still feel to this day and to do the right thing. By coming forward now, you can help bring this investigation to its proper conclusion and help this family find some peace In March 2007 Merseyside Police put together an agreement with the region's six major sports stadia to use their premises for appeals about serious and organised crime. And on Saturday a near-capacity crowd is expected to turn up to the Everton match against Tottenham and we will be using this opportunity to appeal for people to come forward with information which could lead to the arrest of those responsible for the death of Andrew, who had so much to live for. We will be making appeals before the match, posters will be distributed around the ground and we will be using the electronic advertising boards round the pitch to appeal for witnesses and information and we hope that someone in the the crowd may have some information which could help us with our inquiry. Posters were also distributed at Anfield last week for the Liverpool game against Arsenal and will be distributed at Prenton Park this weekend for the Tranmere game against Leyton Orient. We are hoping that someone attending these games, may have some information which could help us bring the person, or persons responsible, to justice."

Andrew's parents have vehemently campaigned for justice for their son in the hope that someone will come forward with information. And in advance of the vigil on Saturday, Andrew's mum Christine and Dad, Andy, said:- "We want to take this opportunity to appeal to anyone who knows anything, not matter how small, which may help the police in finding those responsible for our son's death to come forward. We particularly want to appeal to the group of people who were with the man who assaulted andrew that night. We believe they were probably in their 20s then and may now have gone on to have families of their own. Now that they may have their own children they can put themselves in our position, and in years to come how will they cope when their children go out to enjoy themselves in town with friends? Will they worry about whether they will come home? We want them to search their consciences and come forward so that we can see justice done and bring back some sense of normality to our lives which have been destroyed."

Anyone with information is asked to contact detectives from the Major Incident Team on:- 0151 777 8660, or Crimestoppers on:- 0800 555 111.