The Saw Doctors UK Tour November to December 2012
THE Saw Doctors who are currently headlining a 29 date Coast to Coast Tour of the US and Canada, will embark on their largest ever UK Tour in November and December 2012! With 14 shows in major markets such as London's 02 Shepherds Bush Empire, Manchester's 02 Apollo and Edinburgh's HMV Picturehouse, it will be quite a tour! In 2011, The Saw Doctors had a runaway hit with their cover of Petula Clark's classic 1960's pop single, Downtown which reached Number 2 in December, pipped only by the X Factor band, Little Mix. Petula Clark joined the band in the studio to re-record the chorus and harmony and acted a cameo role in the Downtown video which was filmed in Paris and the streets of Galway.

Prodigious young talent Rickie O'Neill (21) has joined The Saw Doctors as their new drummer, replacing Eimhin Cradock - Rickie wasn't even born when The Saw Doctors scored their first Irish Number One, I Useta Lover back in 1990.

Over the past couple of years, The Saw Doctors are more popular than ever after almost 2 decades. Universal Music released their "Best Of" collection, "To Win Just Once.. The Best of The Saw Doctors" which charted at Number Three in Ireland and went on to achieve Platinum Status. In the Christmas of 2010 The Saw Doctors hit Number One on iTunes with their Acapella version of Red Cortina from their debut album, If This Is Rock & Roll I Want My Old Job Back.

Formed in 1988, The Saw Doctors have achieved eighteen Top Thirty singles and three Number One hits in Ireland. Loved and revered by their loyal fans, the juggernaut that is the Saw Doctors keeps rolling on and shows no signs of slowing anytime soon. If you haven't seen them before, make sure to get tickets to what is one of the most memorable, enjoyable, exhilarating gigs you'll ever see.

In their own words:- "Born into a repressed, catholic, conservative, small-town agarian, angst-ridden and showband infested society we're trying to preserve the positive elements of our background and marry them to the sounds which have culturally invaded our milieu through TV, radio 45's, fast food restaurants, 24 hour petrol stations and electric blankets."

The Saw Doctors- Nov/Dec 2012 Tour Information:-

Monday, 26 November 2012, will be at:- Cambridge Junction. For more information call:- 01223 511 511.

Tuesday, 27 November 2012, will be at:- York Opera House. For more information call:- 0844 478 0898

Friday, 30 November 2012, will be at:- Edinburgh HMV Picture House. For more information call:- 0844 499 9990

Saturday, 1 December 2012, will be at:- Liverpool Philharmonic Hall. For more information call:- 0151 709 3789*

Sunday, 2 December 2012, will be at:- Oxford O2 Academy. For more information call:- 0844 477 2000*

Tuesday, 4 December 2012, will be at:- Cardiff Coal Exchange. For more information call:- 029 2023 0130

Wednsday, 5 December 2012, will be at:- Bath Komedia. For more information call:- 0845 293 8480

Friday, 7 December 2012, will be at:- London O2 Shepherds Bush Empire. For more information call:- 0844 477 2000*

Sunday, 9 December 2012, will be at:- Wolverhampton Wulfrun Hall. For more information call:- 0870 320 7000*

Tuesday, 11 December 2012, will be at:- Bridgewater The Palace. For more information call:- 0844 477 1000

Wednsday, 12 December 2012, will be at:- Southampton The Brook. For more information call:- 023 8055 5366

Saturday, 15 December 2012, will be at:- Manchester O2 Apollo. For more information call:- 0844 477 7677*

Sunday, 16 December 2012, will be at:- Sheffield Plug. For more information call:- 0844 478 0898

Tuesday, 18 December 2012, will be at:- Leamington Spa Assembly. For more information call:- 0844 854 1358

* Tickets are £21.50 (£22.50 London) are available from:- gigsandtours.com.

Alyssa Reid will be soon on her way to Liverpool!
ALYSSA Reid took Canada by storm in 2011 with her debut album "The Game", featuring the double platinum hit single "Alone Again". With the new year, she is now more than ever a force to be reckoned with. On top of her pack leading, 5 Canadian Radio Music Award nominations, this morning Alyssa was nominated for her first Juno Award for New Artist of the Year!

Alyssa's meteoric rise here at home is now being mirrored internationally where the talented songstress is making some serious waves across the pond. Her debut single "Alone Again" has been the 1 searched song on Shazam in the United Kingdom for three weeks running, was the 1 pre-ordered download on iTunes last week and the song debut at 1 on the UK sales chart. The song is burning up the radio air-waves across the British Isles, where it currently sits at 1 on BBC 1's A-list airplay chart, is in heavy rotation at national chains Kiss and Capitol FM and currently sits at 18 on the UK radio airplay chart.

And that's just the song itself! The video for "Alone Again" is also taking the country by storm, being added to heavy rotation at every video outlet, including Dance Nation, The Chart Show, and MTV UK. Hitting 4 on the TV airplay chart Alone Again is now the only song in the history of the UK to be in the top 10 prior to the release of the record. Check out the video blog from her recent trip to the UK here. All of this recent UK heat has led to major interest elsewhere, with dozens of countries across Europe and around the world gearing up for a wide-scale international release. Alyssa is everywhere!

Following the huge success Alyssa saw with her first two singles Alone Again and the title track from her debut album The Game, she has recently released the third, Talk Me Down. The song and upcoming video, currently under production, explores a very personal issue; bullying. The powerful song and video revolve around Alyssa's heartfelt lyrics that talk of perseverence, inner strength, and the ability to move on. Alyssa's Toronto fans will also get the chance to be in the new video. By tweeting their ideas on how we can overcome bullying together, and using the hashtag #YouWontTalkMeDown, tweeters can earn the chance to be in the video while helping to bring awareness and positive thoughts to the subject.

Continuing the momentum of her already amazing 2012, Alyssa is embarking on her first UK tour this April!

11 April at London Borderline
12 April at Birmingham The Temple
13 April at Manchester Club Academy
15 April at Glasgow ABC 2
16 April at Newcastle Academy 2
18 April at Liverpool Academy 2
19 April at Bristol Academy 2

For more information on Alyssa Reid visit:- YouTube | Twitter | Facebook.com | Myspace.
Devon and Cornwall Constabulary Wanted Appeal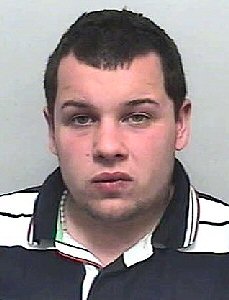 POLICE in Devon and Cornwall are seeking a 24 year old man who is wanted in connection with a serious assault that took place in Plymouth, on 1 April 2011. Devon and Cornwall Police are proactively following a number of lines of enquiry to ascertain his current location. Police intend to arrest this man once he has been located. The man sought by Police is known as Mark Thomas Masher, who comes from Liverpool. He is white, 1.63 metres tall, heavy build, with brown short hair, blue eyes and speaks with a Liverpool accent. He sometimes uses the name Thomas Keogh. He has links to Liverpool L8 and L19 post codes, Torquay, Plymouth and Newquay areas. Police advise not to approach this man, but immediately call Police. Police are appealing for anyone who has Information to come forward and assist by calling:- 101 and quoting Devon and Cornwall Police Crime Reference EL/11/1472, alternatively call Crimestoppers, anonymously, on:- 0800 555111 or report online via:- crimestoppers-uk.org.