Britons willing to shell out more for environmentally friendly appliances
A survey by the Ideal Home Show to mark Climate Week that runs over 12 March to 18 March 2012, shows that British people are willing to spend more money on going green at home. Results show that over half (54%) of people said they would pay up to 10% more for an environmentally-friendly appliance, and 1 in 6 (17%) people would pay up to 25% more.

The survey asked over 500 people about their lifestyles and habits and found that British people are aware of positive actions including only boiling the right amount of water when the kettle goes on, with 1 in 3 (34%) people responding that they 'always' boil the right amount, and over half (52%) saying they did so 'most of the time'. However, these actions are counteracted because 1 in 3 (34%) people never de-scaled their kettle and 1 in 5 (21%) de-scaled only once a year.

Results also showed that 1 in 6 people (17%) have the heating on warm enough to wear summer clothes indoors. However, when asked what solutions people do to reduce their energy bills the top response (66%) was to 'wear more clothes'.

Encouragingly, 1 in 3 people said they would consider switching to a green energy supplier (34%) and install solar panels (33%). A staggering 98% of people recycle, with paper being the most popular item to recycle.

Kevin Steele, Chief Executive of Climate Week, said:- "These are encouraging results and show that British people are keen to do more to reduce energy consumption and help protect the environment. Climate Week aims to inspire people to take action and this survey shows there is s strong appetite to do so. Anyone running an activity for Climate Week can register it on our online map."

Other results from the survey, include:-

· Despite having a garden, 36% do not compost because they said:- "it's too much effort."

· 77% of people 'rarely' use their washing machine when they do not have a full load.

· 45% of people ironed their bedding and 32% their tablecloths.

· 34% of people do not leave appliances on standby, but if they do the reasons were:-

o Appliance has clock and people do not want to reset the clock (27%).

o Sockets are in hard to reach places (22%)

o It doesn't occur to them to switch off at the sockets (16%)

o Appliances start up quicker on standby(16%)

o They forget (13%)

Ideal Home Show 2012 sponsored by Everest, 16 March to 1 April 2012, Earls Court, London. To Book tickets now log on to:- idealhomeshow.co.uk or by calling the Ticket Hotline on:- 0844 858 6763. The 2012 show is once again supporting the Ideal Homes For Heroes appeal in aid of ABF The Soldiers' Charity.
MPs to debate and vote on Assisted Suicide guidelines on 27 March 2012
THE Senior Conservative MP, Richard Ottaway, has secured, with cross party support, a Backbench Business Committee Debate on the Director of Public Prosecutions' Policy on Assisted Suicide. THIS will be the first House of Commons debate on issue in 15 years and will take a full day for the Chamber to debate on Tuesday, 27 March 2012.

MPs will debate whether they agree with the Director of Public Prosecutions' (DPP) Policy on Assisted Suicide, which has been in place since February 2010. The DPP's policy sets out the factors for and against prosecution in cases of assisted suicide, and makes clear that prosecution is unlikely in cases of compassionate amateur assistance to die.

Win Crew from Liverpool, whose husband Reg was the first Briton to publicly travel to Switzerland to die in 2003, said:- "When I returned from Switzerland after Reg's death, my criminal case was prominently featured in the media. There were no standards for criminal prosecution for assisted suicide cases at the time, and this uncertainty placed an unnecessary burden on our entire family and delayed our grieving process. The DPP's guidelines would have given us such reassurance at this difficult time, and I welcome the forthcoming debate on the issue in the House of Commons."

The debate is open to the public and is likely to begin at 12.30pm, and could last up to 6 hours and 30 minute.
So what are our readers views on this issue? Let us know by emailing us to:- news24@southportreporter.com today!

Escaped prisoner Anthony Downes arrested and held in Amsterdam
MERSEYSIDE Police confirmed that Anthony Downes, who was wanted for absconding from custody, was arrested in Amsterdam on Friday, 9 March 2012 on suspicion of possession of a firearm and as a result of an outstanding European arrest. His co- defendant Kirk Bradley, aged 26, from Formby, also escaped from the prison van while being transported from HMP Manchester to Liverpool Crown Court. Kirk Bradley though remains wanted by Merseyside Police. Downes, aged 26, of no fixed abode, had been wanted since July 2011, after escaping from a prison van on his way to Liverpool Crown Court. He had been facing trial for conspiracy to possess firearms with intent to endanger life and conspiracy to cause damage with intent to endanger life. Both men were convicted in their absence last week at Woolwich Crown Court. Anthony Downes arrest came thanks to the collaboration between crime-fighting charity Crimestoppers and the Serious Organised Crime Agency (SOCA). Downes, featured as part of Crimestoppers' Operation Captura Campaign back in October 2011. The campaign seeks to locate wanted fugitives believed to have fled to Spain, who are wanted by UK law enforcement agencies and so far has proven very successful. Downes arrest brings the total number of those located to 48 out of 65 appeals since the campaign launched in October 2006.

Lord Ashcroft, KCMG, Founder and Chair of Crimestoppers, said:- "This is yet another example of how criminals on the run will eventually be caught and I am delighted to hear that this individual has been arrested. Crimestoppers is seeing huge success with its fugitive campaigns and the fact that we now have 48 arrests out of 65 appeals from our Captura campaign proves that wanted criminals will eventually be brought to justice."

Deputy Chief Executive, Dave Cording, added:- "This arrest comes less 6 months after the 5th anniversary of Operation Captura. Through close collaboration with the Spanish police, SOCA and the public, these individuals have nowhere to hide and those still on the run should think about handing themselves in before they are caught next."

Merseyside Police added that:- "This is a good arrest, but we still nead help. Anyone with any information about the whereabouts of Kirk Bradley is asked to call the Matrix team on:- 0151 777 5699, or Crimestoppers, anonymously, on:- 0800 555 111. For those people calling from Spain there is a special Spanish:- 900 555 111. This telephone number will be answered in the UK by Crimestoppers' call agents and a translation service is available upon request. People can also pass on information anonymously via the Crimestoppers website."
Donation paves way for children's adventure of a lifetime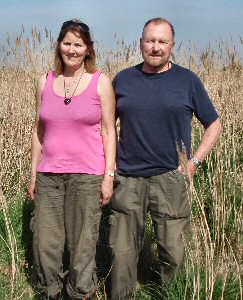 A group of local children with special needs is to be taken on a life changing adventure course following a donation from the CLA Charitable Trust. The Trust, which supports a range of rural and land-based charities, has donated £2,000 towards the cost of helping Wirral Swallows and Amazons Adventure Group take nine children to an outdoor adventure centre near Keswick in May. Tom Bolton and his partner Bev Anderson founded the charity in 2003. Tom said:- "It was while watching the film Swallows and Amazons with a group of children that we realized specially organised adventure activities could be a wonderful medium for helping to improve the lives of young people. We have already had the privilege of helping over 3000 disadvantaged and special needs children to have life changing adventures and we are very grateful to the CLA and other organisations for helping us achieve this."

Children taking part in the residential courses arranged by the charity participate in a range of outdoor activities from canoeing and sailing through to abseiling, archery, swimming, horse riding and problem solving. CLA North Regional Director Dorothy Fairburn said:- "Charities like Swallows and Amazons play a crucial role in connecting children with the countryside and we are delighted to be able to support such a worthy cause."