Turn your scrap car into a tree!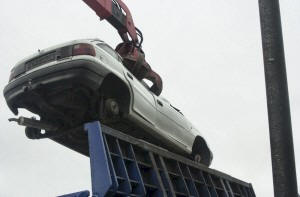 THE Mersey Forest is working with GiveACar, offering Sefton families the opportunity to dispose their old, unusable cars in a hassle-free way, while contributing to planting trees in Merseyside and North Cheshire.

It is estimated that every year, 2 million cars come off the roads. If your vehicle is one of these, it can be picked up for free at your own house and salvaged or scrapped in an environmentally-friendly fashion, with 70% of proceeds going to help create local woodlands to provide a greener, healthier local area for everyone.

Paul Nolan, Director of The Mersey Forest, said:- "This is a great opportunity for people to help improve their local environment in an easy and cost-free way. Through projects like this, we are working to make Merseyside and North Cheshire one of the best places in the country to live."

To donate your unwanted car, lorry or motorbike, ring:- 020 0011 1664 or visit:- merseyforest.org.uk/giveacar and fill out a simple online form and a collection agent will call to arrange a convenient time for vehicle collection. Any vehicle, including those that do not start, can be picked up and will be taken within seven days of your initial inquiry, usually within three.

Depending on a vehicle's state of repair, it will be either sold at auction or disposed of at an Authorised Treatment Facility. GiveACar will then receive the payment and make your donation to The Mersey Forest, both of whom will send you a receipt. Every car is worth something, and every car makes a difference.
New service from Boots UK offers customers in Southport
BOOTS UK has launched the new Boots Travel Health Service in Southport. Run in collaboration with the Medical Advisory Service for Travellers Abroad (MASTA), this service offers a convenient way for you to find out about and receive the vaccinations and medication you may need before jetting off, as well as advice on how to try and stay healthy on holiday.

Boots UK Pharmacist Angela Chalmers explains:- "We often get vaccinations to protect against diseases at home, such as annual flu vaccinations, but it's easy to forget to protect your health when going abroad. Vaccinations and malaria prevention medication can help protect you and your family against a range of diseases on holiday. Many people are not sure where to start when it comes to the vaccinations needed when going abroad and it can sometimes seem like an extra item on your 'to do' list that you could do without. However, having an enjoyable and healthy holiday is important to us all, and vaccinations should be part of your holiday preparations for many destinations. Please be aware that some vaccinations need four to six weeks to complete the course and some can take a couple of weeks for antibody levels to build up, so try not to leave it to the last minute. Don't forget to find out if you also require malaria prevention tablets."

The Boots Travel Health Service aims to offer customers an alternative to visiting their GP surgery, with convenient store opening hours including weekends, to help customers get travel health advice and information when they need it.

The Boots Travel Health Service can help protect you against a range of diseases including Typhoid, Diptheria/Polio/Tetanus, Yellow Fever, Hepatitis A and B, Meningitis, Japanese Encephalitis, Rabies, Tick Borne Encephalitis and Cholera.
To check if the Boots Travel Health Service is suitable for you, and to arrange a telephone consultation with a specialist travel nurse, visit:- boots.com/travelhealthservice.

Victory For CLA's Scrap The Cash Campaign
FARMERS and landowners in the North West, who have been blighted by metal thefts, can look forward to a brighter future after the Country Land and Business Association (CLA) won its campaign to have cash payments by scrap metal dealers banned. In a meeting with Home Office Minister Lord Henley on 14 March 2012, CLA President Harry Cotterell was told cash payments by scrap metal dealers will be prohibited. Mr Cotterell said:- "I am delighted Lord Henley said that new clauses will be laid before Parliament, within the Legal Aid, Sentencing and Punishment of Offenders (LAPSO) Bill, to ban scrap metal dealers from paying in cash." The CLA has been urging the Government to legislate against dealers buying metal with cash because stolen metal is being traded too easily within the scrap metal industry. CLA North Regional Director Dorothy Fairburn said:- "Scrap metal theft has increased dramatically over the past few years and is having a significant impact on local rural businesses and communities. Hundreds of CLA members have been victims of metal theft, with some losing thousands of pounds repairing and replacing stolen lead and other metals. Banning cash sales will prevent anonymous sales because the metal will always be traced back to the person who sold it to the dealer."
Firms urged to be prepared
BUSINESSES in Liverpool are being made aware how they can continue to operate during emergencies and major events. A seminar on the impacts, benefits and security implication of major events is being held as part of the International Business Continuity Awareness Week which starts on 19 March 2012.

The week will highlight the importance of providing and maintaining business continuity arrangements.

The seminar will be held at Gardner Systems, 1 Faraday Road, Wavertree Technology Park on Wednesday, 21 March 2012 from 8:30 to 10:30 approx. Places can be booked via email.

"We have major events, such as Sea Odyssey taking place in the city this year. While these bring enormous benefits to the city and to many businesses they also have to think about what impact they could have and plan for them in advance. But it is not just planned events that affect business. There can be numerous ways in which business can be disrupted power cuts, floods, industrial action and fires, are just some examples of what can hit firms. We saw during the recent gas leak at the Lewis's building how firms can have their trade hit by unexpected conditions. Liverpool is a great place to do business but we want to make sure it is even better because all firms are prepared for the unexpected. We can become a safe and resilient city and I would urge all businesses to use the opportunities offered during the week to find out more about business continuity." said Councillor Tim Moore, the City Council's cabinet member for the environment and climate change.

Before the official start of the week members of the Liverpool Business Continuity Management Forum will be at the Liverpool Business Fair being held at Anfield Stadium on Thursday, 15 March 2012, to answer questions about business continuity and its many benefits.

The forum will also be holding a seminar in June about how to deal with the loss of utilities and one in September about preparing for winter. Its programme also includes free training sessions and an awards event.
Southport Access For Everyone - Update
THE next meeting of the 'Southport Access For Everyone' forum will be held at Victoria Methodist Church, Sussex Road, Southport PR8 6DG, on Monday, 26 March 2012, at 7.00 pm. This is a free public meeting. The premises are fully accessible for wheelchair users, with adequate car parking facilities, and light refreshments will be served before the meeting commences. "Anyone with an interest in disability issues are welcome to attended meetings" said SAFE .
For more information visit their website. The groups meetings are usually be held on the 4th Monday of each month. Further enquiries can be made to Val Carr, acting chairman via calling him on:- 01704 567046.