Sex information on Merseyside - Part 2 of 3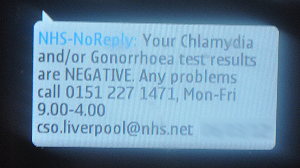 IN last week's issue we started to look at Sex information on Merseyside. This week we look at the way testing takes place. Our Editor has been discussing this subject with health professionals for a few years now, including considering how to motivate people to attend for testing and what might put them off. He feels, as do many in the NHS and charities, that all ages and backgrounds should have tests before entering any relationships that could lead to sexual contact. But what does it involve and how does it feel to get tested? He decided to take up the challenge and to relay his experiences to our readers; the things that are done for journalism! He headed to NHS drop-in centre for men and women, in Liverpool City Centre (near Wetherspoons) called, Great Charlotte St Sexual Health Service Centre, to find out more. The walk-in centre is located upstairs and requires NO appointment. It offers a free, confidential service for men and women of all ages. On offer are STI testing for people who do not have symptoms, but want to get checked out. It also offers Contraception (pills and Injections), free condoms, Emergency Contraception (pills), pregnancy tests. Reporting about his experience he told us that:- "As planned, I turned up unannounced, so I could get a true experience of what was happens. When I got to the centre I was a bit embarrassed. I have no idea why, I knew I was going to be clean, yet I had an odd feeling. It was like re-sitting my driving test all over again. I was directed to a lift that took me to the correct floor, got off and headed over to the desk. It was staffed by two receptionists. The place was extremely busy, with all females of all ages, no males to be seen, so I felt a bit out of place. The lady then told me that they had a back log of people, could I pop back in an hour. I agreed and headed out to roam the city centre for an hour. It was a strange hour as I kept thinking about what was going to be asked when I got back, as I had seen people with clip-boards, writing things down as they waited. By now it was just about 4pm on a Thursday and the place was again packed out, but I was 'in luck', a place had become available. The lady behind the reception desk joked with me and passed me a form. On it, it asked who my doctor was, date of birth and a few other details, nothing all that shocking. But what did stump me was who my doctor was. I am bad at names; I have had the same doctor for years, but could I remember the name... Embarrassed, I returned to the reception desk. The lady smiled and said I did not need to worry as the Doctor would find it out for me. I returned. In the room was one other male and the rest were all females, and a baby. I found it was like being on an Underground Train in London, we all kept our eyes down, well until the baby broke the ice, as only babies can, with many funny noises emanating from the pushchair. All in the waiting room eased up on holding their turn tickets less tightly and what was an odd atmosphere lightened slightly. Then in came a few teenage girls, who quietly filled in the forms and chatted amongst themselves. It was strange to see young teenagers in the centre, but at the same time good to see them attending. I could not help but note how relaxed they were compared to us. The older people waiting were also appearing far more relaxed, so it seemed to be my age group, late 20's to mid 30's who were the ones acting like Londoners on the Tube. As the numbers being called came closer and closer to my number, my mind wandered again to what it would be like. I had strange visions of big needles and syringes being used on me and loads of awkward questions. Then my number was up. I was taken in to a room by a female doctor and she told me what the tests would involve, how long it would take for the results and gave me two main options to get the results back. She also filled in the missing information about my doctor, much to my relief. Then she asked me some questions about my sexual habits and how many partners I had. Oddly, I was a bit put off answering. I felt like a teenager again. When I got through my past, she then gave me a choice of methods to do the first test. I picked to use the toilet option, pissing in to a pot. Sorry, but that is what it was. I headed over to the single multi sex toilet and waited outside. It was a very odd feeling, pot in hand and waiting for someone to finish. I thought to myself, what do I do or say if I can't go? I hoped the extra two teas I just had would help! Out came a young lady, which was again kind of strange, but I then headed in to the small toilet room and closed the door. I proceeded to fill the pot, then cleaned up and headed back, finding myself holding it like some kind of... well put it this way, I kept it at arm's length. Feeling more confident again, I got into the room where the doctor took it off me." She said:- "I hope you are OK with needles. This is the bit I think most of your readers would be afraid of." "Oddly being in St John Ambulance and also giving blood in the past, not forgetting having, like many people injections for immunisations, I do not think of needles and syringes are all that shocking, yet her statement made me a bit nervous all of a sudden. But she produces two small syringes that had a white compound in them. She then stuck the first of the two syringes' into my arm. It was odd as I was expecting to feel a prick, but I did not feel it. Then the second, was used. If you had blinked you would not have noticed. The doctor then said I would get the results in two parts and that was it. I left the centre and felt kind of odd. If I had to sum it up, it was kind of like finishing your GCSE exams, you feel relieved, yet you know that you shall have to wait for the results. The next day my arm had a slight bit of bruising to it, but I was a bit put off telling people I had been for a blood test. A few weeks later I had all my results on tests, in total two. All I can thankfully say proved Negative! If I am to go back now, I think it would be far easier for me, but I can see why people are put off going. My personal advice now is still the same; although initially daunting, it was not so traumatic after all, so go, and if you do not like needles, well do not worry as they have ways to get around that. I feel you have to think about the one you love, even if you know you are STI free, it shows you care. How would you feel if you or your partner got a STI due to one of you not getting checked?"
To follow is part 3 of this report. Please note we might not be running it in next week's issue. If we do not include it in that issue, it will be in a subsequent issue in the near future. If you have any views or comments on this topic, please do email us to:- news24@southportreporter.com. Please note that we only want your views on this topic. Like for example, what you think about STI testing in the UK etc. We cannot give any advice, but we will try and point you to a location that might help you find out, if you do email any other question.
For more information about Sexual Health visit these 3 websites:-

The is Sefton's sexual health website is one-stop shop service and very helpful.

The Liverpool Centre for Sexual Health (formerly known as the Department of Genitourinary Medicine and Sexual Health) website.

The new Sexual Health Liverpool Website we have been told will be live very soon! But as this website s being re-built, it still shows some information very useful information on it's hold page. The page has information about local sexual health and contraception services in Liverpool. All services listed on it are free and confidential.

Forum of Private Business response to the 2012 Budget
THE Forum of Private Business is responding to the Budget statement by the Chancellor of the Exchequer, George Osborne, by has welcomed several measures on taxation as steps towards creating a tax system conducive to small business success, rather than a barrier to it.

The Forum's Chief Executive, Phil Orford, said:- "The overall verdict is that there have been some tentative steps in the right direction, and perhaps the beginnings of a road map for the future; but for the next year or two, when many of these policies kick in; what small businesses and the economy need are confident strides forward now. Largely, that has not happened in this Budget.

We saw nothing on reducing the mounting burden of business rates or fuel duty via cuts and a real stabiliser to regulate prices at the pump. These were omissions; and while the Government is working to improve access to funding and bring down banks lending costs by implementing 'credit easing' the National Loan Guarantee Scheme, there are concerns that the smallest firms in most need of affordable finance will miss out.

Further, we called for tax incentives to pave the way for alternative lenders to compete more effectively in finance markets dominated by the big banks, but there was nothing on this in the Budget.

Reducing the top income tax rate to stimulate entrepreneurship and continuing to cut corporation tax are much-needed measures and we also welcome the concept of merging income tax and National Insurance as a first step in what looks to be long overdue reforms to the tax system for small firms, but the Chancellor could have gone further to give businesses and the economy a bigger boost."

The forum also said that:- "Notable tax announcements include continuing to clamp down on tax avoidance, cutting the main corporation tax rate to 22% by 2014 and the Government's commitment to reforming the tax system to make it simpler for small firms – including exploring merging income tax and National Insurance (NI) and changing tax rules to calculate tax for firms with a turnover of £77,000 on a cash basis. The Forum also welcomes the Chancellor's headline decision to cut the 50p top rate of income tax to 45p by April 2012, following figures from HMRC showing that the tax has raised just £1 billion of the £3 billion it was expected to raise. Balanced by raising the minimum earnings threshold for paying income tax to £9,205, the Forum believes the move will stimulate inward investment, boost entrepreneurship and encourage job creation."

On finance, the Forum says that it is:- "in principle welcoming the Government's National Loan Guarantee Scheme (NLGS), a £20 billion 'credit easing' initiative to reduce bank lending costs, but we are warning that the smallest firms that are in most need of affordable funding must benefit from the scheme, amid concerns it is more relevant to large companies and medium-sized businesses - a similar criticism levelled at the £1 billion Business Finance Partnership scheme for mid-cap firms. Making tax simple and proportionate is one of the main pillars of the Forum's Get Britain Trading campaign and a key element of the not-for-profit small business organisation's 2012 Budget submission. The other areas are improving cash flow, creating employment and improving skills, reducing business costs and creating opportunities for growth."

The Forum's Get Britain Trading campaign and Budget submission have been supported by research to reveal the fears, hopes and desires of small businesses across the UK, with taxation and the tax system featuring prominently.

"A total of 44% of business owners on the Forum's tax and budget member panel called for wholesale changes to the structure of the tax system, 24% expressed a preference for the removal of certain tax breaks to simplify the system and 13% wanted a moratorium on tax changes. The organisation's Get Britain Trading campaign supporters were asked how the business environment could be improved. The top two requests were making the tax system fairer to allow firms to compete on a level playing field (69%) and simplifying the tax system to make it more easily understandable (64%). HMRC was also seen as needing to improve its targeting of tax avoidance schemes, its tone of communication with business owners and general support for businesses. In all, 32% of panel members felt that HMRC could improve the service offered to small and micro businesses by embracing more easily understandable communication methods. Better support at key steps in the business lifecycle would help, according to 29%, and 23% wanted to receive reminders about imminent payment deadlines. In its Budget submission, in addition to the continuing reduction of the main corporation tax rate, the Forum has called on the Government to cut the small firms' rate at a similar level in order to reward successful businesses. Fuel duty, business rates and National Insurance are aspects of the tax system considered too high by small businesses, who also called for targeted cuts in VAT to help labour-intensive industries, and for the Government to reduce the cost of compliance with tax bureaucracy."

The Forum called for greater incentives for family-run businesses and measures which incentivise investment in UK firms, including reducing the tax on interest received during the lifetime of a loan to 0% instead of the 50% top tax rate, additional tax relief if a business fails before the loan is repaid and a short term cut in VAT in the housing sector in order to stimulate the construction industry.

"In order for small firms to compete on a level playing field, the Forum is calling for a 2% cap on business rates starting in April 2012 for the duration of this Parliament and backing a review of the unpopular Business Records Checks regime. The organisation has welcomed the Chancellor's intention to defer 60% of the rates for 2 years, announced in the Autumn Statement, but believes this further step is still necessary."

The Forum wants tax incentives to reduce the cost of employment, namely that the existing scheme of offering a £5,000 NI holiday for the first 10 employees of a new business should be changed. Instead, the Government should offer a £5,000 holiday for the first 2 extra employees taken on by all businesses. Widening the accessibility of the scheme whilst reducing the extent an individual business could benefit will encourage much greater take up.

"In parallel to the Chancellor's Budget statement the Government has published a report entitled 'Making tax easier, quicker and simpler for small businesses', which contains a series of pledges it hopes will create the most competitive tax system in the G20 and make the UK the best place in Europe to start and grow a business. The report is a response to a review of small business tax carried out by the Office of Tax Simplification, which published its final recommendations in February, and is part of the Government's Plan for Growth. The main points include changes in the tax rules to allow new cash basis for calculating tax for up to 3 million small unincorporated businesses, rolling out RTI, following a pilot scheme, with full implementation by October 2013, an April, 2012 launch of HMRC's Business Tax Dashboard to allow businesses to quickly and easily see their tax payments and what they owe, consultations on integrating NI and income tax, and simplifying NI for self employed, and improving HMRC's services – such as online support, call handling and postal responses as well as making it easier to register and pay."

Do you agree with the Forum? Let us know by emailing us to:- news24@southportreporter.com.