St Columba's serves up lunch to to Matrix and the Fire Service!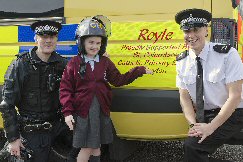 MERSEYSIDE Police from the force's Matrix team made a special visit on Friday, 16 March 2012, to St Columba's Catholic Primary School, Huyton, Merseyside. Over the past few years, officers have been working alongside teachers and pupils to talk about the dangers and consequences of being involved in crime, and Friday's visit will mark one year on from the naming of the Matrix van in memory of former pupil, Demi Leigh Royle. The van was named by the pupils in recognition of the school's commitment to safety in the community. Matrix officers will be joined by colleagues from Mersey Fire and Rescue Service, as well as officers from the force's dog section. The officers will be sitting down to lunch with the children, playing some football and the children will also get the chance to see a Matrix van, fire engine and some of the force's working dogs in action.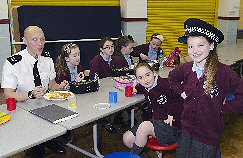 Matrix Sergeant Chris Gainer said that:- "This is a great opportunity for the children to get to meet the officers and Mersey Fire and Recue Service officers, dedicated to making the streets of Merseyside safe. We hope that through our continued work with the school and activity days such as this, the children will understand the role of the police and fire service in their community and see past the uniform to the people who are there to keep them and their families safe. It also gives the officers an opportunity to talk to children in their environment. Thses visits help to break down boundaries and encourages them to feel positive about the police in their community."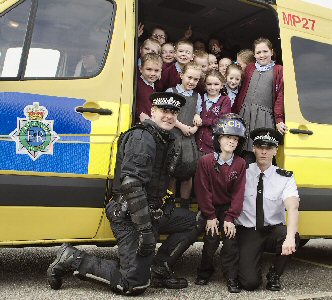 St Columba's Headteacher Ronan A Dunne said:- "At St Columba's we are always delighted to see officers from Merseyside Police and Merseyside Fire and Rescue Service and we recognise the wonderful job that these brave and selfless people carry out to do help keep us safe."

Phil Lingley, Watch Manager at Huyton Community Fire Station, said:- "It's great to work in partnership with Merseyside Police at events such as this. We will be offering the children safety advice and will be talking to them about the work that we do. Opportunities like this are a fantastic way for us to meet local school children and help us achieve our aim to build safer, stronger communities."
Cruise turnaround work starts
WORK started on Thursday, 22 March 2012, on a temporary baggage and customs building to enable cruises to start and end in Liverpool. Planning permission has been granted for a building and parking and drop off facilities on a vacant plot of land owned by Peel Ports, opposite the current facility on Princes Parade. It means that by the end of May 2012, the first cruise liners will be able start and stop in Liverpool; rather than it just being a port of call.

Council Leader Joe Anderson, said that:- "I promised that we would bring cruise liners back to the city. I have kept that promise – cruise liners are coming back to Liverpool! Now we need more than one berth, and we need to develop an iconic cruise liner terminal building to cement Liverpool as a leading cruise liner destination. It is right and proper that a city with such a proud maritime heritage as Liverpool is able to have big vessels stopping and starting in the river. It will provide a big boost to our tourism industry which in turn will support and create many jobs. For far too long, holiday makers in the north west have had to travel to and from other ports to start their journeys, and this will return Liverpool to its rightful place as a major cruise port."

The city council has already agreed to abide by an independent ruling on how much of the UK public subsidy should be paid back for the building of the existing cruise liner terminal. This is because the original terminal was funded on the basis that it would be a 'call in' facility. A decision is awaited on how much of the £9.2 million will have to be repaid.

The temporary building will be leased during the cruise season from 2012 to 2015 to provide check in, baggage drop and reclaim, as well as customs and border facilities, and a new internal road will also be created, designed by 2020 Liverpool.

The city council forecasts that when up and running it will at most reach a five percent share of an expanding UK cruise market; comparable with the percentage of the market enjoyed by the Peel owned Langton Dock facility at its peak. Southampton currently has a market share of over 65%. The first turnaround cruise vessel will be the Ocean Countess. She is scheduled to use the facility on 29 May 2012, with 12 more visits scheduled during this year's cruise season. A total of 20 'day call' vessels are already confirmed for Liverpool's 2012 cruise season with around 30,000 passengers expected, generating up to £6 million for the local economy.

Nursery children raise cash for cancer care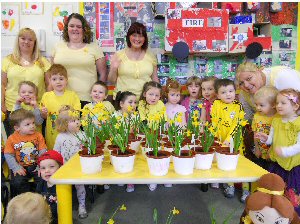 NURSERY school children turned their world yellow to raise money for Marie Curie Cancer Care. The children and staff of Tiddlywinks at Ormskirk and District General Hospital raised £80 planting daffodils as well as dressing in yellow and making yellow craft items. There was also a stall selling yellow cakes. Staff at the nursery have also been awarded Lancashire County Council's Step into Quality award for their outstanding approach to childcare. Nursery manager Julie Walsh said:- "This is a great start to the nursery's 20th anniversary year and we're tremendously grateful to everyone who came to support the children's work for Marie Curie."
Everton Footballer, Tony Hibbert went the extra Golden Mile for children at Busy Bees nursery, Formby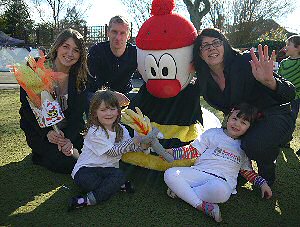 ON Monday, 19 March 2012, Busy Bees nursery Formby, on Merseyside, held a pint-sized Olympic afternoon for their children, carers and VIP guests including Everton's 'Right Back' Tony Hibbert, as part of their Torch relay event. The event is a national event spread over 136 working days incorporating 136 Busy Bees nurseries and over 11,500 of their children aged 2 to 5 across the UK.

All the children who have signed up to the Golden Mile have been getting very 'busy' throughout the year to raise money for their chosen charity, the Dame Kelly Holmes Legacy Trust. Today, Tony put the children through their paces before getting them under starters orders for their first Golden Mile which they completed in a continuous relay around the specially decorated track s with cheers from a host of supporters.

Tony was only too pleased to oblige when the nursery invited him along, and said:- "It's great to be back at the nursery where my daughter spent her pre school years. The staff genuinely care about the children, as if they're one big family and my daughter flourished under their special care. I'm also really pleased that Busy Bees are taking children's fitness seriously, they make it fun. The children here today just grinned from ear to ear as they belted around the track, what a great way to spend an afternoon!"

To mark this special year for UK Busy Bees Nurseries has combined a commemorate Olympics theme with a physical activity programme called the Golden Mile in order to promote the importance of physical activity throughout each nursery and to raise awareness of their chosen fund-raising initiative for 2012; a pledge to raise £44,000 for the Dame Kelly Holmes Trust.

The Dame Kelly Holmes Legacy Trust is a charity which primarily gives disadvantaged young children the chance to realise their potential and dreams through inspirational guidance from Paralympic, World and Commonwealth champions.

Nursery Manager Emma Woods has been really keen to get this initiative off the ground and wanted to start their set of Golden Miles off with a bang and explains why:- "Busy Bees has set a target for each child to complete eight miles throughout the year. All participating children will get the chance to engage in a number of exciting physical activities and they will all receive certificates at every significant milestone of the project along with a commemorative Olympic-themed photograph and medal at their very own closing ceremony. Through nursery guidance and home participation the children can choose how they want to clock up their miles - whether it's running, skipping, jumping or foot-balling! We chose this initiative to raise the profile of engaging children in physical activity, to highlight the importance of maintaining a healthy lifestyle with children and their families to help shape future generations and to raise money for the DKHT – which is a truly inspirational charity!"

Golden Mile's Chief Executive, David Batch, said:- "The Golden Mile is proud to provide Busy Bees with their very own physical activity initiative designed specifically with their needs in mind. We hope to get every nursery child nationwide physically active and achieving their Golden Miles…We therefore welcome Busy Bees to our ever growing portfolio of different sectors which will cover Nurseries, Schools, Scouts, Further/Higher Education institutes and Corporates and look forward to a long and successful partnership with Busy Bees in the future."

Olympic Gold Medallist, Dame Kelly Holmes, said:- "I'm thrilled that Busy Bees nurseries have decided to support my charity, the DKH Legacy Trust, with the Golden Mile. It's fantastic that young children are being encouraged to take up an active and healthy lifestyle and their support will really help us to create life chances for more young children."

Since the beginning of January 2012, a child-friendly Olympic-Bee-themed torch has been making its way around 136 Busy Bees Nurseries across the UK. An array of sports personalities and Paralympic champions have been supporting the nurseries at various stages of the journey, and will continue to do so before the torch reaches its final destination at Busy Bees Excel site on Thursday, 26 July 2012, the eve of the London Olympic Opening Ceremony.

Do log on to Busy Bees website and check out the Busy Bee and the torch's progress along the way.