Riverside Steam Rally 2012
Report by C Trollope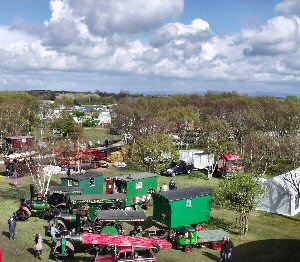 ONCE again the Annual Riverside Steam Rally took place on Saturday, 22 April and Sunday, 23 April 2012. It is now one of the local events of the year, especially for steam buffs. It was once more at Riverside Holiday Park, Mere Brow, so there many campers visiting, but also there were an enormous number of other visitors, all of whom seemed to be really enjoying themselves. The forecast rain was not heavy, nor continuous, so the grassed ground was mud free with plenty of sunshine on day 2, despite the weather forecast.

In the fields, occupied by the show bordering the camping site, there was so much to see, and do, with every exhibit and stall sensibly grouped in their own specific areas. Extremely pleasant stewards, mainly volunteers, in the car park, at the pedestrian entrance and round the show ground, guided and helped the visitors. The many exhibitors were only too pleased to talk about their machines.

The photographs show some of the interesting exhibits of steam vehicles; a working steam thrashing machine; a 1930/40's. Post office van with mail for delivery; miniature steam vehicles being driven around the show; refreshments, hot and cold, even some alcohol; then among the various stalls, clothing, and memorabilia were available; live music in a marquee; classic vehicles and trailers; plus a fair ground fun fair.

All of the foregoing was to help raise money for the many various local charities. At the time of going to press, it was believed to be in the £25,000 area. Well done, everybody, once more, for a wonderful day. Thank you, those who organised this super event; it seems to get better each time, so we all look forward to the next one.

Click on here to see more photographs taken at this event....
...HAPPY BIRTHDAY...
I

f you have someone you want to say happy birthday to, for free,

then

use the email address below to send us the names

you want us say

happy birthday to, and/or a photograph.

Email us today!
Manx Direct

08447 402 038

2 Years Parts & Labour Worranty
This Weeks Edition - Audio Copy
Click here to hear this weeks edition in audio format. Please let us know what you think about it. via emailing us. Also if you have a child who can draw a face, send one in and we will look at using it for our news reader for an edition. Adults can try as well! You will get a copy of the animation sent to you and credit on the animation as well!.
| | | |
| --- | --- | --- |
| | Click on to read on! | Click on to read on! |

KEEP up-2-date

with our free daily news emails. Are you subscribed? Si

g

n

u

p

today

to

our daily email news service via... Formb

y

-

Re

p

orter

.com

.

If you subscribed you can keep in up-to-date with what's going on in and around Merseyside. It is free and we do not send out massive amounts of emails. Also your email is kept under the UK's Data Protection Act, so you can be sure that you will not have problems.