It's life but not as we know it!!!
Photographs By Patrick Trollope.
Well not only were famous people were in Southport "I had tea with Teryl". Well according to the fridge magnet I got given. Cult TV was holding its very own brand of entertainment, showing the most divers and friendly group of party going people you could meet at a weekend never to forget. Organizer Alex Geairns told me "We came up with the idea over a cup of tea after a convention I was at. Talking to my friends we spotted there was no real group that organised an event that celebrates not only one, but all the cult TV shows we now have. So as I was at Wolverhampton University or should I say Polytechnic at the time, I hunted through the vast array of books on film and TV to get a name that we could use to sell such an event. Thanks to Wolves Uni., Library I eventually found a book that said something like 'Cult Films for the…' and came then I up with our World Famous brand name Cult TV. We have never looked back since and we are now in our 9th year. It is all about 72 hours of fun, that transports you from the doom and gloom of every day life in to the world of TV. With non-stop entertainment from Noon Friday to Noon Monday, with the famous stars and writers from some of our best loved programs on hand, to party with you and also to answer your questions and sign books and more. It is a fantastic opportunity, when you break it down to just over £1 an hour! I don't think you can get that anywhere other than here! We also raised £1,700 for the Christmas Light appeal and also raised cash for other charities"
When I asked people who came what they thought about the event I was told:-
"Fantastic, we have come to all of them. We are not sad people, we just like having fun. I am also interested in the film industry and hope to write some day. It is a very good way of learning from the best and also having fun at the same time."
"A opportunity to let your hair down and just have some fun."
"Where other than here can you have a drink with a star of a TV show or dance with them?"
"As you can see we do not all dress in silly costumes and have silly questions. Most of us are professionals in jobs that range from owners of companies to Lawyers and Barristers. Some even are film technicians and others are students who want to go into the industry. Some of us do dress up, but that is only to have a laugh and who really cares what others think. I think football is silly and the prices of football stuff is very silly, but people enjoy that, so why say we are silly as we like sci-fi. This event is so friendly and fun that it beats any football party any day!"
Latter this week we will be adding the comments we recorded at the event. So keep logging on.
I have to say I really did not know what to expect. I turned up only to be greeted by every one and asked if I wanted a drink… I have to say that was by the punters and the stars kept getting me into long conversations at the bar and getting me, yes you guest it…. Drinks! The staff were fantastic and the stars where even better. It is an event not to be missed, no matter what TV show you like, be it Sci-fi or just Coronation Street. You will find some one who likes the TV show you like and will talk about it. It was not just about Sci-fi, but all TV programs, often the topic went on to films and then quite often the most normal topic, the news and pop music…. I did at first think that the award ceremony on Saturday was a bit strange. I was not quite 100% as to how to view it, but again it was tongue in cheek, in the way it was run. I was soon to find out that it still just as prominent in the media world as other awards, like the Brit's. Organizer Paul Jones said, "The shows punters nominate their favourite in each category. Totals are counted for each show that gets nominated and a final short-list of five is drawn up in each category. Then the punters get to vote for their favourite out of this list. If a punters favourite show doesn't make it onto the voting form, then it has missed out for this year! There is always next years, and it is the 10th awards next year! We then count your votes and the winners are announced at the Cult TV Awards as you will soon see." Some of the people who took the awards could not make it due to filming or could not come due to other reasons that made it impossible to come. But they left video messages and sent faxes of acceptance. When I asked before the show what to expect, I was told by one of the many stars that had come for the evening's entertainment and prize giving that "The problem with having the words Cult TV, is that the public always associate it with mad Sci-fi fans and that is not the case. These awards are very prestigious, even though we do give the awards out in a tongue in cheek manner. But that just adds to the fun and humour of the event and is far better than the hype used in other awards. Ok they are not as recognised as the Oscars, but the awards are taken very seriously by the media industry. Some people in the industry are very unhappy if the don't get one and just get nominated. It is a big thing, just dealt with a since of humour! It is of important as it is the fans who vote as it is not just a name put in by studio bosses or nominated by the industry. That is why it is just as important as the others, if not more so!"
By the end of the event every one was drained, after dancing all night every night and drinking, by day chatting and getting and signing autographs, not forgetting seeing the awards ceremonies and sneak reviews of films and programs yet to be released and some that have already been released, but not in the UK yet. Other times listening to the industries' experts about how to create stories to special effects. This was a fantastic show and even though at first I found it hard to quite understand, by the end I was just as drawn in as the punters… If I could go next year, I would/will… err pass me my suitcase………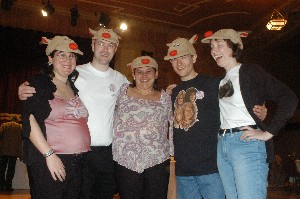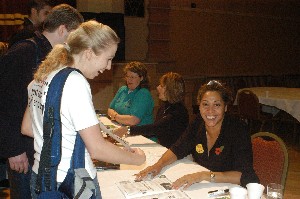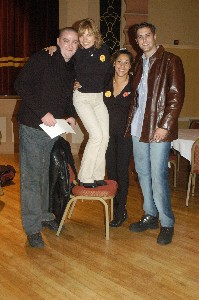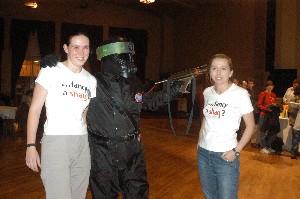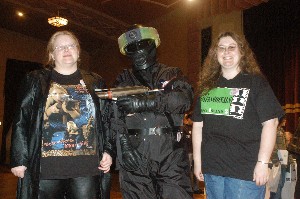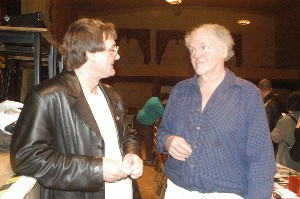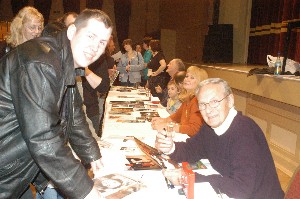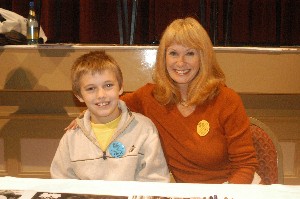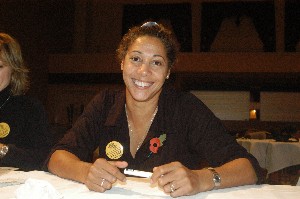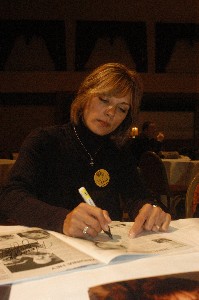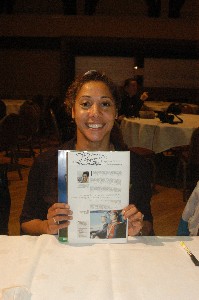 For results of the Awards, click on to the next page, and for lost more photographs!
This is page 1 of 17 pages!