Merseyside Businesses Shortlisted for Green Award
2 Merseyside firms have been shortlisted for a prestigious award to honour the UK's most environmentally friendly businesses. The duo have been nominated for a Green Tourism GoldStar Award which aims to recognise those businesses and organisations that have done the most to promote sustainability within the industry. Backed by the internationally renowned Green Tourism Business Scheme the awards are open to members that have gone the extra distance to implement cost-saving practices that help the environment, improve customer services and benefit the bottom line. A total of 53 green tourism businesses, include 36 from England, 16 from Scotland and 1 from Northern Ireland, have been shortlisted in eight categories. The winners will be presented with their coveted accolade at a glittering ceremony at the Macdonald Holyrood Hotel in Edinburgh on 25 May 2012.

The categories are:-
► Best Activity Centre.
► Best B&B and Guest House.
► Best Holiday Park and Camping Site.
► Best Conference Centre.
► Best Hostel and Bunkhouse.
► Best Hotel.
► Best Self-Catering Accommodation.
► Best Visitor Attraction- nine nominations.

The 2 Merseyside businesses are the National Wildflower Centre in Liverpool, which has been nominated for the Best Visitor Attraction Award, and the Arena & Convention Centre in Liverpool, which has been put forward for the Best Conference Centre Award.

"Each of these businesses have demonstrated an excellent example of good environmental practice. Like all the other businesses shortlisted for a GoldStar Award they were assessed by a panel of independent judges and nominated on the basis of innovation, use of sustainable initiatives in making cost savings and overall green ambassadorship during 2011-2012." said Andrea Nicholas , Director of the Green Tourism Business Scheme.

The Green Tourism Business Scheme is the first to be independently validated by the International Centre for Responsible Tourism (ICRT) on behalf of VisitEngland, VisitWales and the Northern Ireland Tourist Board, and endorsed by VisitScotland and Failte Ireland.

The scheme is the biggest of its kind in the world with over 2,400 members. Started by directors Jon Proctor and Andrea Nicholas with VisitScotland it provides consumers with an independent guide to hotels, bed and breakfasts, tourist attractions and visitor centres which are actively trying to help the environment.

GTBS is now recognised as a global leader in promoting sustainable tourism with many of its pioneering ideas being adopted by similar schemes as far a field as Canada, Sweden, Eire and New Zealand.
The Horseshoe is officially Britain's luckiest charm!
MORE than 10,000 bingo lovers took part in a unique experiment recently to see which supposedly lucky mascot or charm led to the most wins in 1 day and those with the Horseshoe ended up quids-in. Visitors to Mecca Bingo clubs across the UK on the famously unlucky day, Friday 13th, were divided into four groups and each given a traditionally lucky symbol, the 4 leaf clover, a horseshoe, a black cat or a lucky Buddha. The experiment took place during both the afternoon and evening sessions and at the end of the day, the mascot with the highest number of wins was recorded and the winnings were totted up to see which symbol brought the most good fortune. The Horseshoe brought in the highest number wins, with 30%, closely followed by the Buddha with 29% and the Black Cat and Four Leaf Clover got 27% and 13% respectively. Brian Hennigan from Mecca Southport comments:- "Friday 13th has got a bit of a bad reputation; however I think we've shown that it can in fact be lucky for some; especially if you happen to have a lucky Horseshoe with you! The experiment was great fun for all involved and I wouldn't be surprised if we start to see customers bring their own Horseshoe with them for the next time they're playing bingo."
Simon Finnigan to miss rest of season
FOLLOWING a thorough assessment, the Vikings have confirm that their back-row forward Simon Finnigan has suffered a fractured fibula and ruptured medial ankle ligaments, following an injury sustained just five minutes into yesterday's fixture at the PROBIZ Coliseum. In a press release they said that:- "With the prospect of spending the rest of the season on the sidelines, Finnigan admits to being devastated by the set back." Finnigan added:- "I realised at the time that it was a bad injury but there's always that faint chance that things may not be as bad as first feared. Unfortunately, it's turned out to be the worst case scenario and I'm absolutely gutted." The team also said:- "All at the Vikings wish Simon a speedy recovery."

WIRRAL HEADMASTER SEES KATHMANDU CHARITY WORK FUNDED BY SCHOOL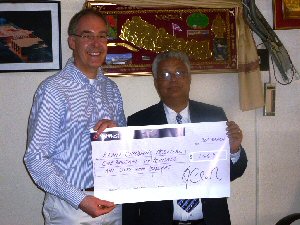 A Wirral headmaster has journeyed to Nepal to see, first hand, the life-saving work of the charity his school supports; and witness improvements in treatments thanks to equipment funded by staff, pupils and friends.

Birkenhead School's headmaster John Clark has just returned from Kathmandu where he visited the Kanti Children's Hospital as part of the school's commitment to So The Child May Live – a Liverpool charity working to support health care for sick children in Nepal. There he saw how the hospital's elecrtic dermatome, a piece of equipment bought by the school at a cost of nearly £6,000, was improving results for badly burned children.

"In the past four years we have raised £6,740 for So the Child May Live. Most of the money was spent on an electric dermatome for the Kanti Children's Hospital in Kathmandu. I have just got back. I met the Director of the Hospital, Dr Bimal Dhakal, plus 2 of the consultants, and visited a surgical ward and the burns and oncology units. It was a moving and at times shocking experience. I handed over a cheque for £1,050, a proportion of funds raised from our Perfect Pitch concert last summer, which saw the Liverpool Royal Philharmonic Orchestra perform on the school's cricket pitch. This brings our contribution to almost £8,000. I was able to see the dermatome, which we bought 2 years ago, and meet the surgeon, Dr R. P. Chaudhary, who had used it that morning on a young burns victim, whom I then saw recovering on the ward." said John Clark.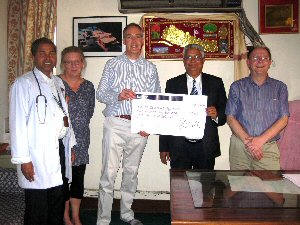 So The Child May Live draws on the goodwill and expertise of medical staff at Alder Hey Children's Hospital. Mr Clark was accompanied by Professor Barry Pizer, Consultant Paediatric Oncologist at Alder Hey, and his wife Jenni who also happens to be School Nurse at Birkenhead School. Both are trustees of the charity, which provides equipment, training and development help for the hospital in one of the most beautiful, yet poorest places on earth. The focus of support is, at present, on helping the hospital to improve services in childhood cancer, burns, child development and advanced paediatric life support resuscitation training.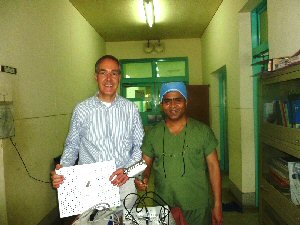 The charity also supports a health clinic in Jaganathpur, in the south of Nepal, the only medical facility for miles around and fully funded by So The Child May Live.

Nepal is one of the world's poorest countries with a per capita GDP of only $1500. Provision of health services is constrained by low government spending, rugged terrain and lack of health education. Life expectancy in Nepal is 67 Years and almost half of the population is under 14 years old. Infant mortality is around 45 deaths per 1000 births. Only half of the population has access to safe drinking water and around the same proportion consumes less than 30% of the recommended calorie intake.

► Birkenhead School, at Beresford Road, Oxton, is Wirral's oldest and only selective independent school.
► The school is now co-educational and, with its new nursery, opened in 2006, educates children from 3 months to 18 years.