Will Iron Sky be on in UK's cinemas for 1 day only?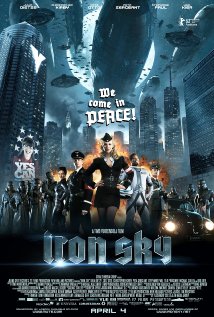 IF you have not been following our Facebook, you might not have us following the progress of Iron Sky, an independently financed Finnish film. Why I hear you asking are we following it? Well apart from it being possibly one of the most important changes in the way the film industry operates, the development of the film includes people from all over the world and all walks of life.
The film is a Sci-Fi comedy with the story about Nazis setting up a secret base on the moon in 1945. They then hide out and plan to return to power in 2018. Will they? Well you have to see the film to find out. But that might be a problem in the UK. Sadly Revolver has said that the long-anticipated and internationally credited film will at this point in time, will only be shown on one day? This has raised questions about how independent films get to really show, even with the international media interest and support like this one has agenised Hollywood films. As of yet we still do not know who will be showing it either...

In an official statement to us Revolver said that:- "We recognise the concerns of the makers of Iron Sky and appreciate the support of the fans. We ourselves have been huge supporters of the project since day 1, coming on board in 2009. We feel this release structure is very much in line with the spirit in which the film was made, being available both on the big and small screen almost simultaneously. We have seen all of your feedback and contrary to the opinion of a few we are not trying to 'kill' 'bury' or 'dump' the film. Revolver is still in discussion with the exhibitors about extending the cinema run. Come out on the 23 May 2012, show your support, make Iron Sky day a huge success and lets keep the film playing on the big screen!"

But we can reveal that we are looking at ways to help the film makers get a longer showing on Merseyside and in the North West. We do not know if our efforts will prove successful, but we feel that films like this need support. What we would like is for our readers to email us and let us know you want to see this fantastic film, so we have more to go on... So please show your support and email us to news24@southportreporter.com with your name, town, city or village and the subject line "We want Iron Sky!" To find out more about this film go to ironsky.net plus you can find out more about it on Facebook Also let us know if you know of any UK films that are independent and funded largely via public donations, as Iron Sky has been.

A New Initiative for Novice Drivers
100 driving instructors are set to drive home a new safety initiative has been launched on Merseyside. Engage is a ground breaking safety initiative for novice drivers launched by the Merseyside Road Safety Partnership; a collaboration between Merseyside Police, the 5 local authorities and Merseyside Fire and Rescue Service.

The inititiative aims to deliver a high standard of driving tuition to novice drivers across Merseyside. One hundred driving instructors have received specialist training to deliver learner-centred coaching to better equip novice drivers with skills to identify and deal with hazards on the roads. Among the topics to be covered in the scheme are:- distraction, influence of others, fatigue, speed, drink and drugs, medication and seatbelts.

These are all factors that Merseyside Police see as contributing to the number of people killed and injured on the roads every year. In addition to in-car discussions between the instructor and student, learners will complete exercises between lessons and attend an evening workshop held by Merseyside Police and local authority road safety officers to reinforce their learning and highlight the potential dangers faced by new drivers. There will also be workshops aimed at parents and guardians to inform them about ENGAGE and the advantages of the scheme to their families. The 1st session will take place at the Crosby Lakeside Adventure Centre, Crosby Coastal Park, Waterloo at 10am on Wednesday, 16 May 2012.

Sgt Paul Mountford from Merseyside Police Roads Policing Department has played a key role in the launch of this initiative. He said:- "ENGAGE is a new, exciting approach that looks to set a higher standard for driver education to improve road safety for novice drivers of all ages across Merseyside. It also places an expectation on parents and guardians of young drivers to involve themselves in the process. As a parent myself, I know what it feels like to see a son or daughter drive away from home for the first time after they have passed their driving test and the stress and worry, waiting for them to return. I would say to other parents to ask themselves how important is the safety of your son or daughter? ENGAGE not only gives new drivers the skills to pass their driving test but equips them with the knowledge and confidence to drive on their own and the ability to deal with various situations safely."

Chief Inspector John Hogan, head of Merseyside Police's Roads Policing Department, added:- "Road safety is not just the responsibility of the emergency services and local authorities. This scheme, with the involvement of driving instructors and parents, is a significant step towards improving driver education and as a result seeing safer roads in Merseyside. We do not want any families to suffer the pain and heartache that follows a road death and we welcome initiatives that reduce the number of people killed or seriously injured on our roads."

Dave Foulkes, manager of the Merseyside Road Safety Partnership, said:- "Novice drivers are too often involved in a collision within a short time of passing their test. This initiative is trying to widen the learning process and prepare drivers for their transition into independent driving after receiving their full licence. Anything that lessens the risks faced by novice drivers must be a good thing."

Gill Roberts, St Helens Council's senior road safety officer, added:- "Most learner drivers pass the test and miss having their driving instructor sitting with them. By learning to drive through the learner-centred coaching method, they will take responsibility for their own actions before taking the driving test and therefore cope with situations when they are on their own."