Facebook page which is being investigated by Police "Sick Hillsborough Page"
WE had many emails sent to us about a highly offensive Facebook page and we also had links placed on our Facebook pages to it as well. The page was mocking the tragic deaths of Liverpool football Club fans, who were crushed to death at Sheffield Wednesday's Stadium, during the FA Cup Semi Final on 15 April 1989. The page featured a very graphic picture of a supporter who had been pinned up against a fence, with a highly disgraceful and upsetting caption below it. On the day we had the complaints and also had the link added to our page, we immediately contacted both Merseyside Police and also Facebook about this page concerning the Hillsborough football tragedy including the complaints we had received. Within half an hour the page had been removed! We have been told that the Police also forwarded complaints to Facebook about that page, which had had over 150 "likes" on it before it was removed.
We received, shortly after the removal of the page, from the wider Facebook press office team in the UK, a reply stating:- "Thanks for getting in contact... Although we don't comment on specific reasons, we can confirm that the page was removed because it violated Facebook's statements of rights and responsibilities. Your readers can find out more about the terms which govern Facebook here:- facebook.com/terms.php should they wish to report any offensive pages they might find at any point in the future."
Also Merseyside Police said that:- "Merseyside Police can confirm that we have received several complaints from members of the public about comments made on Facebook about the Hillsborough tragedy. Detectives from the force's hi-tech crime unit and CID are investigating to see if any offence has been committed and if any potential offenders can be identified."
This "sick" Facebook page comes only weeks since the comedian, Alan Davies, had to apologise for comments that he had made about Liverpool FC's refusal to play on 15 April 2012. Later this year an Independent Hillsborough Panel, chaired by the Bishop of Liverpool will be disclosing many of the official documents relating to the disaster.
Runliverpool's first Festival of Running
Photos and report by Christine Chellew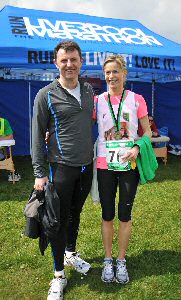 Runliverpool held their first Festival of Running on with race ambassadors Suzanne Collins and Craig Phillips who took part in the day's events, joined by Kate and Gerry McCann who returned to the City on the 5th anniversary of their daughters disappearance.

The sun shone brightly over Sefton Park as Athletes and fun runners joined together for a full race programme which included the Men Only 10K, Women's 10K, Women's 5k and the under 12's 1 mile fun run.

Craig Phillips started the morning's programme leading a new event the Men Only 10K. Craig said:- "Its fantastic to have an extensive race programme in Liverpool that offers so much diversity, so there is something for everyone. Today is great not only for the fundraising aspect for charities but to encourage a healthy lifestyle which is so important in this day to encourage people to look after their health and keep active."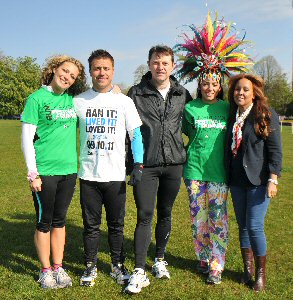 The Wirrals Jonny Mellor won 1st place in the Men Only 10k and is hopeful for a place in the Olympics this year. Jonny said:- "Its great that this is a local event and the weather today is great, I've enjoyed the race and look I forward to the next one."

Winner for the female 10k, Liverpool's longest established road race, was Jenny Clague, who came in at an impressive 37 minutes 48 seconds. Jenny joined 7 determined ladies who were set to preserve a cherished record, as there are now just the seven remaining entrants who have competed in all 27 events dating back to 1986.

Winner of the Women's 5K was Hannah Whiteside who joined the race last minute tucking in behind her sister taking part in the Women's 10K. Lisa Gawthorn who came 2nd in the event said:- "Its always a brilliant buzz taking part, there is nothing like this event in the north, I'm so pleased with my result."

Gerry and Kate McCann took part in the Men Only 10k and the Women's 10k respectively and enjoyed the day with their family. Gerry said:- "It's been really great running in the park, its such a lovely city and the weather has been great."

After warming up the crowds Suzanne Collins took to the start line with daughter Mya to take part in the Under 12's 1 mile fun run. She said:- "I love taking part in RunLverpool's running events and its great that we can do this one together. At the RunLiverpool Marathon I ran last year, Mya took part in cheerleading. Now she's really got the running bug. Im delighted she is taking part and so proud of her wanting to support charity partner Claire House."

Liverpool City Council member and chair of sport, art and culture Cllr Rothery attended the event and commented that:- "Its another excellent turn out and an enjoyable family day. We are proud to be able to offer a family friendly environment in Sefton Park. I'd like to thank Mayor Anderson for his ongoing commitment to the health and wellbeing of the city."

Coffee lovers and beauty addicts can help Liverpool firms raise money for Red Cross Week!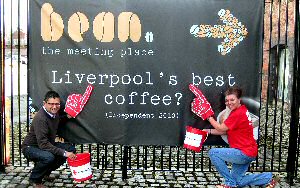 CUSTOMER can help a great cause by simply buying their daily coffee or getting their nails painted bright red. That's because 2 companies based at Liverpool's Brunswick Business Park have pledged to fundraise to mark this year's Red Cross Week. Those who want to spruce up their nails can have a splash of red polish for a donation to the British Red Cross by visiting the Jersey Treatment Rooms, in Allerton Road, on Friday, 11 May and Saturday, 12 May 2012.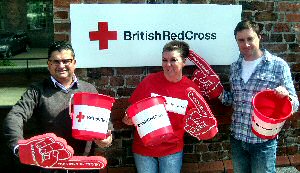 Customers of Bean will receive a coffee for a donation on Friday, 18 May 2012, at nearby coffee shop Bean; which has 5 other outlets across Liverpool and Manchester to raise money for British Red Cross and their own Bean Foundation. Matt Edmundson, director of the Jersey Company and a Red Cross volunteer said:- "Here at the Jersey Company people matter to us. We strive to make a difference to individuals, even if it's a teeny tiny one, and spy opportunities to do good. The British Red Cross does a fantastic job of providing emergency support to people in crisis. As a volunteer myself, I have seen how well the team works to provide the best support to individuals whatever the circumstances. The Jersey Company is fundraising for the British Red Cross throughout Red Cross Week at our salons in Liverpool and in Carrefour, Jersey. There is an opportunity to give online too. We hope you'll donate here and join us in helping to raise £1 million this Red Cross Week."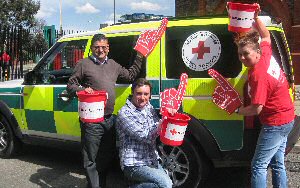 Vip Bhatt, owner of Bean, added:- "Bean is proud to raise funds for the Red Cross and the Bean Foundation. We are passionate about the work of the British Red Cross both here in Merseyside and all around the World. We hope customers will be generous in their donations on Friday, 18 May 2012, and would like to encourage other local companies to get involved and help support Red Cross Week."

Red Cross Week runs from 6 May to 12 May 2012, and is an annual week long fundraising extravaganza of events and collections across the UK. Money raised funds the British Red Cross' work, which includes services in the Merseyside area such as refugee projects and homeless first aid training.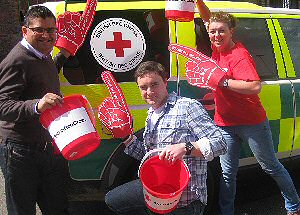 British Red Cross Liverpool fundraiser Alexis Fairclough said:- "During Red Cross Week we rely on corporate support, like The Jersey Company and Bean plus our fantastic volunteers who give their time to collect money in aid of the Red Cross in one of a million ways. We couldn't do it without them, but the more people take part, the more money we can raise. We hope that people getting involved in the events at Jersey Treatment Rooms in Allerton, making a donation online, or enjoying a coffee for a donation at Bean next Friday, you'll be supporting us and helping us raise as much as possible for the British Red Cross during Red Cross Week this year."

To find out more about organising an event visit:- redcross.org.uk/redcrossweek.
Gilbert and Sullivan Society perform to help local veterans and their families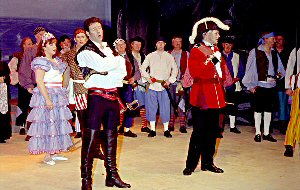 ON Friday, 26 May 2012, the Crosby Gilbert and Sullivan Society will be performing extracts from various operettas at St Faith's Church (opposite Merchant Taylors School) in Great Crosby on Friday, 18 May 2012, at 7pm. The performance is in aid of the local branch of SSAFA (Soldiers, Sailors, Airmen and Families Association) Forces Help who support around 120 local families annually.
Entrance to the performance is free but a donation of £5 per person would be appreciated. Ed Davies from the Crosby Gilbert and Sullivan Society said that we just love to sing and will do so at every opportunity but to sing for such a worthy cause is just icing on the cake. SSAFA Forces help is one of the UK's leading Armed Forces charities, we support more than 50,000 people in the Armed Forces community. Because we believe that their bravery, dedication and commitment deserve a lifetime of support. It makes no difference to us whether they have served in the past or are serving now; whether they have been part of the Royal Navy, British Army or Royal Air Force; or whether they have been serving at home, overseas, or are in an operational theatre environment. We are here to provide help and support for them and their loved ones. The local branch of SSAFA Forces help can be contacted on:- 0151 931 1387.