Night Liverpool £663 million cost of alcohol in the Merseyside Area
THE shocking statistic is contained in a report commissioned by local authorities in the north west and Drink Wise North West, which campaigns to reduce alcohol related harm. It shows a shock result, revelling that crime, anti social behaviour and illness caused by drink in 2010/11 cost £450 per head of population in Halton, Knowsley, Liverpool, Sefton, St Helens and Wirral; compared with an England average of £387.

The costs are calculated for providing NHS, police and social services to deal with alcohol related incidents, as well as the impact on workplace productivity. Chair of Liverpool City Region Cabinet and newly elected Mayor of Liverpool Joe Anderson said:- "These are staggering figures and starkly illustrate the tremendous damage and cost to society that cheap alcohol is causing to our region. It is costing every single person in our area a huge amount of money to deal with; money that we could be spending on other priority services. This adds considerable weight to the City Region's view that a minimum price per unit of alcohol should be introduced to tackle the problem of cheap booze. We need to tackle the ticking time bomb that is being caused by a situation whereby it is cheaper to buy a can of lager than a bottle of water. In Liverpool, I have set up a Health Commission chaired by Sir Ian Gilmore which will focus on this issue, as it is something that we simply must tackle."
In February, a report by the Liverpool City Region Poverty and Life Chances Commission chaired by Birkenhead MP Frank Field recommended the introduction of a minimum price of 50p per unit. Dr Paula Grey, Director of Public Health at Liverpool Primary Care Trust (PCT), said:- "Reducing the harm caused by alcohol misuse is a key priority for us and we have been working hard to promote behaviour change. Last year we launched the latest Liverpool Alcohol Strategy, which sets out a 3 year approach to tackling this problem. We know that alcohol affects a range of different groups within our population, and we need to find ways of giving people the support that is most appropriate to their needs. The strategy outlines the best way to deliver services for patients and also supports Minimum Unit Pricing, which once implemented would have a positive effect on reducing alcohol harm. Alcohol harm is complex issue which won't be solved in the short-term – it needs a sustained, partnership approach."

The new research was launched on Wednesday, 16 May 2012, at a national conference at Manchester Town Hall organised by Drink Wise North West. Leaders attending the conference where united and called on David Cameron to take urgent action to curb the impact of cheap alcohol.

Hazel Parsons, Director of Drink Wise North West, said:- "Many of the problems caused by alcohol arise because it is so cheap. You can buy a pack of beer in a supermarket for less than the price of a bottle of water. That's why it is so important that the Government introduces a minimum unit price of 50p. Research shows that this is the best way of saving live, cutting crime and saving the public sector millions."

The costs per sector on Merseyside are:-

► NHS - £145.85 million

► Crime - £180.11 million

► Workforce productivity - £283.49 million

► Social services - £53.69 million

The full report can be found online at:- drinkwisenorthwest.org.
If this affects you or you have any views on this issue then please let us know by emailing a our newsroom email address:- news24@southporterporter.com.

Travel through Space & Time at Spaceport!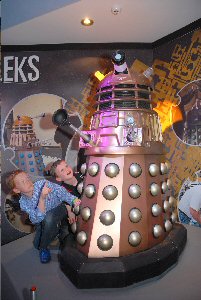 A timetraveltastic event for Sci-Fi enthusiasts takes place over 19
May to 20 May 2012, at Spaceport, when visitors will have the opportunity to see props and costume characters from Sci-fi films and TV programmes, including the iconic Tardis from Dr Who and the famous Delorean from Back to the Future.

Based on the success of recent Sci-Fi and Ben 10 weekends, which attracted in excess of 5000 visitors between them to the Wirral based attraction, the Time Travel Weekend is part of a series of space themed events taking place throughout the year at Spaceport.

In addition to the Tardis & The Delorean time machines, there will be opportunities to see props including Davros, K-9, Daleks, The Impossible Astronaut and a Cyberman from Dr Who, as well as meet and greet costume characters including Ood, Tom Baker, Sylvester McCoy, Scarecrow from Dr Who, Star Trek Crew, Klingon, Aliens, Gas Mask Zombies, Spacemen and Cybermen!

Free 'Make a Time Machine' workshops and alien craft activities will be staged throughout the day and a 'Beginners Guide to Time Travel' talk and Dr Who quiz will run at hourly intervals in Spaceport's 360 degree Dome Theatre, plus there's Time Travel face painting for budding Time Lords and aliens.

Councillor Mark Dowd, chair of Merseytravel, said:- "Science fiction and Spaceport go hand in hand and we're looking forward to welcoming enthusiasts to our intergalactic attraction for another fun filled weekend"

The Time Travel Weekend is a must for Sci-Fi fans and is free as part of the usual Spaceport admission price which can be upgraded and combined with a trip on the famous Mersey Ferry so why not set sail back to the future on 19 May to 20 May!

For more information on Spaceport events on their website. Open 10am to 6pm (last admission 4.30pm) Workshops and activities run between 11am to 3pm each day. Time Travel face painting £2 extra charge.
Free bus for Light Night Liverpool
MERSEYTRAVEL are providing a free bus service around Liverpool City Centre on Friday, 18 May 2012, for Light Night Liverpool events. The circular service will start at 8pm at Canada Boulevard operating a 10 minute frequency around many of the art and heritage venues that are opening their doors for the festival. So whether you want to visit St Georges Hall, the museums, art galleries, the cathedrals or the bus stations you can hop on and hop off this fantastic free bus service until 11pm. Other Merseytravel activities on LightNight include:-
► Cycling Trail – enjoy 1 of the 3 guided bike rides around the city, you can even borrow one of our bikes, and get some maintenance advice from Dr Bike. Website

► Street Theatre in bus stations – everyone is not quite who they seem to be at the bus stations tonight! Enjoy a series of pop-up performances. Website

► Mersey Tunnel Tours - A unique behind the scenes walking tour of Georges Dock Building ventilation station and down to the Queensway Tunnel which is an engineering masterpiece. Book your free place you can email or:- 0151 330 4504. Website.

For details of the full Light Night Liverpool programme visit:- lightnightliverpool.co.uk. LightNight bus timetable online can can be see via clicking on here.