Children of Merseyside are asked to 'put their paws' up for Poop Scoop Week!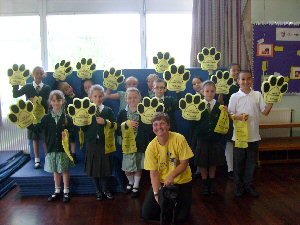 YES you red it correctly! National Poop Scoop Week over 11 June to 17 June 2012, so will soon be upon us... The Dogs Trust the UK's largest dog welfare charity, are calling on schools across Merseyside to show their support for responsible dog ownership by backing the Paws up for Poop Scoop campaign. The awareness week encourages dog owners to demonstrate responsible dog ownership and pick up after their dogs.

For the second year the team from Dogs Trust Merseyside is urging local schools to support the awareness week and 'put their paws up for poop scoop.' Last year 75,000 children across the country did just this and it is hoped that this year even more dog owners of the future will support the campaign. To show your support, and sign-up your school please visit:- poopscoopweek.co.uk. To remember the week why not send us a picture of your class putting your 'Paws up for Poop Scoop' with your Poop Scoop poster on display and we'll send you free t-shirts for all the class.

Clarissa Baldwin, Dogs Trust CEO says:- "Dog fouling is an issue Dogs Trust is determined to tackle and we hope Poop Scoop Week will reinforce the importance of picking up dog poo! We hope that by getting the support of children around the country we can shape the future of dog ownership. We want people to be able to enjoy clean public areas all year round and if everyone remembers the importance of picking after their dog we can make a big difference."

Dog fouling is a problem the charity is determined to tackle. The campaign slogan 'Bag it and Bin it' is a simple reminder to all dog owners:

BAG IT – Once your dog's poop has been scooped, carefully turn the plastic bag inside out and your dogs mess will then be 'bagged'.

BIN IT - Dispose of your bag in any litter bin provided (don't leave it lying around). Contrary to popular belief, dog waste can be put into a public litter bin if a specific dog waste bin is not provided.
CLA welcomes Natural England consultation on improving rights of way system
THE CLA in the North has welcomed a rights of way consultation by Natural England that will enable land managers to put their legitimate concerns forward and cut red tape. The Association has worked as part of the Stakeholder Working Group on Unrecorded Rights of Way, along with user organisations, which has produced Stepping Forward, a report to Natural England published this week, kicking off the consultation process.

CLA North Regional Director Dorothy Fairburn said:- "This consultation marks the first stage in reducing the needless bureaucracy that plagues public rights of way. It is wholly unacceptable that it takes so many years for rights of way issues to be resolved. We welcome the report's recommendations that seek to improve the present incomprehensible procedures. If the report's recommendations are implemented, it should cut red tape, allow landowners to put forward legitimate concerns about rights of way and while making the system better and easier. They should also end the uncertainty for landowners and householders by removing any doubt about the 2026 cut-off date for reclaiming supposedly lost rights of way."

But do you agree with this finding? Please email your views on this any any other topic within our online newspaper to us at:- news24@southportreporter.com.

Liverpool waives Diamond Jubilee party costs
LIVERPOOL is to waive the cost of road closed signs and cones for street parties being held to celebrate the Queen's Diamond Jubilee. The City Council had already agreed to cover the costs associated with the legal closure of roads where parties are being held over the Bank Holiday weekend from 2 June 2012 to 4 June 2012.
Any group that has already paid for cones and signs will be fully reimbursed.
The newly elected Mayor of Liverpool Joe Anderson said:- "We want to make it as easy as possible for people to hold a Diamond Jubilee street party. It is a great opportunity for neighbours and friends to come together and celebrate the Queen's 60 years of service to the nation."

So far 18 street parties have been organised; compared to 15 for last year's Royal wedding.

► Party organisers are being advised that they will still need to organise public liability insurance for their events.

► No licences or permits are needed for serving food or drink, or for playing music. It is only if anybody is selling alcohol at their party that will they need some form of licensing.

► Risk assessments are not needed; although it is common sense that people should have some contingency plans in place in case there is bad weather, for example.

► People are also asked to clean up after themselves and show pride in where they live by tidying up and recycling whatever they can.

► Because of the need to liaise with the emergency services and ensure that traffic routes in the city can be maintained, no applications will be considered after the closing date of Friday, 18 May 2012, so you do not have long!

► Application forms can be obtained by downloaded from the city council's website.
Breakthrough Prostate Cancer drug to be made available on NHS
THE Manchester MP John Leech has spoken of his delight that the prostate cancer drug 'abiraterone' has been approved today for use on the NHS in England and Wales by the National Institute for Health and Clinical Excellence (NICE).

John Leech said:- "I am delighted that our campaign to get NICE approval has been successful. This is no doubt down to the hard work of the Prostate Cancer Charity along with the Members of Parliament who supported me in calling for NICE to think again. "

Working closely with the Prostate Cancer Charity John Leech was at the forefront of the campaign in getting NICE to overturn their ruling on the drug in February. Mr Leech raised the issue through the Parliamentary Motion 2706 as well as hosting an event in Parliament to spread awareness of the campaign among fellow MPs He also pressed Ministers on the decision through Parliamentary Questions in the House of Commons.

Owen Sharp Chief Executive of The Prostate Cancer Charity said:- "John Leech MP has done a huge amount to raise the profile of this issue in parliament and we are extremely grateful to him for all his support. I am certain that his hard work behind the scenes has proved invaluable to the success of this campaign."

The news means that suitable men whose cancer has stopped responding to other hormone therapy and chemotherapy will be able to receive the drug without having to make an application through the Cancer Drugs Fund.