Nico is youngest winner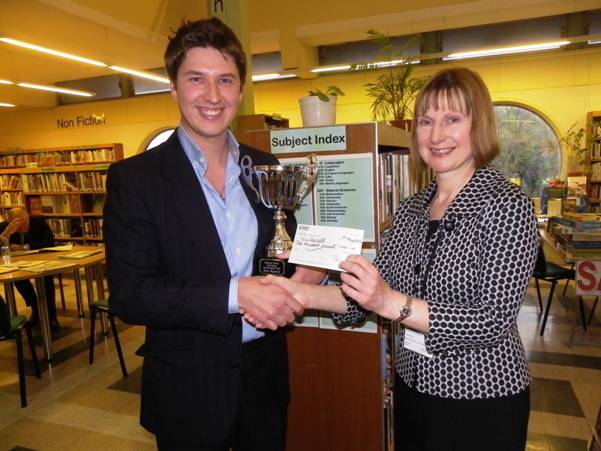 NICO Russell has become the youngest ever winner of the National Poetry Anthology at the age of 30. Nico, from the Wirral, was truly shocked to discover that he had won this; the biggest free-to-enter annual poetry competition in the UK.

"It was a real shock when I was told I'd won. I never imagined it and this success is almost like a life-changing experience." said Nico.
Nico, who works in creative media, submitted his poem 'A British Heart' for the National Poetry Anthology competition, which is open to all UK residents and attracts tens of thousands of entries. He was first selected as a regional winner and had his poem published in the book along with 250 other regional winners. "All the winners get a free copy of this annual book and get to vote for what they think is the best poem in it. The winner of the vote receives the first prize of £1000 plus a magnificent trophy to keep for life." Nico received his trophy and cheque in a presentation at his local library in Bebington." said Joanna Cummings of United Press.

Nico added:- "It's an amazing competition and I would recommend anyone to enter it. I've written poetry for many years but never entered a competition before, and only entered the National Poetry Anthology at the suggestion of a friend of my mum."

"Anyone can enter the competition, and entry forms are available from most libraries, or people can enter via our website, or by post to: NPA, United Press, Admail 3735, London EC1B 1JB/ "The aim of the National Poetry Anthology is to encourage more people to get involved in writing poetry and Nico is a perfect example. He is completely new to entering poetry competitions and has won at his first attempt. We hope he goes on to become even better known as a poet." said Peter Quinn, Managing Director of United Press.

Nico's ambition is to publish a book of his own work. As well as writing poetry, he enjoys writing comedy prose and is working on a sitcom. "I've written poetry since I was a schoolboy, and most of my work is very emotional. In poetry you can express feelings in a far more intimate and creative way," he explained.

If you want to enter the National Poetry Anthology, submit up to 3 poems (on any subject) before the annual closing date of June 30. There is no age limit to the competition, and the only condition is that you have to be a UK resident.
NPA 2012 Competition winner...
A British Heart
© Nico Russell, Spital, Merseyside
Down beats the drummer's hand to lead them on their way.

Faultlessly, they march in line, no single stride astray.

Immaculate from head to toe, this military perfection;

These highly polished men, today in personal reflection.
With heads held high and shoulders back, they carry him with pride;

Their ally and their friend, who on the battlefield had died.

The English breeze caressed the air and dried the springtime dew;
As children watched in wonder at the draped red, white and blue.

He was just a boy himself, yet the job had made him older.
To most he was a fearsome sight, an armed and dangerous soldier.

But to his doting mother, who now numb forever more,

He'd always be her tender son, snatched from her by war.

The streets were lined with mourners, those he knew and had not met;

There to do their duty and whisper, We shall not forget.

He spent his life in service, to his country, to his Queen,

He gave his life for freedom, a better future, now unseen.

The essence of a British heart: proud and brave and loyal;

Returning home to peaceful rest, within the British soil.

Men get flower power thanks to a 'blooms for boys'…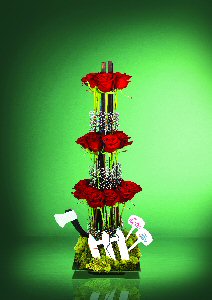 SAYING it with flowers is about to get a whole new meaning thanks to a stylish new website aimed at the male market. Blooms For Boys is about to revolutionise the flower industry, thanks to its imaginative and highly stylised floral sculptures targeted at men. 3 ranges; Lifestyle, Wicked and Wonderful; are for men who like flowers but have been unable to find any arrangements with a masculine edge; until now. The Lifestyle range's Aegean collection is inspired by Greek mythology and includes Olympus, Hera and Zeus; highly structured, vibrant creations using flowers such as lilies and anthuriums with additional features such as charred bark and steel shards to give them a manly feel. The Wonderful range is aimed at those with a sense of the dramatic; and a sense of humour; and draws its inspiration from some of the greatest films ever made. The Sound of Music design not only features alpine-style flowers but also the Swiss flag and even swatches of the famous curtains that Maria used to make clothes for the Von Trapp children. The Blooms For Boys homage to the Wizard of Oz includes a trailing path of yellow roses; complete with a straw patch and its very own pair of ruby slippers; while its Seven Year Itch display has a diamante choker, pearls and even a lipstick set among the flowers. The online retailer continues its movie theme in its Wicked range, which also honours some of the most notorious icons of all times. Mommie Dearest; a fitting tribute to Joan Crawford; is a vibrant mix of red roses, a picket fence, an axe and a tiny replica of the famous wire coathanger as immortalised in the film of the same name. The Wicked range also includes Lady Macbeth and Cruella De Vil, now immortalised in floral sculptures which includes daggers, feathers and faux Dalmatian fur. Although just launched, Blooms For Boys has already created a celebrity following after providing table decorations for a charity ball organised by the Coronation Street stars. The unique designs are being seen as the perfect gift for anyone wanting to send flowers to men, either to a partner, friend or to mark a special occasion. They are also perfect table centrepieces for parties, celebrations or civil partnerships or even as a present for a woman who prefers highly stylised and unique floral arrangements.
Human remains identified as Paula Hounslea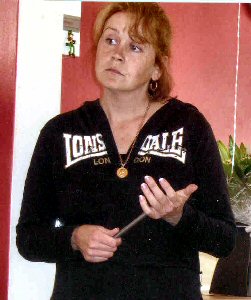 MERSEYSIDE Police have identified that the remains found on the Liverpool Loopline near Blackthorne Road in Fazakerley, on Saturday, 5 May 2012, are those of missing person Paula Hounslea.
Paula was 38 years old when she went missing in August 2009 following a family meal.
An investigation is continuing into her death, which is being treated as unexplained as this time. DCI Phil McEwan said:- "I would like to thank the media for their help with our enquiries so far. Now that we have made a positive identification our investigation into the circumstances surrounding Paula's death will continue. Our thoughts remain with Paula's family, who have asked that the media respect their privacy as they try to come to terms with their terrible loss."