CELEBRATE THE GREEN SPIRIT!
FOLLOWING the successful launch of their Green Drinks event at the Shakespeare Pub last month, Transition Southport is holding another evening of green conviviality on Thursday, 14 June 2012, at 8pm at the same venue. This is open to individuals and organisations interested in sustainability, environmental issues and community who would like to get together informally over a drink.

The May event attracted members of various Southport groups such as Friends of the Earth, Blue Ocean Planet, Ribble Estuary Against Fracking, Grow Organic West Lancs, Friends of Bedford Park, Streetbank, Southport Freegle, local green businesses and councillors amongst others. Paul Wolfenden,

Owner at The Fair Trade Store commented:- "Having attended many networking events over the years, I found the Green Drinks evening to be particularly informative and rewarding. As a local online retailer selling Fair Trade gifts, I met a number of enthusiasts and potential new customers who were eager to find out more about the ethics and provenance of my business over a glass of wine. The event was also an excellent opportunity for me to learn about contentious green issues affecting the surrounding area, of which I was previously unaware. So, an informal, enjoyable evening in at a welcoming venue turned into a very productive one too. I look forward to another Green Drinks event soon."

Joe Bleacher, Chair of Green Waste Enterprises said:- "I was glad to attend the very first Green Drinks Event. It was full of community spirit and a desire to get things done in the town about environmental issues. It was a very positive meeting with locals interested in improving our community. I am looking forward to the next one, and would like to invite other people to come and see what concerns the Southport community has, and what they are doing to make things happen."

For more information on Green Drinks, take a look at:- greendrinks.org.
Wanted by Police - Sam Searson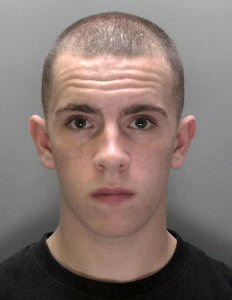 MERSEYSIDE Police are appealing to the public for information on the whereabouts of a man who escaped from Thorn Cross Young Offender's Institute in Warrington. 20 year old Sam Searson absconded from custody on Wednesday, 16 May 2012, where he was serving a sentence for burglary. Anyone with information on Searson's whereabouts should contact Merseyside Police on:- 0151 777 2264, or anonymously contact Crimestoppers on:- 0800 555 111.

Car crime victims in Southport area are asked to contact Police
MERSEYSIDE Police Detectives are investigating several thefts from cars that have happened in Southport and are now appealing for the victims to come forward after suspected stolen goods were recovered. Officers have managed to reunite some of the property with the rightful owners but some items remain unclaimed. The thefts occurred between 23/04/2012 and 31/05/2012 in the Southport and Birkdale area of the town. A number of cars were broken into and people's valuables taken. An investigation by Sefton CID led to 2 people aged 28 years being arrested on suspicion of Theft and have been released on Police bail pending further enquiries. Anyone who has been a victim of vehicle crime in Southport recently and had property stolen is asked to call Marsh Lane CID on:- 0151 777 3059.
Local MP visits St Helens farm
LABOUR MP for St Helens North, Dave Watts, paid a visit to Fir Tree Farm last Wednesday to see the farm shop, cafe and woodland walks it has to offer. Fir Tree Community Growers received over £80,000 in funding back in 2010 from Local Food, a £57.5 million programme supported by the Big Lottery Fund, which provides funding for projects working to make local food more accessible and affordable to communities.

This not-for-profit social enterprise is based at the farm on a five acre market garden and grows affordable vegetables for local disadvantaged groups. It also provides free training to St Helens residents.

Alan Abbott, Fir Tree Farm Owner, said:- "Dave Watts was really impressed with all the activities at the farm. He saw how we have diversified into allowing full public access on over 100 acres, the planting of woodlands and how we have brought biodiversity back to the farm. He particularly enjoyed watching the barn owl nesting box on the web cam and a cup of tea at the cafe whilst sitting out in the glorious sunshine."

Jenny Griggs, Fir Tree Community Growers Volunteer Co-ordinator, said:- "This was a great opportunity to show our local MP how farming can engage with its local communities whilst providing social care opportunities. We work with adults with learning disabilities, physical disabilities and those recovering from trauma and depression. Dave said that he could see how the opportunities we provide are life changing. He also got the opportunity to meet with Sarah Park our volunteer tractor driver and said he would be bringing his grandchildren over to see us."

Mark Wheddon, Local Food Programme Manager, said:- "Projects like this have a wide and lasting impact on the community and we are delighted to support them. Our scheme is about promoting the benefits of locally-grown food, and this project demonstrates how these can stretch far beyond simply eating more healthily, to giving people new skills, new confidence and a closer connection with their local community."

For visitor information visit:- faeshopandcafe.co.uk.