Olympic Flame on Merseyside
Photograph below by Patrick Trollope.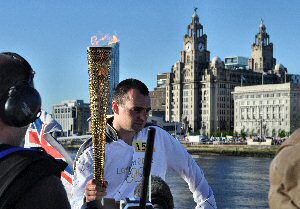 AS the bright sunshine flooded the region along the route of Merseyside leg of the London2012 Torch Relay, crowds waved flags and families dressed in patriotic red, blue and white. You could not help know that the Olympic Flame was on Merseyside for most of Friday, 1 June and some of 2 June, as it was taken around by Torchbearers and a flotilla of support vehicles. We had a few photos taken on Friday, as it passed thought Formby and Southport, on its Sefton leg of the Merseyside Relay. The Torch was on the way to Liverpool and also stopped at Crosby and many of Liverpool's landmarks along the way. Did you get any photos of the Touch passing though? If you did please do let us have a look at them... Also did you take part? Again let us know by emailing us to:- news24@southporterporter.com. At the end of Friday, our Editor, Patrick Trollope, met up with it on Birkenhead's Mersey Ferry Terminal, then they took it across the river via the world famous Mersey Ferry and the flame rested for the night at Liverpool's Pierhead. The end of the Merseyside Leg of the Torch was marked by a fantastic show, with a celebrity appearance from Melanie Chisholm (Former Spice Girl - Mel C) who was also, earlier, a Torchbearer, number 146. Also on stage were the local band, the Wombats, plus Olympic gold medal cyclist, Chris Boardman, and a former Olympic boxer. But the biggest cheer was given at the end of the day to Craig Lundberg, aged 26 and from Liverpool who carried the flame over the crossing of the Mersey and on to the stage. Craig was blinded whilst on service in Iraq in 2007 when a rocket propelled grenade blew in his face. He has won the hearts of many as he has never let his injuries stop him, and despite sustaining them, he has done countless things including climbing Mount Kilimanjaro for the Help the Heroes charity! On the stage he gave a quick interview and lit the Olympic Beacon, before the rest of the show continued. Did you find the Touch and its associated events inspirational and did it make the Olympics feel part of our community? Please do let us know your thoughts on the matter...
Video above by Patrick Trollope - Photographs below by Nigel Brabon.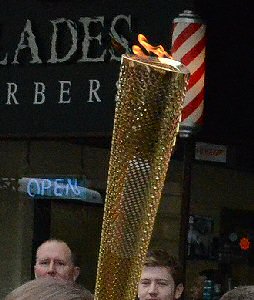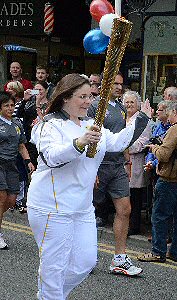 Photographs below by Nigel Brabon.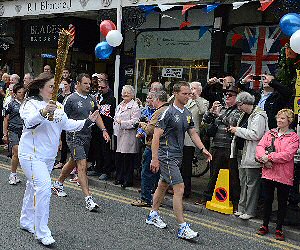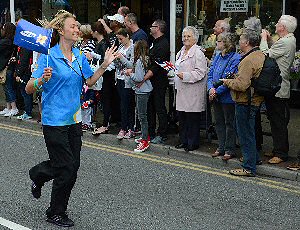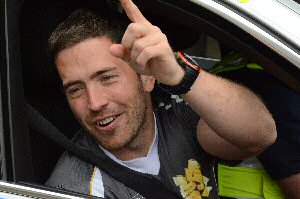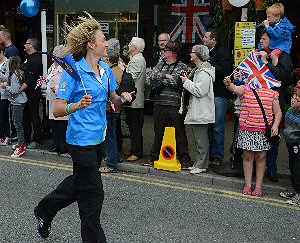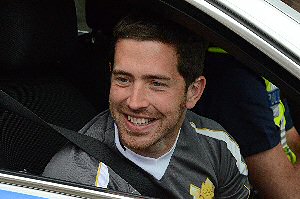 If you like the photos, please order them and do not copy them. Keep this site online.... Click on here to find out how you can get you copy of these photos.