A tidy amount of bargains
BARGAIN hunters will have the opportunity to get goods for free- thanks to a recycling scheme. Clothes, books, and other household goods collected under the Leave Liverpool Tidy scheme will be available at 4 "shops".

Leave Liverpool Tidy is a partnership between the City Council, the Students Unions, Liverpool University and some social housing providers, in which students are encouraged to recycle goods which they no longer need as they move house when the academic year ends.

Volunteers including local councillors deliver refuse bags for students to place unwanted items in. The goods collected will now be on offer for free at the following locations between 12 noon and 7pm:-

► Monday, 11 June - Marybone Resource Centre, near Leeds Street, L3
► Tuesday, 12 June and Wednesday, 13 June - Kelvin Grove Resource Centre, Kelvin Grove, off Princes Ave / on Corner of High Park Street, L8

► Thursday, 14 June - St. Bede's Church, Hartington Road / corner of Fern Grove, L8
► Friday, 15 June - The German Church, Canning Street

Cabinet member for Neighbourhoods, Councillor Steve Munby said:- "Leave Liverpool Tidy project is a really imaginative way of recycling large amounts of goods that students would otherwise have thrown out. And, in these tough economic times who is going to resist seeing if they can get something for free!"

Councillor Laura Robertson-Collins, who has been involved in the project, added:- "The items which are now on offer would probably have ended up in landfill. They are available to anybody – students or the general public. It's shopping without any cost."
Local Charity gets a £30,000 donation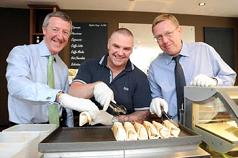 A local charity committed to helping adults with autism into the work place have secured a £30,000 donation from the Santander Foundation to purchase kitchen equipment for their Southport sandwich shop entitled:- 'a great little place - to go'.

Autism Initiatives work in partnership with each individual to identify their abilities and create a training program tailored to their specific needs. 'A great little place - to go' will provide a safe and familiar environment for their service users where they will receive work based training, work experience and employment opportunities, all of which help to build levels of confidence and self esteem.

Susan Murphy, Head of Fundraising at Autism Initiatives said:- "We believe that people with autism can learn and develop every day and we do all we can to maintain this process. We are very grateful to the Santander Foundation for their wonderful donation which will help many people gain the relevant skills, confidence and support to enter the workplace and move towards independent living."

Peter Curry, Director of Payments and Strategic Projects at Santander said:- "The Santander Foundation makes hundreds of donations every year to good causes around the UK to support disadvantaged people through education and training projects. We were impressed by the work of Autism Initiatives and the idea behind 'a great little place – to go' and were keen to help the charity achieve their goal and create a valuable learning experience for their service users."

Sea Odyssey turns over new leaf...
THE iconic images of 3 giants taking over Liverpool's streets will be a real page turner thanks to a new book. Due to popular demand, Liverpool City Council is commissioning a book which is set to contain hundreds of beautiful images of the 30ft Little Girl Giant, her 50ft Uncle and the playful pup Xolo exploring the city. And with crowds of around 800,000 attending the April event, the city council is encouraging anyone who took a stunning picture to send it in to the Sea Odyssey team for a chance of it being included in the final publication.

In order for the image to be considered it needs to be:-

► High-resolution – at least 3MB
► Have no copyright attached to it
► Have no consent or permission issues

► No payment will be given for any of the images provided, but the photographer will be credited in the book.

Anyone who wants to share their photographic gem should email the image to:- seaodyssey@hotmail.co.uk by 5pm Tuesday 12 June 2012. The email should include the person's full name and contact number.

The city council's cabinet member for culture and tourism, Councillor Wendy Simon, said:- "Ever since Sea Odyssey, we have had people constantly approaching us, asking for some sort of commemorative product to be produced which would re-live the amazing three days we experienced in April 2012. We're delighted that we have been able to get the ball rolling on this book which I'm sure will grace the coffee tables of every person who enjoyed the visit of the three special visitors."

The book is expected to be published towards the end of the year.
Kirk Bradley and Anthony Downes back in UK to serve their life sentences
MERSEYSIDE Police have confirmed that Kirk Bradley and Anthony Downes are now serving their life sentences in a British jail following an extensive security operation put in place to return them to the UK. The force worked together with the Metropolitan Police Service, the Serious Organised Crime Agency and the Prison Service to ensure the safe and secure return of Bradley and Downes from the Netherlands on Tuesday, 29 May 2012. They were extradited after being caught in the Netherlands earlier this year. Downes, 26 years, from Woolfall Heath Avenue, Huyton, was arrested in Amsterdam on Friday, 9 March 2012, on suspicion of possession of a firearm and for conspiracy to possess firearms with intent to endanger life and conspiracy to cause damage with intent to endanger life. Bradley, aged 26, from Altfinch Close, Huyton, was arrested on Thursday, 5 April 2012, for conspiracy to possess firearms with intent to endanger life and conspiracy to cause damage with intent to endanger life. Both men had been wanted since July 2011, after escaping from a prison van on their way to Liverpool Crown Court. They were both convicted in their absence, and were sentenced to life, with a minimum tariff of 22 years, at Woolwich Crown Court on Friday, 16 March 2012. Following their arrest in the Netherlands SOCA and Merseyside Police worked closely to facilitate the Court processes (both in the Netherlands and the UK) and to arrange the extradition. The transportation of the prisoners to the UK was supported by the Metropolitan Police specialist firearms unit, who planned and supervised the return of both men and their subsequent transportation to prison.

Detective Superintendent Ian Mulcahey, said:- "Since Bradley and Downes were arrested Merseyside Police has worked closely with the Serious Organised Crime Agency, the Metropolitan Police Service, the prison service and Dutch authorities to organise their return to the UK. The capture of Bradley, and Downes before him, underlines Merseyside Police's commitment to work with other authorities to ensure that serious criminals have no place to hide. They posed a significant risk to the people of Merseyside and beyond and they will now serve their life sentences in the UK."

Ian Milne, Head of European Operations for SOCA, said:- "Joint working with Merseyside Police and the Amsterdam Police led to the capture and extradition of these two violent and dangerous individuals. They are now behind bars in the UK where they belong. This shows that criminals who flee to other countries are not beyond our reach."