The Phantom of the Opera At The Liverpool Empire Theatre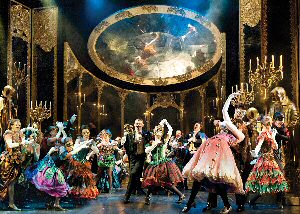 THE Liverpool Empire Theatre is delighted to confirm that Cameron Mackintosh's new production of Andrew Lloyd Webber's The Phantom of the Opera will play in Liverpool from 20 February 2013 to 9 March 2013. The last time the musical was seen in the city was 14 years ago. Tickets will go on pre-sale to ATG theatre card holders on 8 June 2012 and on general sale to the public on 12 June 2012.

Andrew Rawlinson, General Manager of the Empire Theatre said:- "I'm thrilled that The Phantom of the Opera is returning to the Empire. It's a stunning new production that we are proud to be bringing to Liverpool. The Phantom of the Opera is such a well-loved musical, I know the show will be just as popular with the people of Liverpool as it was when the musical was here 14 years ago. Anyone coming to see it is guaranteed to get something quite spectacular!"

Cameron Mackintosh said:- "With an exciting new design and staging, retaining Marchia Björnson's amazing costumes, you can surrender to the music of the night and fall in love with the Phantom in his new guise all over again."

Cameron Mackintosh's spectacular new production of Andrew Lloyd Webber's legendary musical will star Earl Carpenter as 'The Phantom' Katie Hall as 'Christine' and Simon Bailey as 'Raoul' .
Angela M. Caesar will star as 'Carlotta', Andy Hockley as 'Monsieur Firmin', Simon Green as 'Monsieur Andre', Elizabeth Marchsh as 'Madame Giry', Vincent Pirillo as 'Ubaldo Piangi', Hannah Cadec as 'Meg Giry' and Olivia Brereton as 'Christine' at certain performances.

The company also includes Alistair Barron, Rosie Bell, James Bisp, Greg Castiglioni, Cindy Corinne Ciunfrini, Caroline Crawley, Rachel Crocker, Michael Diana, Liesl Dowsett, A C Garcia, Hannah Grace, Henry Grant Kerswell, Sam Harrison, Sophie Hartley, Kirk Jameson, Sarah Joyce, Lauren Lotz, Lee Ormsby, Siani Owen, David Phipps-Davis, Claire Platt, James Pullum, Leigh Rhianon Coggins, Emma Roberts-Simms, Ben Sleep and Richard Woodford.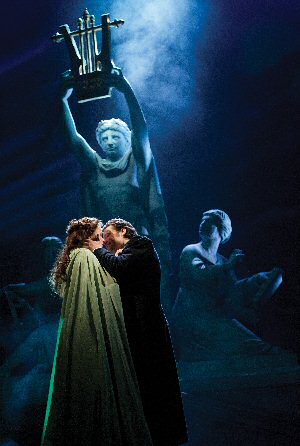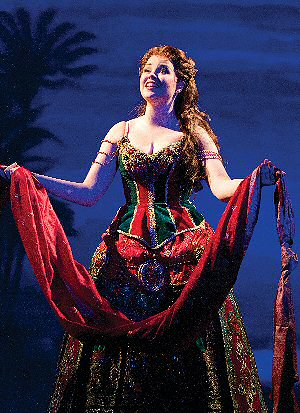 This spectacular new production is directed by Laurence Connor, with Choreography by Scott Ambler, Set Design by Paul Brown, Costume Design by Marchia Björnson, Lighting Design by Paule Constable with Video and Projection Design by Nina Dunn for Knifedge, Sound Design by Mick Potter and Musical Supervision by John Rigby. The production is overseen by Matthew Bourne and Cameron Mackintosh.

The Phantom of the Opera became the longest running show in Broadway history on 9 January 2006 when it celebrated its 7,486th performance, surpassing the previous record holder "Cats". This coincided with the Broadway and the US national touring company celebrating an unprecedented 20,000 performances in the United States. In October 2010 the London production celebrated its 10,000th performance.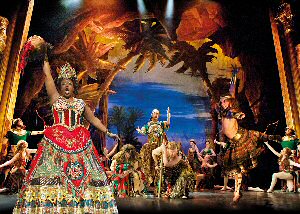 The Phantom of the Opera has won over 60 major theatre awards, including seven Tonys on Broadway and three Olivier Awards in the West End. It won the 'Most Popular Musical Audience Award', voted by the public, in the 2002 Laurence Olivier Awards. The Phantom of the Opera, which opened at Her Majesty's Theatre on 9 October 1986 starred Michael Crawford as 'The Phantom' and Sarah Brightman as 'Christine.' It is produced by Cameron Mackintosh by arrangement with The Really Useful Group.

Worldwide, The Phantom of the Opera has grossed over £3.2 billion. The box office revenues are higher than any film or stage play in history, including:- "Titanic", "ET", "Star Wars" and "Avatar". It has been seen in 145 cities in 27 countries and played to over 130 million people. The Phantom of the Opera is currently showing in London, New York, Budapest, Las Vegas, and Kyoto.
Performance Details:-

Wednesday
20 February
7.30pm
Thursday
21 February
7.30pm
Friday
22 February
7.30pm
Saturday
23 February
7.30pm
Saturday
23 February
2.30pm
Monday
25 February
7.30pm
Tuesday
26 February
7.30pm
Wednesday
27 February
7.30pm
Thursday
28 February
2.30pm
Thursday
28 February
7.30pm
Friday
1 March
7.30pm
Saturday
2 March
2.30pm
Saturday
2 March
7.30pm
Monday
4 March
7.30pm
Tuesday
5 March
7.30pm
Wednesday
6 March
7.30pm
Thursday
7 March
2.30pm
Thursday
7 March
7.30pm
Friday
8 March
7.30pm
Saturday
9 March
2.30pm
Saturday
9 March
7.30pm
For more information visit:- liverpoolempire.org.uk.

Neil Buchanan's Back Street Games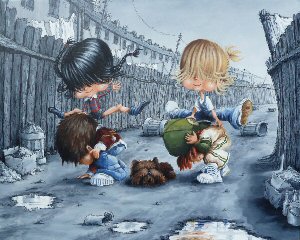 THE Art Attack Man's 'Naughty Sporties' kick-bollock, scramble their way into Liverpool with Neil Buchanan's Back Street Games. It has now been 4 years since Liverpudlian's 'Art Attack Man' last attacked art on his BAFTA award winning TV show Art Attack, in front of 6 million viewers each week, the ultimate mischief maker in the world of art is at it again. This time Neil Buchanan is creating sporting mischief with his brand new collection of limited edition fine art entitled Neil Buchanan's Back Street Games which will debut in Rennies Gallery, in Bold Street, on Saturday, 23 June 2012; and throughout July and August 2012.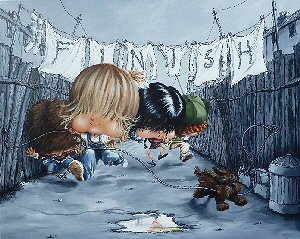 Whilst the rest of us are preparing for this summer's diet of wall-to-wall Olympics, the irreverent Scouser (who has often been feted as 'the real Banksy' on Facebook), pushes back the boundaries and jumps over the hurdles to create this cheeky and witty bit of sporting art naughtiness. Neil Buchanan's Back Street Games depicts the alternative games played out in the 'athlete's alleys' all around the country as his' 'Naughty Sporties' take part in the 'smallest' sporting event of the year!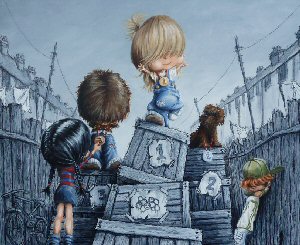 More 'fine anarchic' than fine artist, Neil Buchanan said:- "I'm celebrating smallness and the littlest victories around the whole of little Britain! This is what really goes on in the alternative little 'lympics in the alleys, the parks and the gardens of the nation, long after the final race has been won at the biggest sporting event of the year. So if you're anything like me and have thought 'Oh no not another bloomin' souvenir', the Back Street Games is the ultimate antidote to souvenirs! This is 100% not the Olympics! This is smallness on a big scale!"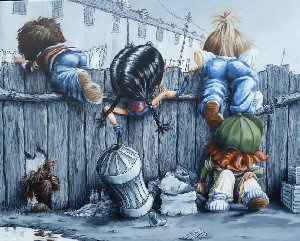 In Neil Buchanan's Back Street Games, every event is turned upside down yet every painting is a winner as the lively Liverpudlian packs each picture with gags and humour. Wooden crates are transformed into the winning podium, dustbins morph into hurdles, a battered fence changes into the high jump and a bit of old string transforms into the hallowed finishing line. Buchanan's banter in the narrative is equalled by his gifted natural ability to paint and draw, as the animated and colourful 'Naughty Sporties' burst out of the grey and monochrome ordinariness of the back street alley, to dream their extraordinary dreams as they 'go for gold'... even if they have to cheat to be first over the finishing line! The 5 strong collection of signed limited edition art has been cheekily christened by the 'Art Attack Man' and include:- Didn't Wanna Win Anyway, The High Jump Bunk, The Mad Dash, The Hurtles and "On Your Marks, Get Set ... CHEAT!"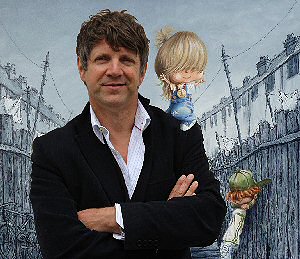 This inspirational and as pirational collection is delivered in mixed media (acrylic paint and ink pen) and beautifully reproduced on canvas on board giving each work of art the look and feel of an original painting, but at a fraction of the price. As Neil Buchanan added:- "Art should be accessible to everybody, not just a bunch of art historians in art galleries, that's why my invitation to the millions of viewers each week on Art Attack was 'Try it Yourself!' My Back Street Games is bringing art back to street level, or even gutter level! Just mind you don't trip up in the puddles and slip on the banana skins!"

Every artwork is presented as canvas on board (and measures an impressive 46cm x 57cm), is personally signed by Neil Buchanan and comes in a low edition size of 95 (worldwide) for each image. Neil Buchanan's Back Street Games will be in Rennies Gallery throughout the summer and the gallery is located at on Bold Street in the centre of Liverpool (L1 4EZ).
To find out more visit:- renniesgallery.co.uk.