LIVERPOOL PRIDE 2012 MARCH ROUTE ANNOUNCED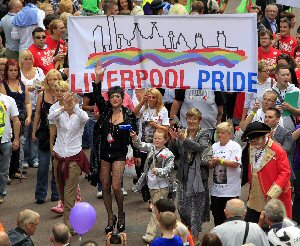 THE Organisers of the Liverpool Pride festival have announced the route that this year's March will take. With even more participants than the Queen's Jubilee Pageant expected to take part, the 'Nautical but Nice' themed flotilla will journey through the centre of Liverpool as part of the city's third annual official celebration of all things LGBT, to be held on Sat 4 August.

The March will leave William Brown Street at 12pm, with participants asked to gather from 11am. It will then process along Lime Street before taking in Queen Square Bus Station and Whitechapel. From here, the March will make its way along Lord Street and North John Street before turning down James Street, crossing The Strand over Mann Island and ending in front of the main stage at the Pier Head, where the afternoon's rally and entertainment will begin.

The undoubted highlight of the festival, the Pride March gives the LGBT community, their friends and their families the chance to parade through Liverpool's streets in a blaze of colour, music and, this year, seamen (and women), whilst raising awareness of homophobia in the local area. Last year, over 3,500 people took part in the Liverpool Pride March including gay bars, shops, restaurants, political organisations, Trade Unions, Merseyside Police and Merseyside Fire and Rescue Service in addition to many individuals and their nearest and dearest. 6000 people turned out to cheer on marchers in 2011, a number which is also expected to grow in 2012. Organisers are expecting an even larger crowd to take part this year and so are advising anyone who wants to take part to apply early.

HMS Pride needs you…The march is completely free to join and Individuals, groups and organisations are invited to take part by registering online before 31 July 2012.

The Liverpool Pride 2012 march is sponsored by Homes for Everyone. Homes for Everyone is a group of 15 housing associations from across Merseyside, which include Riverside Group, Liverpool Mutual Homes, Plus Dane Group, Pierhead Housing, Wirral Partnership Homes, Knowsley Housing Trust, Steve Biko Housing Association, The Regenda Group, South Liverpool Homes, Symphony Housing Group, Cosmopolitan Housing, Venture Housing Association, Helena Partnerships, Villages Housing Association and Your Housing Group. They have, once again, joined forces to take part in this year's Liverpool Pride to show their commitment to equality and diversity. The group hopes that by taking part in Liverpool Pride it will give new customers the confidence to apply for re-housing alongside giving employees and customers the confidence to join the associations' LGBT focus groups and forums knowing that they will be treated fairly and with respect no matter who they are.

The festival's 'Nautical but Nice' theme, chosen in a ballot by members of the local LGBT community, gives a nod to the city's commemoration of the 100 year anniversary of the sinking of the Titanic, whilst at the same time, celebrating the city's rich maritime history and taking advantage of the main festival site, which sits on the banks of the River Mersey.

Marchers are encouraged to dress up in line with the theme, although this is not obligatory, so start thinking about costumes and entries now! Think outside the box and be as creative as possible bearing in mind the diversity of the Seafaring theme. From Pirates of the Caribbean to Captain Pugwash, Jack and Rose aboard the Titanic to The Queen's Jubilee Pageant, Captain Morgan's to Old Navy, Stowaways, Ships Boys and Cabin Girls, mermaids and sea creatures, Miss Molly Malone and her cockles and muscles, Elizabeth Swann, swashbuckling heroines of the sea, certain Disney villains, 'An Officer and a Gentleman' and of course Ferries Across the Mersey.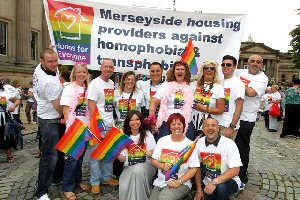 Similarly to the previous Liverpool Pride Marches, there will be no motorised floats included, in order to place more emphasis on the issues of Homophobia in the Liverpool LGBT community and also to keep the festival's carbon emissions to a minimum.

James Davies, Festival Coordinator at Liverpool Pride said:- "The Pride March has been both the emotional highlight and physical spectacle of Liverpool Pride since it began in 2010. For the local LGBT community, it's a chance for them to show how proud they are to be who they are with their friends and families and how proud they are of their community and how far its come in the past few years. With over 3000 people expected to take part again this year including drummers, dancers, giant puppets, models and all manner of other nautical regalia this year is going to be the biggest and best yet. It's definitely what Liverpool Pride is all about."

Jon Farrell, Chair of Homes for Everyone said:- "We're delighted to sponsor this year's Liverpool Pride March. Pride brings into focus just how many people in the city celebrate diversity and I am proud to work in a sector that is committed to nurturing that. We believe that Liverpool Pride is a fantastic festival and is something which is so worthwhile in terms of both raising awareness of Homophobia and Transphobia in Merseyside and also celebrating its diverse culture and community. We don't just offer homes for rent or sale but work to make our neighbourhoods great places to live and work. We have a strong track record of working together in Merseyside and other areas and we have recently signed a pledge which commits us to work to common standards, map our services and work with the LGB and T community. Housing providers, from all across the region, will march together as part of Homes for Everyone to further strengthen that commitment. It's going to be a wonderful event and I can't wait to see everyone there!"

Liverpool Pride isthe country's biggest free Pride event outside of London. Bursting onto the scene in 2010, the inaugural Liverpool Pride festival attracted over 20,000 people, which was doubled to over 40,000 in 2011. The festival's most important principle being that it is free for all to attend. Liverpool Pride came about following the launch of the LGB&T Network, at which the public voted for a Pride festival to engage, empower and involve the LGB&T communities within the city. This was fully endorsed by Liverpool City Council in January 2009. Following a number of high profile attacks in the city, the event was established in 2010 and now takes place each year to coincide with the anniversary of murdered gay teenager Michael Causer.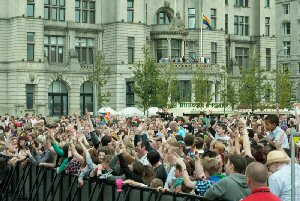 In just 2 years, Liverpool Pride has established itself as one of the major highlights in the city's summer calendar and in 2012 will continue to prove an event that Liverpool's LGBT community is proud of, attracting people from across the country to experience the diverse culture of one of Europe's most exciting cities. Liverpool Pride 2012 will take place on Saturday 4 August at Liverpool's iconic pier-head and throughout the Stanley Street Gay Quarter. In addition to this, there will be a weekend of cultural events taking place at some of Liverpool's most influential arts and cultural establishments. To take part in The Liverpool Pride March, register online before 31 July 2012. Make sure you check out @PrideLiverpool on Twitter and also search for Liverpool Pride on Facebook; to have your say and for all of the latest pride news.

PEPPA PIG MEETS HUNDREDS OF FANS IN BIRKENHEAD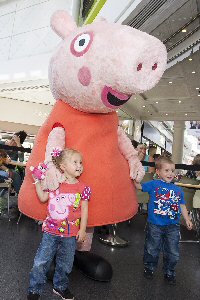 PEPPA Pig and her little brother George attracted a long queue of half term shoppers when they met hundreds of young fans at a Birkenhead shopping centre. The TV cartoon hero arrived at The Grange and Pyramids shopping centre and was greeted by scores of excited children who were eager to get a glimpse of the 5 year old pig who likes jumping in puddles. Little Abigail Pidugu brought a chocolate egg for her screen idol who she was very excited to finally meet.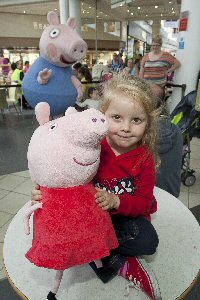 Abigail, 3, of Birkenhead said:- "She is my favourite and I gave her a chocolate egg when I met her. I waved goodbye to her too."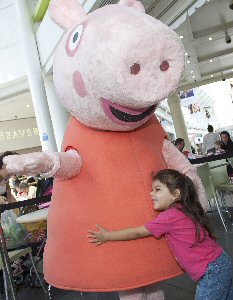 Mum, Alison, said:- "It has been a terrific event for the children during half term and even better because it is free. You can often find school holidays getting very expensive while you try to keep them occupied and entertained. Abigail has been talking about it since she got up this morning so it has been lovely for her to come along and meet Peppa. She has come well dressed for the event in her Peppa Pig trousers, top and shoes!"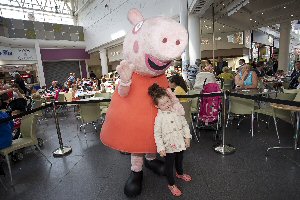 Julie Haldon of Tranmere brought her 3-year-old twins, Thomas and Lucy, to meet the popular children's character. "It's always hard work, especially if the weather isn't great, deciding where to take them so this has been brilliant. They have both really enjoyed it and we haven't had to wait too long in the queue which is good."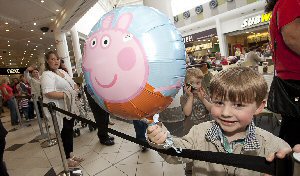 Derek Millar, Commercial Director for The Grange and Pyramids shopping centre, said:- "We wanted to put on a half term treat for the children and we were delighted that so many of them came along. I could not believe the length of the queue which at times stretched right back through the length of the Pyramids from where Peppa and George were waiting to greet the children. She is certainly a very popular pig and I think we feel quite honoured to have welcomed such a superstar to The Grange and Pyramids shopping centre. There were lots and lots of smiling faces and I am sure parents appreciated such a fun and welcome diversion for their children."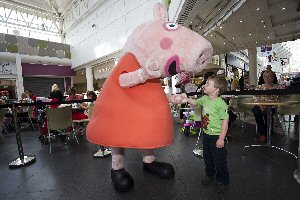 Euro MPs legislate for a safer and fairer mortgage market
IN a key vote in the European Parliament's Economic and Monetary Affairs Committee, Euro MPs voted overwhelming in support of a draft new Europe wide law on mortgage credit reform.

Vice Chair of the Economic & Monetary Affairs Committee, Euro MP Arlene McCarthy said:- "Poor standards for ensuring responsible lending and borrowing in the mortgage market played a key role in the development of the financial crisis in the last decade. That is why this new draft law is so important. The law if supported by the full European Parliament in September will introduce higher standards for selling mortgages and clear criteria that advisors should follow when providing advice to consumers including supplying easily understandable information."

Arlene added:- "As the former Chair of the Consumer Protection Committee I welcome the reports strong pro-consumer measures which ensure flexibility for borrowers, particularly for early repayment and portability of their mortgage to a new property. These rules are important in the current time of crisis to prevent consumers borrowing beyond their means. At time of low and falling house prices and with consumers experiencing difficulty getting mortgages it is important to have strong consumer orientated legislation to regulate the mortgages market and protect consumers."