RIDERS JOIN MANCHESTER TO LIVERPOOL BIKE RIDE TO SUPPORT NSPCC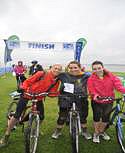 CONGRATULATIONS to all the riders from across Southport who joined the NSPCC's Manchester to Liverpool Bike Ride on Sunday, 3 June 2012 to help support vulnerable children. Over 800 riders of all ages, abilities and aspirations took to their saddles and joined the route from Salford Quays Watersports Centre through Manchester via Old Trafford and Stretford, before joining the Trans-Pennine Trail, riding 39 miles through to Otterspool Park in Liverpool. NSPCC volunteers and supporters from across Manchester and Liverpool were out in force to cheer the riders on and offer encouragement along the way. There was also local business support from North West SPAR wholesalers James Hall & Co Ltd, who kindly donated bottles of water to the ride to support the NSPCC. Organisers anticipate the bike ride will raise over £20,000 for the children's charity which will help support ChildLine the UK's free, confidential 24 hour helpline for children, which is celebrating its 25th anniversary this year.

Helen Gazzola, community fundraising manager for the NSPCC, said:- "A big well done to all our fantastic riders who took part in the bike ride. We were delighted to see so many people come and enjoy a fantastic day. There was great atmosphere and we are on target to raise a record amount of money."
If you'd be interested in taking part in a bike challenge for the NSPCC or for further information about supporting the NSPCC locally call:- 0161 628 1209 or email them via:- northwestappeals@nspcc.org.uk.
A King George V College student's bungee jumped for Lattitude Global Volunteering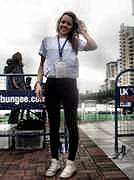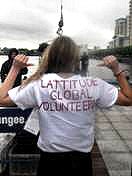 ON Saturday, 9 June 2012, Megan made the hour long journey to Salford Watersports Centre in a bid to raise as much money as she could for her gap year, volunteering at an outdoor education centre in Australia.

Outdoor camp placements provide outdoor education and activities for groups of children from all over Australia. Some specialise in certain areas of education such as the Australian landscape and Aboriginal culture. Some placements also provide young people from disadvantaged backgrounds with the opportunity to participate in an enriching camp experience that their life circumstances would otherwise preclude.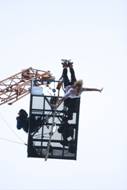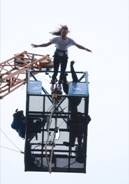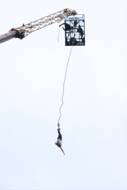 Megan said that:- "I've always wanted to take a gap year and travel. I think it's important to gain life experience and skills abroad. I love the idea of going away and gaining independence, particularly working for a charity, which I will find more valuable than going straight to university."

Lattitude Global Volunteering is celebrating its 40th anniversary year during 2012. It's biggest accolade to date, sending its 40,000th volunteer to Ecuador in September of this year.

Megan continued:- "I chose Lattitude because it is an experienced charity which offers structured placements. Most gap year organisations are companies that offer placements for only a few weeks, but I like the fact that Lattitude offers longer placements which is more beneficial both to myself and the community I'll be working in."

Megan is currently studying History, Geography and Psychology at King George V College and hopes that her gap year will help her make up her mind about what she wants to do with her future. To support Megan with her bungee jump and future fundraising activities, please go to:- uk.virginmoneygiving.com/MeganEllisf

Jones shines on Ginetta Supercup debut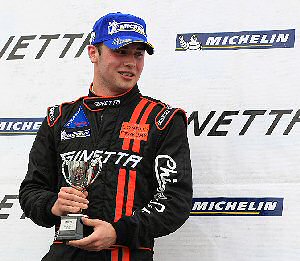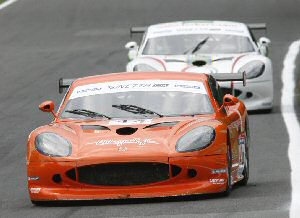 THE Liverpool based teenager Declan Jones produced an impressive performance to stun the series regulars on his debut in the Michelin Ginetta GT Supercup at Oulton Park, on 10 June to 11 June 2012. The 17 year old went into the weekend with just a single day of testing at the wheel of his Ginetta G50, which was being run by series front runners Century Motorsport.

Despite his relative lack of experience compared to his rivals, Declan was on the pace from the outset when on track action kicked off with Friday testing, posting the quickest time amongst the G50 drivers by more than a second. Maintaining that pace into Saturday's qualifying session, Declan secured the G50 class pole in 12th overall on the grid, putting in him the ideal position to showcase his talents in the opening race of the weekend.
Sadly, Declan's hopes of challenging for victory in the opening 15 lap encounter came to nothing when a mechanical issue on the green flag lap forced him into retirement before even taking the start, which also meant he was left at the back of the grid for race 2. Despite the disadvantage of his grid slot being on the uphill section of the Oulton Park start-finish straight, Declan made a solid start and then set about working his way up the order; making up one position on each of the opening 4 laps.

Closing onto the rear of the car of Reece Summerfield, Declan made an impressive move at Cascades on lap 9 to move into 3rd amongst the G50 drivers and 13th overall; a position he would hold through to the finish to secure silverware on his first weekend in the series.

"My pace in practice on Friday when the track was wet was really strong. so I was confident that I could run towards the front. Qualifying went really well and I got a good lap in before I tried to really push, although I got held up and couldn't improve my time. Despite that, I was still on class pole although the gap could have been bigger. The opening race was obviously disappointing but race two was fantastic. I had a lot to do from the back of the grid and it wasn't easy to get the car away from the line because it was an uphill start, but it was a good race and I'm pleased to have finished on the podium on my first weekend. Given the amount of time I'd spent in the car before the weekend, there are a lot of positives that I can take away it." said Jones.

Declan, who is also competing in V de V this season, is due to make his next appearance in the Ginetta GT Supercup at Rockingham later in the year.
Centre opens to help vulnerable youngsters
LIVERPOOL City Council has opened a new centre on Tuesday, 12 June 2012, which will provide help and support to children and young people considered at risk. The Safeguarding and Quality Assurance Unit which was formerly housed in Brougham Terrace has now been reopen in Pendine Close, Kensington and named the Ray Hurst Centre, in memory of one of the city council's foster carers who sadly died last year. The official opening had 70 invited guests including elected members, the Junior Lord Mayor, Megan Howarth from Arnot St Mary school and Young Lord Mayor Jayne Massey from Holly Lodge Girls School.

Cabinet member for Health and Adult Social Care, Councillor Roz Gladden said:- "These centres are vital in ensuring that we can protect those most at risk in our community by offering help, support and guidance to families in need. It is fitting that this centre will be named in honour of someone who dedicated so much time to looking after and caring for some of our most vulnerable children. I hope that Ray's family will take some comfort in this lasting legacy."

Ray and his wife Linda were approved as carers eight years ago and have had 53 children placed with them ranging in age from 4 to 16 years. Ray worked tirelessly with the Children in Care Council and the Fostering Service to help develop the fostering services.

The Centre was opened by Ray's wife, Lyn who said just before the opening:- "This is a great tribute to Ray and I know he would have been proud to have this unit named in his honour. I would like to thank everyone involved in making this happen today."

Part of Liverpool City Council Children's Services, the Ray Hurst Centre will continue the work of arranging, chairing and administering meetings concerning children who are either looked after by the local authority or considered to be at risk of harm and will enable children and families to participate more fully in these meetings.