A new note for buskers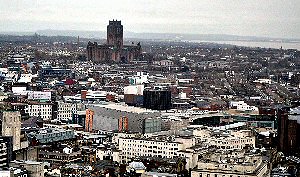 A new system which will regulate busking in Liverpool City centre is set to come into operation. It means that buskers will have to have a permit and that pitches on the most popular locations have to be booked in advance with the time by any performer limited. However the council is stressing that the regulations are not an attempt to stop busking in the city centre, but to provide a balance between entertainers, businesses and visitors.

Councillor Steve Munby, cabinet member for neighbourhoods commented that:- "Buskers can be a real attraction to the city centre and very many people enjoy their performances. They add animation and colour to the centre. But, we have had regular complaints from businesses and shoppers about noise levels ,repetitive performances and the number of buskers at certain times. On some Saturdays we have had 12 performers in a short stretch of Church Street alone; that can't be good for the buskers themselves as they are, in effect, competing against each other, for limited cash. So, we are trying to strike a balance between the needs of buskers and other city centre users by regulating the situation. This is not an attempt to get rid of buskers; there will many pitches where they do not have to book in advance and we are increasing the number of pitches to about 20 in the city centre. We will even alert buskers to events such a graduation days and when liners visit the city so they can take advantage of there being visitors in different parts of the city. Having a regulated system for street entertainment is in the best interests of buskers, businesses, shoppers and other city centre users and brings us into line with other major cities."

Buskers will need a permit which will cost £20 to cover administration costs and will also be required to have personal liability insurance. The pitches will be in:- Bold Street, Williamson Square, the Cavern Quarter, Queen Square, Lord Street and Church Street have to be booked in advance for a maximum period of 2 hours at any one time. This system will be managed by City Central BID which recently oversaw a similar change to the policing of on street charity collections.

Ged Gibbons, Chief Executive of City Central BID, which represents 630 businesses in the retail heart of Liverpool city centre, said:- ''This new busking policy is hugely welcome and will make a real difference to the vibrancy of the city centre. These measures will greatly enhance Liverpool's ability to attract the very best buskers and will add a new dimension to the visitors experience'. Buskers themselves will benefit from a better regulated process and judging by the volume of complaints we receive I know retailers and shoppers will be delighted the city has finally made this leap.''

A number of other pitches, including those in Lime Street, the Pier Head , Clayton Square and other locations do not have to be booked. Consultation has taken place with a number of organisations, Merseyside Police and buskers themselves. The new system will comes into operation in early July 2012.

New found optimism in the North West
BUSINESS confidence in the North West has risen sharply, according to the latest ICAEW/Grant Thornton UK Business Confidence Monitor (BCM).

In Q2 2012, 100 senior business professionals in the North West were interviewed and recorded a Confidence Index score of 13.8 (a marked increase from -11 in Q1 2012). Confidence in the region has now returned to positive levels and stands at its highest since Q4 2010.

Paul Christian, President of the Liverpool Society of Chartered Accountants and assurance director at PricewaterhouseCoopers (PwC) LLP in Liverpool, said:- "The rebound in confidence is welcome news but there is still an air of fragility to the regional economy. The BCM supports the view that the UK's economy will continue to 'zig-zag' over the next 12 months and the North West is not immune to further fluctuations. The key now is to work with businesses to maintain this new found optimism and turn it into sustainable growth".

Grant Thornton's North West head of audit, Kevin Engel, said:- "Any improvement in the key performance indicators of the Business Confidence Monitor is positive and reflect the sentiments of our own clients and other businesses in the region. Turnover and profits are all increasing but nowhere near the rate seen pre-recession and businesses are beginning to realise that this environment may be the norm for some time. Whilst it is still a challenging time, businesses are looking to expand and many are looking overseas to capitalise on new and existing opportunities. The region is home to many dynamic companies that are already delivering high growth in both domestic and global markets; examples like the recent £3.7 million expansion to the US of Cheshire-based Arcis Technology exemplify this. That said, although it comes as a refreshing improvement on recent results of the BCM, the dramatic change in confidence typifies just how unpredictable the course of the economy's recovery has been, and will continue to be for the remainder for 2012."
Reasons to be cheerful
► Growth anticipated:- In line with improving business confidence, performance expectations among businesses in the North West have strengthened this quarter. Both gross profits and sales volumes are anticipated to rise over the coming year by 3.5%.

► Marketplace improves:- The region's marketplace has improved this quarter with a smaller proportion of firms finding levels of competition to be a greater challenge now than a year ago - just 32% reported this to be the case in Q2 2012.

► Faster export growth expected:- Export expectations for firms in the North West have improved, reaching 4.4% expected growth for the coming year. Although this growth remains at risk from the weak eurozone (with 51.3% of exported goods being sent there in 2011), the region is broadening its customer base. The North West now exports more to China than any other UK region.

For further information please go to:- icaew.com/bcm.