National Federation of Builders 'STAY SAFE, STAY AWAY' Campaign

THE National Federation of Builders multi-award winning and increasingly popular Stay Safe, Stay Away poster and writing competitions have now closed. This year's poster competition has seen another high standard set, where we have seen new ideas and illustrations depicting the dangers of playing on construction sites from some very talented young artists from across England and Wales. With the competition now in its ninth year an additional competition was launched to broaden the audience of the campaign to young adults in key stage 3. The new writing competition ran alongside the traditional poster competition. This has proven to be a big success with hundreds of school children from across England and Wales entering some very imaginative stories. Both competitions aim to tackle the latest statistics from the Health and Safety Executive (HSE) which show that during 2010 / 2011, 17 children were injured and one child died after being on or around construction sites. The NFB views these figures as shocking and aims to reduce them by working with members to educate children about the dangers of building sites. The Stay Safe, Stay Away competitions for schools was this year sponsored by Building & Civil Engineering Benefit Schemes (B&CE), South West Builders' Federation, Yorkshire Builders' Federation and NFB local associations Birmingham and Nottinghamshire and Derbyshire. Also lending their support to this worth while campaign was The Child Accident Prevention Trust (CAPT), the Health and Safety Executive and Construction Minister Mark Prisk, who have supported the campaign in previous years. Last year (2011) the NFB launched a dedicated website to promote the dangers posed by construction sites and to continually raise awareness and educate young people. The website is hosted by the NFB's safety mascot Norman the friendly builder, offers hints and tips on how to create the best possible posters and short stories as well as educating children through safety advice. The closing date for submitting posters and short stories was Friday, 8 June 2012. An expert panel of judges will now pick a national winner for both competitions and winning schools will receive a £500 donation. The regional runner up schools will also receive book tokens to the value of £200.

Julia Evans, Chief Executive of the NFB said:- "I am delighted that our campaign goes from strength to strength every year. For every child who is made aware of the dangers of building sites, it is potentially a life saved. Our members work hard to ensure that they operate responsibly and it is great to see thousands of schools passing on the message to pupils."

Minister for Construction Mark Prisk added:- "Building sites are dangerous places, not just for children. By educating them about the risks involved and teaching them how to stay safe, we can prevent serious accidents. I am pleased to see the NFB continuing its important work on the 'Stay Safe, Stay Away' campaign."

Philip White, the Chief Inspector of Construction at the Health and Safety Executive (HSE), said:- "They look exciting. They look like the greatest of adventure playgrounds, so it's understandable that some children are drawn to building sites. But they are not playgrounds. Building sites can be very dangerous places even for the people working there. For children and young people who shouldn't be there and don't properly understand the risks, what seems like an exciting adventure can all too easily end in tragedy We want children to enjoy playing outside during the school holidays, but it's vital they stay safe and stay away from construction sites."

Katrina Phillips, Chief Executive of CAPT said:- "Child Safety Week helps children learn about real risks and how to stay safe from serious injury, while also having fun. So we are pleased to support the NFB's Stay Safe, Stay Away campaign, which shares these aims. Building sites are not playgrounds and no child should start the summer holidays from a hospital bed."

Previous campaigns have indirectly led to the very successful Considerate Constructors Scheme. This enables construction companies to demonstrate their consideration in raising awareness of the risks associated with construction sites, for the communities in which they build. The Stay Safe, Stay Away campaign has also won multiple awards for its work from the Public Relations Consultants Association in 2010 and the Chartered Institute of Building (CIOB) Commitment to Construction in West Yorkshire for commitment to health and safety in 2012. If anyone you know entered, why not let our newsroom know by emailing:- news24@southportreporter.com. Also for further information about this campaign, please visit its official website at:- staysafestayaway.co.uk.
Heart charity sends out SOS to Merseyside children
OVER June the British Heart Foundation (BHF) are now inviting children across Merseyside to grab their goggles, don their lab coats and take part in a fun nationwide competition to design a model heart as part of its Support Our Science (SOS) campaign. The nation's heart charity is tasking schools and youth clubs across Merseyside to design and make a model heart which demonstrates how blood is pumped around the body. The winning model will be turned into a kit by the BHF to help young people around the country learn more about this vital organ. Launching this week, the competition is a key part of the BHF's SOS month, which aims to highlight the existing and potential value of BHF-funded research on UK heart health. Debbie Allen, Programme Lead of the BHF's Children and Young People's Team said:- "For some, the idea of science might bring on cold sweats and distant memories of test tubes and Bunsen burners. But science is all about exciting discoveries and we're supporting leading scientists making important breakthroughs in heart research. Without donations from the public we couldn't fund vital research; that's why we're asking people across Merseyside to Support Our Science. This national competition gives young people the opportunity to work on an exciting science-based project while learning about the heart, how it works and why we need to look after it. We hope to see lots of schools sign up and show their support for our science." The competition is open to all children aged 11 to 18 and the models must be made from normal everyday house hold materials. Young people have the whole summer to collect materials and start building their hearts because the closing date for entries is 30 November 2012. For more information about the competition including details about how to enter visit:- yheart.net/buildaheart or via email. To find out more about the BHF's SOS campaign visit:- bhf.org.uk/science.

Want to be on TV? R U Funny?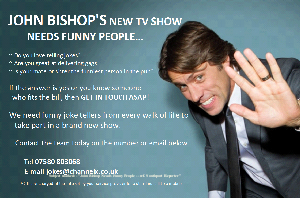 SKY 1 HD has announced on 7 June 2012 that John Bishop's Only Joking stand up comedy show, deals unashamedly in jokes and nothing but jokes. Hosted by the much loved John Bishop, the 10 x 30' series is a Lola Entertainment / Channel X for Sky 1 HD. Filming will begin later in the summer on location and in front of a studio audience.

John Bishop's show will unite Sky customers across the UK and Ireland, as seasoned comedians, celebrities and members of the public deliver a fast paced barrage of favourite jokes. John Bishop will hold court in the studio as he is joined by a number of stellar comedians, both new, established and old school. Meanwhile, the cameras will travel the length and breadth of the country to hear members of the public, and celebrities alike tell us their funniest jokes.

Commissioned by Phil Edgar Jones for Sky 1 HD, John Bishop's Only Joking, is produced by Lola Entertainment and Channel X. The Executive Producers are John Bishop and Lisa Thomas for Lola Entertainment, Jim Reid and Alan Marke for Channel X, and Antonia Hurford-Jones for Sky 1 HD. The Series Producer is Jonno Richards and Director is Paul Wheeler.

John Bishop, Host and Executive Producer for Lola Entertainment, says:- "This is a great opportunity to make a show that allows everyone to join in the joke. I'm really looking forward to working with everyone involved."

Phil Edgar Jones, Head of Entertainment for Sky, says:- "If there's one person who's guaranteed to put a smile on our faces, it's John Bishop. We're thrilled to be working with him, and the team at Lola Entertainment and Channel X on this exciting new show which will, almost literally, deliver a laugh a minute."

Jim Reid, Director of Programmes, Channel X, says:- "This is the dream commission; fill 30 minutes of TV with top quality jokes and have John Bishop lead out the team to do so."

But you can get involved!!! They are now looking for funny joke tellers from every walk of life to take part in a brand new show. If you think you can do it then email:- jokes@channelx.co.uk with your full contact information and a bit about your self, and the Subject marked:- "John Bishop Needs Funny People -- ref. Southport Reporter."
University of Central Lancashire Vice-Chancellor to retire by summer 2013
THE Vice-Chancellor of the University of Central Lancashire (UCLan), Dr Malcolm McVicar, has announced his retirement next summer (2013), after more than 14 years in the position.

Dr McVicar took up the role of Vice-Chancellor of UCLan on 1 October 1998 and has steered the institution through 1 of the most exciting and challenging periods that the higher education sector has ever seen.

Under his leadership, UCLan has gone from strength-to-strength through a focus on a superlative student experience, a strong international dimension and the development of areas of world-leading research.

The Vice-Chancellor has also been instrumental in the opening of a new UCLan campus in Burnley and overseeing a redevelopment programme at its Preston campus which has been hugely popular with students. The Vice-Chancellor has also
laid the foundations for UCLan to open the first UK university campuses in Cyprus and Thailand during the next 2 years.

All these developments have contributed to the University's strong market position where it now receives 5 applications for every place available.

And in the political arena, Dr McVicar has also been a powerful voice for the sector during the recent debates around the Coalition Government's higher education reforms.

Dr McVicar said:- "I recently informed colleagues that the Board was discussing the structures needed to take the University forward over the next 10 years. 10 years is a significant planning horizon and this is an appropriate time for me to announce that I will retire from the post of Vice-Chancellor no later than 30 June 2013. It has been a privilege to be Vice-Chancellor of such an excellent University since 1998 and UCLan is well set for the challenging future. UCLan is a very different University in 2012 than it was in 1998 and we can all be proud of what we have achieved together."

Brian Harris, Chairman of the University Board of Governors, paid tribute to Malcolm's unstinting commitment to the development and transformation of the University and to his vision and leadership over the last 14 years.

"During his period as Vice-Chancellor the University has been transformed from a regional player into a major University, not just in the UK but also abroad. As a consequence UCLan is now poised to enter an exciting new era of international development. Governors and staff truly appreciate the major contribution that Malcolm has made to the University." said Brian Harris.

The procedure for appointing the new Vice-Chancellor will be announced by the University Board in due course.