KATIE PRICE DRAWS A CROWD AT BIRKENHEAD BOOK SIGNING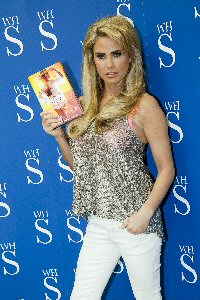 HUNDREDS of Katie Price fans lined up at a Birkenhead shopping centre to have copies of the tabloid superstar's latest novel signed. Queues stretched as far as the eye could see outside WH Smith in The Grange and Pyramids Shopping Centre to await the arrival of the ex-glamour model and reality television star.

Speaking shortly after the signing on Sunday, 24 June 2012, Katie, 34, said:- "This is my first trip to the Wirral and I have had an amazing and very warm welcome from my fans in Birkenhead. Hopefully it won't be too long before I can come back to the town again because a lot of people have taken the time to come and visit me today and I really appreciate it."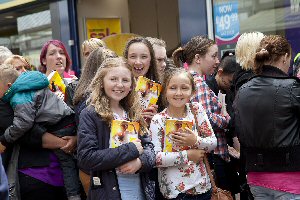 The mum-of-3 and busy businesswoman said:- "I hope everyone enjoys reading my new book after they have waited so patiently to have it signed!"

Delighted with the fantastic turnout was Derek Millar, Commercial Director for The Grange and Pyramids Shopping Centre, who said:- "We have been very pleased to welcome such a big celebrity as Katie Price to the shopping centre. It was fantastic to see so many fans out today; the people of Birkenhead didn't let her down; and mercifully the sun came out to welcome her too so we couldn't have asked for a better day."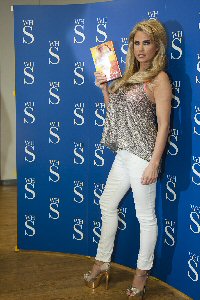 Also pleased was Darren Brockbank, store manager of WH Smith, who said:- "I would just like to thank everyone who has helped make this happen today including Katie and her team for coming to Birkenhead. A big thank you must go to the fans who came along and made the event such a huge success. We have sold hundreds of copies of her book today and I saw a lot of happy faces leaving the store so it has been a fantastic occasion and one I am sure a lot of people will remember for a long time to come."

Katie, formerly known as Jordan, has sold close to 5 million copies of her books worldwide and In The Name of Love is her 8th novel.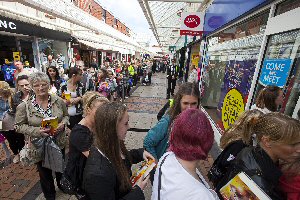 This time she is inspired by her knowledge of the equestrian world in a story which revolves around the character of Charlie, a feisty sports presenter. She falls for handsome Felipe Castillo, a brilliant rider who is the lynchpin of the Spanish eventing team and tipped for a medal in the 2012 Olympics. But Felipe walks away from their passionate affair without explanation and it is only then that Charlie discovers Felipe is one of Spain's top riders and related to royalty. She soon realises that their romance does not please everyone including his disapproving mother and the couple soon find they have a lot to overcome if their relationship is to survive.

In the queue waiting to have their copies signed were Lily Jones, 15, from Birkenhead and her grandma, June Mottram. Lily said:- "I am a huge Katie Price fan and I really do admire what she does. It has been a great atmosphere here today and it has all been worth the wait."

June, 70, who was standing in to get a book signed for her other granddaughter Jodie, said:- "It is incredible how many people have turned out to meet her. I suppose it is not every day you have a celebrity like this coming to Birkenhead but I am still amazed at the numbers."

For more information about upcoming events go to:- grangeandpyramids.co.uk.

Liverpool City Region Events to Showcase Local Produce
LIVERPOOL City Region is set to celebrate its wealth of local produce at 6 festivals, which are taking place over the next 6 months. Many of the events will give visitors the opportunity to discover the area's finest locally produced food and drink, pick up tips from celebrity chefs and take part in interactive workshops. Some of the events will focus on offering visitors a chance to explore local horticulture.

Liverpool City Region's Local Enterprise Partnership has welcomed the range of festivals planned over the next six months, which will provide a perfect platform to champion local producers.

Events taking place across the Liverpool City Region that will highlight local producers include the following:-

► Knowsley Flower Show, 5 August 2012, Court Hey Park, Roby Road, Knowsley, visit:- knowsleyflowershow.com. This year's event, now in its 14th year, features a producers market, where visitors can pick up the best fresh and local products.

► North West Food Festival, running over:- 16 August to 19 August 2012, Victoria Park, Southport, visit:- southportflowershow.co.uk.

Part of this year's Southport Flower Show, the North West Food Festival features a programme of demonstrations from local and celebrity chefs. Visitors will also have the chance to sample and purchase produce from more than 50 gourmet producers.

► Port Sunlight Summer Fayre, on 25 August 2012, Port Sunlight Village, visit:- portsunlightvillage.com.

The historic village of Port Sunlight is set to host more than 100 food producers, as well as live entertainment, children's performers and a dog show.

► Wirral Food & Drink Festival, running over:- 26 August to 27 August 2012, Claremont Farm, Old Clatterbridge Road, Bebington, Wirral, visit:- wirralfoodfestival.co.uk.

A month-long programme of events across Wirral, culminating in a 2 day food and drink festival at Claremont Farm. People will have the opportunity to experience brewery tours, cheese and wine tastings, special producer events and chef demonstrations.

► Liverpool Food & Drink Festival Launch Weekend, running over:- 1 September to 2 September 2012, Sefton Park, Liverpool, visit:- liverpoolfoodanddrinkfestival.co.uk.

Set in the heart of one of the city's most stunning Grade II* historic parks, Sefton Park, the weekend launch of the Liverpool Food & Drink Festival will showcase some of the best local producers, as well as the city's top restaurants and bars. Visitors can also take part in culinary master classes and celebrity chef demonstrations. The week -long celebration continues with offers and events across the city, including the Liverpool Food & Drink Awards.

► Port Sunlight Christmas Food Fayre, running over:- 1 December to 2 December 2012, Hulme Hall, Port Sunlight Village, visit:- portsunlightvillage.com.

Featuring more than 100 producers, the Port Sunlight Christmas Food Fayre will see local and celebrity chefs cook up a range of culinary delights. Set inside the beautiful Hulme Hall, the event promises to be a weekend of foodie fun.

Pam Wilsher, Head of Visitor Economy Development at Liverpool City Region Local Enterprise Partnership, is pleased to see so many events on the calendar that will attract both visitors and local residents. She said:- "These fantastic events will really add to the range of attractions we have across the Liverpool City Region. In addition, each event will provide an excellent opportunity to celebrate the wide range of fine food and drink that our region has to offer. We have such a wealth of local produce to be proud of, from Formby Asparagus and Wirral Watercress to Knowsley Lamb and beers from George Wright Brewery in Rainford. I would encourage anyone with an interest in food and drink to attend at least one of these events."
Lodge Lane Party Time
RESIDENTS in the Lodge Lane area are throwing a party to showcase their neighbourhood.

The community fun day takes place on Saturday 30 June (noon to 4.30pm) on the Tiber /Greenhouse projects site.

It will feature cage football- including a team of councillors –international food, a food and a treasure trail.

Live acts include Mic Lowry, Lizzie Deakin, Danny Pye, the Greenhouse dancers, drummer Medhat Shaheen Elmasri and AmalSaad.

To set the scene for the party there will be a community clean-up on Friday, 29 June 2012, when volunteers will clean up the area and plant flowers.

The "Clean and Green Day" features a raffle to win water butts, free tomato plants will be given out and cash given on the spot for bags of old clothes. Items collected by the Leave Liverpool Tidy scheme will be available for free at a shop at St Bede's church (10am to 2pm)

Volunteers, who should meet outside the Greenhouse Project, Tiber Street from 9.45am on 29 June 2012, will receive refreshments and either a free T-shirt or mug and a wristband for free food at the party on Saturday.

"We are going to make the area sparkle and then have a party. It will show what make this part of Liverpool really special and I am sure local people will get into the party spirit as well as helping with the clean-up." said Councillor Steve Munby, cabinet member for neighbourhoods.
Employers wanted for Apprenticeship Program
THE Merseyside Region has one of the highest unemployment rates nationally. At Jarvis Training Management we, like most Employers find this unacceptable and have put actions in place to address high levels of unemployment for the under 18's. To do this we need your help. If you are an employer who has the capacity to employ a young person and want to work in partnership with us, we want to hear from you. Substantial grant support is also available to Employers who take on a young person through an Apprenticeship. We are holding 2 information events on Wednesday, 4 July 2012, at Aintree Race Course at 8am and at 2pm, so please call:- 0151 336 9340 to book your place.