Can you help Police find stolen vehicle?
MERSEYSIDE Police are appealing for information following the theft of a former British Rail minibus in Southport. Police Officers are investigating the incident, which happened between 4pm on 2 June 2012 and midnight on 10 June 2012, on Haig Avenue. The vehicle, a yellow Ford Transit minibus, has a vehicle registration of L471 JFV and is very distinctive. In the back of the vehicle there was a number of tools and motorbike parts from BSA, Norton, Yamaha, and Canterbury. Officers are keen to trace a silver coloured car, similar to a Nissan or Corsa, which was seen with the stolen vehicle near to Forest Road on Haig Ave on either 7 June, or 8 June 2012, at around 4.25am. Insp Keith Kellett said:- "The stolen vehicle is distinctive as it is an ex-British Rail minibus with the rear seats removed and the windows blanked with galvanised steel plates. It also has various body repairs and is fitted with an anti-theft device, which needs a special key to start the engine. The owner is extremely upset as some of the tools were of sentimental value and we are appealing to anyone with any information about the offence to call us so we can take action against the offender. We are particularly keen to speak to anyone who may have seen the vehicle, either with the silver coloured car or on its own, around the time of the offence or since and ask that they call us with any information they may have." Anyone with any information is asked to call Merseyside Police on:- 0151 777 3441 or call on:- 0151 777 3442. Alternatively, information can be left anonymously by calling Crimestoppers on:- 0800 555 111.
Cannabis Plants Seized At Birkdale Business
MERSEYSIDE Police Neighbourhood Officers have arrested a 50 year old local man after cannabis plants were found at his business. The man was arrested on suspicion of cannabis cultivation after 36 plants were seized at a unit on Birkdale Trading Esate last Wednesday, 20 June 2012. Acting on information from the public that cannabis was being grown in the area, officers searched the area and located the unit due to the strong smell. Once inside they found the 36 plants as well as 2 tents erected to grow them in, and other hydroponic equipment. The 50 year old was arrested at the scene and taken to Southport police station for questioning. He was later released on police bail pending further enquiries. The plants have been seized for forensic examination and destruction. Ainsdale and Birkdale neighbourhood inspector, Jim Atherton, said:- "This was an excellent piece of police work. My officers were acting on information from the community that there was a strong smell of cannabis in the area and after a thorough search, trace the smell back to source. It just goes to show how useful information from the public can be and the action we can take against criminal activity as a result." Call:- 101 to report any suspicious or criminal activity in Formy, Ainsdale and Birkdale or the neighbourhood team on:- 0151 777 4142.
The Official Worldwide Launch another New Official Tarzan Book, 100 Years on!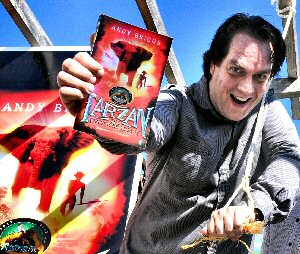 JUST a reminder, if you have a school in the Merseyside or Lancashire area and want to attend the Official Worldwide Launch of the all new TARZAN, by local author Andy Briggs, time is running out! Also members of the public can also attend this FREE event at the Plaza Cinema in Crosby, Merseyside, L22 0LD. The event will run from 10am to 12pm (Noon) and it will have Andy giving a presentation and also answering questions from the audience, plus some extra surprises! If you do not know already, this book being launched is the 2nd official book to have been written since the creator of Tarzan died. It is called:- "Tarzan - The Jungle Warrior" and will be out in all bookshops from 5 July 2012. We have already read it and it is a fantastic read! Tarzan, if you did not know was a mythical king of the jungle and many see him as the first real model of an eco- warrior or environmentalist, even thought that was not Edgar's intentions, as far as we know. so you will be pleased to know that 10p from all sales of the book will be going to the Year of the Ape campaign run by the European Association of Zoos and Aquaria (EAZA). It is free to attend! Also copies of the book will be available for you to buy and also get signed. All books signed on the day will be dated and will be worth a lot in years to come! If you can't attend, please do call us Formby Books on 01704 830 130 to order your signed copy. Also we will be having a limited number available on our Mersey Reporter Shop, but we expect them to sell very fast. Limited free parking is available for those attending and also if you want book one of the all NEW Tarzan, called:- "Greystoke the Legend" published in 2011 and a few will be available on the day to have signed. A very limited number of signed first books can also be obtained via Formby Books. So if you want your school to attend call now on:- 01704 830 130 to reserve your place for this historic launch. Public can attended as well... So what are you waiting for? Book now or turn up on the day...

Book information:-

Book 2:-
Tarzan - The Jungle Warrior
Publication Date:-
5 July 2012
Series:-
Tarzan
Pages:-
304 in the paperback format
Dimensions:-
19.6cm x 12.6cm x 2.4cm
Retail Cost:-
£6.99
ISBN:-
978-0-571-27353-9
ISBN-10:-
057127353X
Publisher:-
Faber & Faber
Language:-
English
Release date:- 5 July 2012
* Please note that if extremely high demand occurs, your book might have to be posted to you, should you want a special dedication on the day, due to time.

Author MG Harris visits Formby
Report, photos and video by Patrick Trollope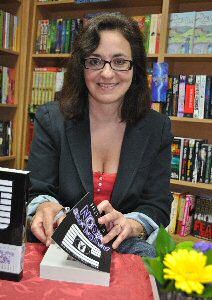 THE amazing children's book author MG Harris was at Formby Books on 21 June 2012. At the signing she told some of the children attending about her background as a Molecular Biologist and how she got into writing. Also she told them to look out for the hidden secrets in the books and gave a few clues as to what to look out for! She proved to be a fantastic entertainer as well as author and it was good to hear the views and ideas she was talking about to both the children and to the adults. MG Harris' enthusiastic nature in fact also got the adults asking just as, if not more, questions! If your child does not have one of her books, we would recommend you get one. Also, as time is running out as Doomsday approaches, don't delay! Her new book the Apocalypse Moon is a well timed apocalyptic book, that covers many real scientific ideas and user her Spanish background to produce a fantastic story line to boot. Also adults can have fun trying to crack the Ix Codex. Her other award winning books in this series are Invisible City, Ice Shock, Zero Moment and Dark Parallel.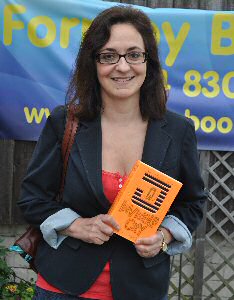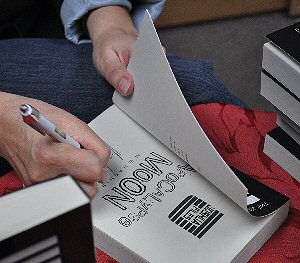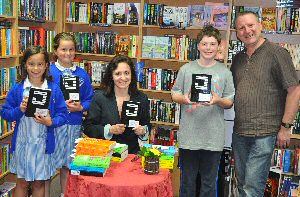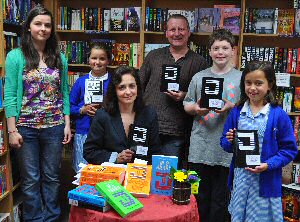 City celebrates Armed Forces Day
LIVERPOOL will celebrate Armed Forces Day on Saturday, 30 June 2012, with a special service at the Anglican Cathedral. The service, which starts at 11am, will be an opportunity for the city to join the rest of the nation in showing thanks and appreciation to the brave men and women who make up our Armed Forces community. Ahead of the event, a special Armed Forces Day flag is flying from the Town Hall all this week. Liverpool's Lord Mayor, Councillor Sharon Sullivan, will lead distinguished guests at the service. Cllr Sullivan said:- "Armed Forces Day is time for the city to join together to honour all military personnel, past and present for their commitment and bravery in helping to make the world a safer place to live. Liverpool has always had strong links with all Military organisations which has been acknowledged and rewarded over the years and I hope we will continue to recognise their selfless dedication. I am sure that, as in years past, the city of Liverpool will be out in force to show their support and gratitude by attending the service and march." The Band of the Duke of Lancaster's Regiment will play during the service and there will be a procession of standards. Following the service there will be a march along Hope Street, when veterans will join serving military and cadets.