Liverpool's Brazilian Samba Carnival Parade 2012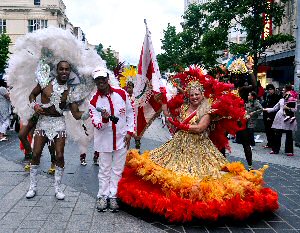 THE 5th Brazilian Samba Parade took place in Liverpool City Centre on 14 July 2012 and was yet another fantastic event. This was the highlight of 2 days of amazing Rio-style events. Taking part in the event was Paraiso School of Samba; Sambiesta; Republic of Swing; Edun Ara; Acro Iris; Batala; Karamba; Oxiris; Liverpool Samba School; Tres Cidades: Calidoscopio, Nottingham School of Samba & Samba Cultura Stoke; Oya Batucada; Cordao de Ouro; Manchester School of Samba; Guarana Street Drummers; St. Peter & Paul's Samba School. Event might not have had as many floats as in some years, it was still highly entertaining to see as the carnival with its performers in glittering costumes, floats and of course the bands playing the irresistible samba music snaking though the City's streets. In total over 300 performers took part in the event that started Abercrombie Square and finishing with a fantastic event on Williamson Square.

Williamson Square also played host to the Main Stage, run by event media partner Juice FM, had bands and singers from as far away as Singapore and Brazil. They entertained a packed crowd throughout Saturday afternoon and evening. That is not forgetting the stalls serving Brazilian and world food and a street market doing a roaring trade. Plus, on top of that, football fans young and old showed off their skills and learned some new ones at the Brazilian Soccer Zone, Clayton Square!

Founder Maeve Morris of Liverpool Carnival Company said:- "We promised Brazilica would be back bigger and better for 2012 after last year's success and I'm delighted to say the weekend exceeded all our expectations. The people of Liverpool and visitors from around the globe showed they can party Rio style, the city has taken samba to its heart and given performers from far and wide a great welcome. Roll on Brazilica 2013!"

Liverpool City Council's cabinet member for culture and tourism, Councillor Wendy Simon, also added that:- "Brazilica is fast becoming a firm favourite in Liverpool's events calendar and it certainly brought the sunshine to the city centre this weekend. The city council is proud to support this family-friendly festival which really does bring wonderful carnival sights and sounds to the streets of Liverpool, and I'm delighted so many people came along and supported this samba spectacular!"

Ged Gibbons, Chief Executive of City Central BID (one of the funders of Brazilica) said:- "To see thousands upon thousands of families enjoying Brazilica was a wonderful sight and shows why Liverpool is such a popular destination. With Brouhaha and City Steps it was a true carnival weekend and the atmosphere was electric. The really exciting thing for everyone is that there's even more great events still to come to the city centre this summer as part of our Summer of Love campaign."

Juice FM Station Director Graham Sarath said:- "Juice FM were once again delighted host the Brazilica main stage at such a huge, feel-good event for Liverpool. A full line up of Juice FM presenters, including the Sony Award winning Adam Weighell from Juice FM Breakfast hosted throughout the day. Juice FM were also delighted to lead the energetic, spectacular parade through the City Centre."
More photographs can be seen from the event by clicking on this link to see Part 1 of our photograpic coverage. It also has video in this weeks collection! Part 2 with lots more stills in next week as well!!!
| | |
| --- | --- |
| | Camelot Readers 2 for 1 Offer... Click on here to find out more!!! |
| | | |
| --- | --- | --- |
| | Click on to read on! | Click on to read on! |
Manx Direct

08447 402 038

2 Years Parts & Labour Worranty

KEEP up-2-date
with our free daily news emails. Are you subscribed? Si

g

n

u

p

today

to

our daily email news service via... Formb

y

-

Re

p

orter

.com

.

If you subscribed you can keep in up-to-date with what's going on in and around Merseyside. It is free and we do not send out massive amounts of emails. Also your email is kept under the UK's Data Protection Act, so you can be sure that you will not have problems.
Original Darth Vader will be in Sefton!
THE actor Dave Prowse, the legendary actor who was Darth Vader in the Original Star Wars Trilogy. Is coming to Formby and Southport on Saturday, 18 August 2012 and should have some Storm Troopers with him too... More in next weeks edition!
This Weeks Edition - Audio Copy
Click here to hear this weeks edition in audio format. Please let us know what you think about it. via emailing us. Also if you have a child who can draw a face, send one in and we will look at using it for our news reader for an edition. Adults can try as well! You will get a copy of the animation sent to you and credit on the animation as well!.