Music on the Waterfront 2012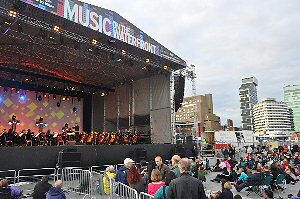 ON 22 July and 24 July 2012, thousands, both online and on location, witnessed not 1 but 2, free, fabulous music events
on Liverpool's historic waterfront. If the beautiful surroundings and extraordinary sounds were not enough to dazzle you, so did the sun as it highlighted the area creating a warm, dry and amazing atmosphere that felt like summer should be! The first night's entertainment was courtesy of the Royal Liverpool Philharmonic Orchestra. Most of that night's music was set around well known classics and music from the big screen, including songs from the 'Carousel', 'Annie Get Your Gun', 'Funny Girl' and 'The Sound of Music'. The orchestra was also joined by critically acclaimed soloist, Broadway star, Kim Criswell, who gave a performance you would expect on London's West End and not at a free outdoor event. She delivered songs from the golden age of the Hollywood musicals that included 'There's No Business Like Show Business' and 'Stormy Weather'. With the popular conductor, John Wilson, at the helm, this night could not have been better! Friday night did not have the turnout that Saturday attracted, but for all who did attend, it was a truly magical night. But we cannot forget to mention the Liverpool Youth Orchestra, band Passion For Music, who delivered a very good performance, despite battling against the loud sound check which was taking place on the main stage. Also we cannot adequately describe what an amazing performance local opera singers Danielle Thomas and Nick Hardy, gave. The 2 local singers also were joined at one stage by Liverpool Signing Choir, who enthusiastically signed the words, in an inspiring performance; this choir is composed of deaf children and many of their hearing siblings who perform in public on many occasions. If Friday was busy, Saturday was extremely packed, and as the event was again not ticketed, it was fantastic to see all attending being very sensible about space, despite the thousands of people in the small area. Shortly after taking the photo from Matou Restaurant, the terrace bar, on top of the Mersey Ferry Terminal Building, people flooded in thick and fast, with families of all ages attending! This night had over nine stellar acts, including the internationally renowned, Russell Watson; Series 6 - X-Factor and the Series 2 – Popstar, and Opera star, Paul Carrack, along with the American legend Jocelyn Brown, plus Honey Ryder, Nell Bryden, Joe McElderry, Scarlette Fever, Ben Montague and Jaki Graham. All guaranteed crowd pleasers and boy did they deliver! This star-studded night ended with yet more stars thanks to Fantastic Fireworks, whose culminating firework show brought the night to a close. In total this event has been marked as attracting over 250,000 people, and though to have brought in more than £10m to the local economy. Not bad for a free event! Some of the audience on Friday included passengers from the Holland-America cruise liner, 'Prinzendam' which delayed its departure to permit attendance. One visitor, most impressed, commented that there must be few places where one can listen to a world class orchestra for free. Great for our city! On Saturday members of the crew of the visiting American Navy Training Supply Ship, 'Empire State', from New York, whose crew were able to enjoy the performance. We have to say congratulations to a husband to be proposed on the Saturday night, on stage and the couple are engaged. See next weeks issue for video of the ring being given back stage! All we can say is thank you for the show and a very big well done to the events backers, Liverpool City Council, the Royal Liverpool Philharmonic Orchestra and Smooth FM, who all brought together yet another truly splendid musical delight! We hope you attended, if not keep an eye out on:- liverpoolonthewaterfront.co.uk, to find out what's next for this extremely popular event. Just as Mathew Street Festival is one of the City's cultural cornerstones, the Music on the Waterfront is becoming established as another.
Click on here to see Part 1 of our photograpic coverage of this fantastic event! Part 2 will be in next weeks issue!
If you are a music lover in Liverpool, there are many more events on offer. One of them is the aforementioned annual Mathew Street Music Festival, so do not forget to put it in your calendar. This year's Mathew Street Festival will comprise over 80 hours of live outdoor music over Sunday, 26 August and Monday, 27 August 2012. Suitable for all ages; go and have good time. Most of it totally free to watch and again, mostly it is un-ticketed!
| | |
| --- | --- |
| | Camelot Readers 2 for 1 Offer... Click on here to find out more!!! |

KEEP up-2-date
with our free daily news emails. Are you subscribed? Si

g

n

u

p

today

to

our daily email news service via... Formb

y

-

Re

p

orter

.com

.

If you subscribed you can keep in up-to-date with what's going on in and around Merseyside. It is free and we do not send out massive amounts of emails. Also your email is kept under the UK's Data Protection Act, so you can be sure that you will not have problems.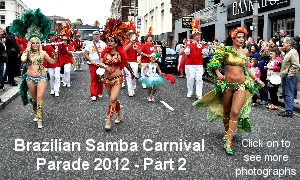 | | | |
| --- | --- | --- |
| | Click on to read on! | Click on to read on! |
This Weeks Edition - Audio Copy
Click here to hear this weeks edition in audio format. Please let us know what you think about it. via emailing us. Also if you have a child who can draw a face, send one in and we will look at using it for our news reader for an edition. Adults can try as well! You will get a copy of the animation sent to you and credit on the animation as well!.
Manx Direct

08447 402 038

2 Years Parts & Labour Worranty