No pay day for high interest lenders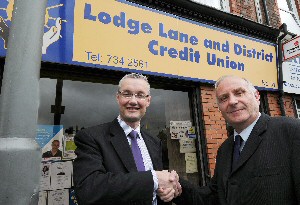 LIVERPOOL City Council has awarded £1 million to a consortium of 7 Credit Unions to help more than 20,000 families and hundreds of small businesses. The aim is to prevent people taking out unaffordable credit at extortionate interest rates, running the risk of falling prey to illegal loan sharks. It is known that some companies offer loans, with rates of up to 16,000%, driving people even further into poverty.

It is estimated that over a 3 year period the scheme will:-
Support 23,214 individuals
Assist 620 companies and 40 emerging businesses
Lever in £2.15 million of additional investment
Safeguard140 private sector jobs
It is estimated that the £1 million investment will lead to around £3 million of money being lent. This is because the Credit Unions will be able to recycle the money once loans start to be repaid. A total of 12,557 loans are expected to be made.

Deputy Mayor, Councillor Paul Brant, said:- "This is a pioneering initiative which will help and support the most vulnerable in our community who are being hit by a triple whammy of rising unemployment, increased costs for food and fuel and cuts in welfare benefits. The banks have also toughened up their lending criteria and this means many people and small businesses are unable to get affordable credit. All of this means that the temptation to go to a loan shark or pay day lender is higher than ever, and people are increasingly resorting to them out of desperation. We want to provide a support route for vulnerable people to help them out of crisis and get their finances back on an even keel. I am delighted that seven of the City's Credit Unions have come together to put together a bid for this funding. They are based in the heart of communities and so are well placed to provide funds and advice to those who are most in need. They are going to be making a massive difference to people's lives and will prevent some on the breadline from going under."

The 7 Credit Unions are:-
Riverside Credit Union
Enterprise Credit Union
Knowsley Mutual Credit Union
Partners Credit Union
Lodge Lane Credit Union
Central Liverpool Credit Union
Norris Green Credit Union
David Buttle, Chair of the Merseyside Chapter of Credit Unions, said:- "We are pleased to be working with Liverpool City Council on this initiative. These are difficult times and we are finding that people who have never, ever needed to borrow money before are having to do so because their personal circumstances have changed, for example through loss of employment. This is a real boost for the Credit Union sector in the city and we will be able to reinvest the money we get back in repayments into making further loans."

Research carried out by the regional illegal Money Lending Team; which Liverpool Trading Standards works with; have found that:-

► Illegal moneylenders are widespread and operate in areas that have a high proportion of rented accommodation and target the most vulnerable members of society

► Moneylenders vary from those who lend £10 over a few days and demand £12 on repayment to those who provide substantial loans to those looking to set up businesses

► The majority of people using moneylenders are in receipt of income support or benefits and are introduced through word of mouth

► Moneylenders resort to intimidation and violence in order to secure payment. Other common traits include adding indiscriminate charges, targeting single mothers and introducing payment through sexual favours

► Moneylenders often use victims of money lending to assist them with maintaining their criminal lifestyle and anonymity, for example illegal money lenders' vehicles are often registered at a clients' address

► There is also anecdotal evidence which suggests that illegal moneylenders have an impact on the wider community in which they operate with victims resorting to petty crime to enable them to meet payments

An example of this can be found when looking at Sarah Cowan who had secured £1,500 from Riverside Credit Union in 2005 to set up an out of school club providing breakfast, after school and holiday care for children at Hunts Cross Primary School.

'Out of School Kids Club UK Ltd' has grown and recently expanded in to Much Woolton Catholic Primary School.

She employs nine staff looking after 150 children, and recently took out another loan from the Credit Union when expanding the business in April. Sarah said:- "The terms offered by a Credit Union are much more flexible and favourable than those offered by the banks. It is also a lot easier to arrange than going in to see the branch manager."

Direct sellers offered chance to settle tax bills
PEOPLE selling directly to customers and who haven't paid all the tax they owe have been offered the opportunity to come forward and pay up under an HM Revenue & Customs (HMRC) campaign. Under the time limited opportunity, direct sellers, often called:- "agents", "consultants", "representatives" or "distributors", can pay the tax they owe and benefit from lower penalties available to those who come forward, rather than wait for HMRC to catch up with them.

Direct selling involves selling directly to customers without the need for a shop. Selling can involve demonstrating a product in a customer's home, sometimes at a party, while some agents sell door to door, often using catalogues. Direct sellers take commission on the sales they make.

Marian Wilson, head of HMRC Campaigns, said:- "If you are involved in direct selling and have not told HMRC about all of your income, you may not be paying the right amount of tax. The Direct Selling campaign is an opportunity for you to bring your tax affairs up to date, on the best possible terms."

Direct sellers are generally considered to be self-employed. This means they are responsible for telling HMRC about what they earn and for calculating and paying their own tax. For information on the responsibilities of being a self employed direct seller, people can visit:- bit.ly/Pe2ROG and also watch a YouTube video:- bit.ly/PtpzVO

To take part in the campaign, direct sellers should tell HMRC about the tax due and make arrangements to pay any tax, interest and penalties owed by 28 February 2013.

How do they do this? From 26 September 2012, by completing a disclosure form online.

For further help and support about the campaign, direct sellers can phone:- 0845 602 3353, where a dedicated team is available to give information.
Nearly £510 million has been raised by HMRC from campaigns, and a further £120 million from follow-up activity. Campaigns launched so far have targeted offshore investments, medical professionals, plumbers, VAT defaulters, coaches and tutors, electricians and online traders.
HOW STUDENTS ARE PLANNING TO REDUCE POTENTIAL £53,400 GRADUATION DEBT AND LEAVE UNIVERSITY JOB READY
AS the 2012 intake of university students faced a potential graduation debt of over £50,000, according to the NUS, the Avon Student Jobs Survey 2012, has now been released and it shows that 80% of students expect to work, with a quarter (25%) concerned about juggling jobs and university work.

80% of the 1,000 students surveyed, aged 18 to 24, across the UK, added that they are worried that if they don't have relevant work experience on their CV, graduate job employers will look unfavourably on them. Student's needs for flexible working, which also allow them to CV build, is leading students to look at less traditional jobs, such as direct-selling, although the survey does show that bars and restaurants are still top choice amongst students.

Says Angela Tucker, Head of Recruitment and Sales at Avon, which has 6 million self-employed home selling Sales Representatives across the world:- "We have seen students enjoy self-employment throughout our 54 years in the UK, but there is definitely a rise in interest amongst students to join organisations like ours which enable you to run your own business, set your own financial targets, and demonstrate skills which ultimately help employability; being a business owner at 18 and juggling a degree with your own enterprise is very attractive to HR departments."

Says Rebekah Testar, Senior Executive Sales leader from Leicestershire, with a team exceeding 2,300 Avon Representatives across the UK:- "Over the coming months I expect to see around 1500 applicants looking to join the Avon network and about 40% of those are likely to be students wanting to earn extra money to help with university costs; whilst building up their business experience. Students are drawn to the flexibility Avon offers, and find it easy and exciting to start their business with an initial cost of just £15!"

AVON STUDENT JOBS SURVEY 2012 - KEY FINDINGS:-

► 80% of students already have, or will look for part time work whilst studying for their degree

► Almost a quarter of students are ensuring their part-time work builds up skills on their CV and rate CV building over potential earnings

► Over 50% rated flexibility as the top criteria for choosing a part-time job over potential earnings during University

► 64% of students believe that if they work for more than 15 hours a week their studies will suffer

► 83% of students are already concerned about getting a job after graduating with the anxiety increasing each year they spend at University

► 80% of students are worried that if they don't have relevant experience on their CV, graduate jobs employers will look unfavourably on them

► More people worked during their gap year for experience than to earn money

► 75% of students agree that gaining experience on your CV is more important than going travelling in your gap year

► 25% students find it hard to juggle part-time work with studying commitments

► 50% students would consider setting up their own business in order to pursue the career of their choice instead of seeking work with an employern