Floods on Merseyside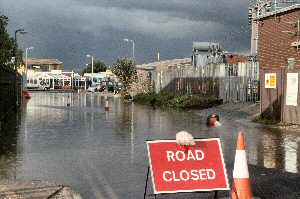 FOR most of Wednesday, 26 September 2012, 2 water tankers were taking turns to pump out water from houses and gardens in Hawksworth Drive, Freshfield, Merseyside. A bystander said that the water was 2 inches deep in some of the downstairs rooms. It appears that a ditch, which drains a field and the part of Formby By-Pass, had burst its banks under the pressure of the flooding water and had flowed in the road and gardens of some of the houses.

Another flood again closed Stephensons Road in Formby Industrial Park, opposite the Tesco Store. However, Formby managed to escape most of the flooding difficulties which were affecting the country during the days of 23 September to 26 September 2012. There were floods in Ormskirk, St Helens, Maghull and Aintree to name a few of the affected places by the storms in Merseyside.

Over the week Merseyside Police confirmed that they had been assisting with the flooding across the area following the heavy rainfall. Officers from the force had been working over the week with the Coincils, Highways Authority and also the Environment Agency, along with other parties and assisting our community and putting in road closures across Sefton, St Helens and Wirral, as required.

Merseyside Police said that:- "In particular, there has been major flooding in Four Acres in Maghull, which resulted in en the electricity supply being switched off as a precautionary measure, affecting around 36 homes at around 10.35pm on 24 September 2012. Road closures had been put in place in the area, but no one was required to evacuate their home."

There was also been major flooding in Blackbrook Road in St Helens. Again the emergency services had to be called to the area on 24 September 2012. Merseyside Police told us that:- "9 homes were evacuated and residents from 2 homes were given temporary overnight accommodation by the Local Authority."

So far Merseyside Police have told us that:- "There have been no reports of any injuries caused by the flooding."

As the flood waters go down, motorists advised to exercise caution as many roads have debris still on them. Also some flooding is affecting some areas. Drive should keep their speed appropriate for the conditions and be aware of emergency repair work taking place on the numerous roads that have been affected by flooding across Merseyside and the UK.
Did the floods affect you? Let us know by emailing us to:- news24@southportreporter.com.