Declan Jones 'rocks' off with another rostrum!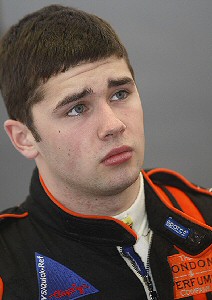 CHOCARGO Soft and The London Perfume Company Limited-backed youngster delivers again in only his third outing in the Michelin Ginetta GT Supercup. Liverpool based teenager Declan Jones maintained his run of rostrums at Rockingham last weekend, 22 September to 23 September 2012, in the Michelin Ginetta GT Supercup. The 17 year old, who took 2 podiums at Knockhill last month, in only his 2nd outing in his Century Motorsport-run Ginetta G50, began strongly on Friday in the 1st test session, setting the 12th best time overall, which impressively left him 2nd in the G50 class, behind only championship leader, Mark Davies. However after that he began to experience gearbox problems and while it was changed overnight, 5 laps into qualifying there was an oil leak on the new 'box' which ended Declan's qualifying. Despite lining up 15th though for race 1, he put in a mature drive and gradually hauled his way up the order, finally snatching 8th and 3rd in class on the very final lap. Sunday saw Declan slowed by handling problems and he was also hampered by a broken windscreen wiper, meaning he had next to no visibility in the wet and tricky conditions. He persevered though, and safely brought his car to the chequered flag, finishing 15th overall and claiming another 18 championship points to take his year to date tally to 127 from just seven races.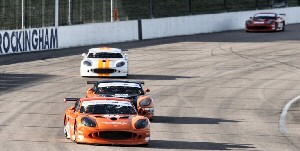 "It was a hard weekend, but I am glad I came away with a podium. In the 1st race I had a couple of issues early on, but I just kept chipping away and chipping away and got third on the last lap. That was definitely the upside to the weekend. It was more challenging. I am no slouch in the wet and you only have to look back at Oulton Park to see that. But we had severe handling issues with the car, and through Turn 1 I had a lot of over-steer. The car just didn't feel balanced. Also the windscreen wiper wasn't working, so I couldn't see much for the whole of that race! We got to the end though, and that in itself was quite an achievement. It was nice to have my dad here this weekend too, instead of him having to be at work like he was when I was racing at Knockhill." said the Chicago Soft and The London Perfume Company Limited-backed youngster.

Declan now faces a busy October and will take in both of the remaining two Michelin Ginetta GT Supercup rounds at Silverstone from 6 October to 7 October and Brands Hatch from 20 October to 21 October 2012. He is also planning to do the French V de V event at Magny Cours from 26 October to 28 October.

"I am really looking forward to Silverstone and enjoy racing there. Last year I was very fast in the Ginetta Juniors, but obviously I had issues in both races and got taken out. However the pace was there and I am sure I can be quick this time too. I will have some sponsors there that weekend and I want to perform to my best, like always. I'll definitely be after more podiums." Declan added.

Declan's dad and manager, Kelvin Jones meanwhile was pleased to see his son maintain his strike rate at Rockingham and take his fifth rostrum from as many events.

Kelvin told us that:- "The weekend started off well on Friday, but in qualifying, about 4 or 5 laps in, the gearbox went. That was frustrating. Today in the second race the car just wasn't right and through Turn 1, it was stepping into over-steer. The windscreen wiper also stopped working, so that didn't help either! Still Dec got 3rd in the 1st race and that was very good. 5 podiums from five events this year is something we are very happy with. We will now look forward to Silverstone and getting some more trophies. Dec will also test at Aintree next weekend driving a Chevron B16. He will probably be the youngest driver to ever drive a Chevron at Aintree and that is quite special, as it is where Chevron use to do all their testing back in the day. It will be a nice way for us to warm-up for what is going to be a busy and exciting October."

United Utilities repairs - Southbound A5036 re-opens!
DRIVERS in Merseyside are being advised that the Southbound A5036 heading towards Liverpool Docks has re-opened after closing on Thursday, 6 September 2012, following a burst water main and for United Utilities to carry out subsequent repairs.

The southbound carriageway of the A5036 Dunnings Bridge Road between its junctions with Copy Lane and Heysham Road was affected by the burst main and closure. United Utilities has today advised the Highways Agency, which operates the A5036, that the repairs have now been completed.

The Northbound carriageway remained open throughout the work and was unaffected by the mains burst.
Women Train Driver Applications on the Right Track
THINK of a stereotypical 'train driver' and traditionally it conjures up nostalgic images of Thomas the Tank Engine, greasy overalls and young boys playing with mechanical train sets, but Northern Rail is predicting a definite shift from blue to pink, thanks to its latest recruitment figures.

Northern, the UK's largest train operator, has recently seen a record number of women apply for its train driver vacancies.

The past 12 months saw an increase of more than 300% in the number of female applicants putting themselves forward to drive trains across the North of England.

Tracie Wing, a driver for Northern out of Blackpool North stations said:- "I love this job for many reasons. I get to see plenty of daylight during winter, when most of my friends are stuck behind a desk. At times it can feel like I am my own boss as I am working my shift, driving my train and in complete control. The pay is excellent and I get work varied hours allowing me to see more of my family than I would in a traditional 9 to 5 role. The banter with the team is something I really enjoy and would encourage any woman to consider doing this; we are just as capable as the guys!"

For train driver roles, Northern has traditionally had an average female applicant figure of 5%. In the last twelve months this figure has increased to 17%.

Adrian Thompson, HR Director for Northern, comments:- "We are delighted to see more women applying to become train drivers. The role is certainly a challenging one, requiring great concentration and knowledge to learn all the routes and mechanical aspects of the different types of train we use, and is as well suited to women as it is to men. A well paid role, with a host of benefits including final salary pension, is obviously appealing and no doubt due to the recession, some women are opening themselves up to more diverse roles than before."

Train driver roles are always popular when they are advertised due to the high salary (trainee starts at £17k, rising up to £40k when qualified).

Since 2009, Northern has seen a growth in female applicants across the business, growing from 11% to 15.5%.

Mick Whelan ASLEF (Driver Union) General Secretary, added:- "Northern has shown a commitment to changing the traditional perception of the rail industry as an employer. The company has made it a priority to recruit more women and ethnic minorities to roles within the company. Whilst there is still some way to go until we have railway depots that reflect the communities in which they are based, ASLEF applauds the efforts that Northern has made."

To see live vacancies for all roles on offer or to register for a job alert, visit:- northernrail.org/careers.
Help us keep the Paralympic flame burning
A little while ago, in the wake of the wonderful Paralympics, I urged your readers not to forget about the many challenges facing people with disabilities in their daily lives. They confront their own personal hurdles each and every day, and their quiet heroics in overcoming adversity get scant recognition. I work for the charity Vitalise. We run the Sandpipers centre in Southport, which provides desperately-needed respite breaks for people with disabilities and those who care for them. We've seen at first hand the incredible obstacles they have to overcome and the toll it can take on their lives. Thanks to the Paralympics, people with disabilities have never had such a high profile and so much goodwill from society. But that feeling can't last forever, so we've come up with something to celebrate the achievements of people with disabilities and keep the Paralympic spirit alive. We've made an amazing video, performed by the disabled guests and volunteers at Sandpipers and set to the inspiring 'Don't Stop Me Now' by Queen. It celebrates the indomitable spirit of people with disabilities and pays tribute to the Paralympic heroes of Team GB. It's already had over 10,000 hits on YouTube and I hope your readers will find it uplifting and inspiring. It certainly put a smile on our faces! I'd like to invite your readers to view our video and, for the sake of all people with disabilities, help us keep the Paralympic flame burning a little longer in our hearts. You can view the video on our website.